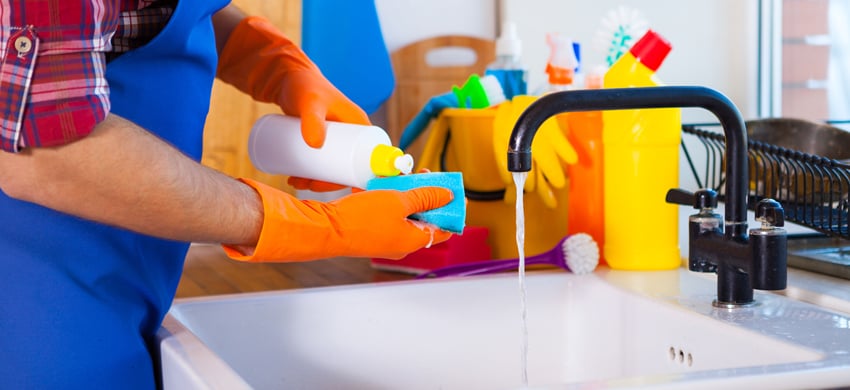 Help at Home is so much more than just a cleaning service; we are here to make life easier for you.
Covid-19 Update:
For our Help at Home Service, it is business as usual/ Normal service resumed operating within COVID safety guidelines. For more information about the service and fees, please do contact us. We look forward to hearing from you. You can either call, email or fill in our Enquiry Form below and one of our local teams will be in touch with you shortly.
01483 503414 (Mon - Fri, 9am - 4.45pm)
Email: enquiries@ageuksurrey.org.uk or complete the Enquiry form.
During lockdown measures, our Help at Home team continued to be a key service supporting existing clients who could not carry out essential tasks in their homes such as cleaning hygiene areas, changing the bed and shopping.
Now, following Government guidelines, our full Help at Home Service has resumed from 1st July. Age UK Surrey commits to doing our utmost to ensure the safety of Clients; our Home Helps are and will continue to be comprehensively briefed, have access to PPE and, most importantly, will maintain social distancing at all times.
As well as helping to ensure clean/hygienic bathrooms and kitchens and assisting with meal prep & shopping, many clients value the overall positive impact of the companionship offered by their Home Helps and have really missed their weekly visits.
If people are still shielding, then they should refrain from restarting the service just yet – but for everyone else, we look forward to their Home Helps returning; we have been busy contacting all our clients over the last few weeks to confirm their requirements as well as opening the door to all new enquiries.

For more information about the service and fees, please do contact us. We look forward to hearing from you.
Support at Home
Whether you need someone to do light housework, have a chat, go to the shops, run errands or tidy your garden, we are here to make life easier for you. Our friendly and reliable Home Helps and Gardeners will undertake a wide range of tasks to help improve your quality of life and keep you independent at home. "It is like having a friend come round to help, I am very glad I have a Home Help. I enjoy seeing her each week".

How does the service work?
You choose the support you need. Our local team will talk to you about your requirements and introduce you to a Home Help who has been interviewed and selected by us. We will be available to ensure you receive excellent service and answer any questions you may have. If required we will, wherever possible, arrange holiday and sickness cover to ensure you receive continuous support. All of our Home Helps are security checked to give you peace of mind.
Home helps are able to assist with the following:
Housework
Laundry
Light meal preparation
Shopping
Companionship
Gardening
And much more...
Other assistance may be possible as agreed between the client, Help at Home Co-ordinator and Home Help.

What is the cost?
We charge a modest monthly service fee to enable us to support you locally and our charitable work across the county. To make the service as affordable as possible, all our Home Helps and Gardeners are self-employed. That means you pay them directly for the number of hours they work.


We also provide:
Short term cover

If you have a planned visit to hospital, are recovering from illness, or just need our Help at Home service for a short period of time, we can supply a Home Help. Contact the relevant office, depending on where you live (see below), for more information and to discuss your requirements.

Gardening

From planting and weeding to pruning and mowing the lawn, our reliable Gardeners will help you to enjoy and make the most of your garden.



Find out more today
For more information or to set up the Home Help service, please call your local Help at Home office.
Epsom & Ewell, Reigate & Banstead, Tandridge

The Westway Community Café and Wellbeing Centre, Chaldon Road, Caterham, CR3 5PG
Telephone: 01883 343095
Email: caterham.office@ageuksurrey.org.uk
Find out more about our other Services...