Tiny Hats Off, Sutton
Published on 31 July 2017 01:30 PM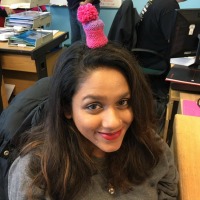 Greetings everyone! My name is Menaka; I'm the Communications Officer here at Age UK Sutton, but for the past few months, I've worn another hat too - a tiny woolly one - leading our Big Knit campaign. We've been collecting tiny hats - made by YOU - to raise vital funds for Age UK Sutton.
Today is the last day of our Big Knit. Hats are still trickling in, and in a couple of hours, I'll be doing our final hat count, reflecting on the journey that's brought us to more than 3000 tiny hats, raised over £750 for Age UK Sutton, and made us feel so proud to be part of the generous, supportive community that is Sutton.
I'll admit - there was a twinge of trepidation back in early May as we started our campaign. After all, this was the first time we were taking part in the Big Knit, and 2000 hats seemed a very lofty target for newbies!
But I needn't have worried. It wasn't long before the box under my desk began filling up. I'd find baggies of little hats on my desk - they seemed to sprout overnight! - from volunteers, colleagues, clients and Sutton residents. Three hats here, twenty there - they all added up and soon, one box became two, and then three.
Our wonderful Purls of Wisdom knitting group hosted our first Knit-In, supported by Asda's Community Champion, Tracey, and Mayor of Sutton Jean Crosby. A glorious Mayor's Hat was created in honour of the day, and the event got us close to the 1000 halfway mark.
That was the snowball that started our avalanche of hats.Coverage from the Sutton Guardian, Karen at Surrey Directories, Carla at Your Neighbourhood Directory, Jenny at Malden Media and Jennie at What's On in Sutton meant many more knitters and crocheters joined our Big Knit. Not a day would go by when one of my colleagues would walk over with another hat bounty, or envelopes filled with fabulous wooly creations would arrive on my desk.
The support we've had from organisations and people in the Sutton community has been overwhelming. Sutton Centre for the Voluntary Sector hosted another fun Knit-In for us, leading to CEO Alison being re-bitten by the knitting bug. Sutton Carers Centre provided us with endless Big Knit banter on Twitter, as well as more than a few hats from their finance guru Yvette. The Slug & Lettuce Sutton hosted a fun and friendly Knit-In for us as well, supplying refreshments to keep us going (and we finally met the mysterious Paulina, who kep dropping bags of hats off at the office with only her name to identify them by!).
By early July, our Big Knit supporters had helped us smash our 2000 hat target, and with a few more weeks to go, we increased it to 2500 hats. There was no more room for the boxes under my table, so our basement meeting room became Big Knit hat central. And still, the hats kept coming.
Sutton Housing Partnership's Shearing Drive Krafty Krafters sent us dozens of beautifully packed bags of hats. The Whichcraft Knit & Natter group's bounty pushed us over the 2500 target, and they hosted our final Knit-In last week. The Knitting Nanas of Worcester Park Library dropped in with close to five hundred hats, which allowed us to increase our hat target once more to 3000.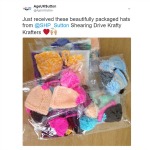 And what hats! We are constantly amazed at the increasing heights of creativity people reach. Big Knit mavens Louise, Rowena, Hilde and Sarah and have given us everything from owls to snails to blobfish to Disney characters in hat forms. We've got enough dinosaur hats to recreate Jurassic Park, and a Big Knit menagerie complete with owls, monkeys, birds, and fish. We've got disco hedgehogs and disco cavemen, and a sizeable collection of toadstool hats and frogs. There's fruit, there's little figurines… it's astonishing. Whenever a hat bounty comes in, the team always clusters around to see what treasures we've got.
From 2000 to 3000 hats and counting - an absolutely incredible response from Sutton, and one that all of us here at Age UK Sutton, are deeply touched by. The outpouring of support from Sutton residents, local groups, organisations, our volunteers and friends has us amazed and grateful.
The funds Sutton has helped us raise will stay in the borough, supporting essential services like Information & Advice, which helps thousands of older residents every year.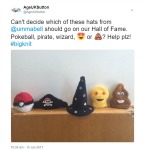 Today marks the end of our very first involvement in the Big Knit, but it doesn't feel like the end. Because it's more than hats to us. It's also the camaraderie we've experienced along the way, the friendships we've made. It's the incredible support and generosity we've seen from Sutton that makes us feel so proud and lucky to be part of such a community. Hats off to you, Sutton, for helping us achieve so much.
We'll be back next year with the Big Knit (5000 hats?!?) but our supporters need not wait that long for the next challenge! We're planning to start an online shop to continue raising funds for our services, and this time, we're thinking a collection of life-size hats, scarves and other woolly goodies would be ideal to start off with! We're also going to hold new and varied fundraising events throughout the year, and we look forward to involving the Sutton community in that too.
I'm off now to count hats and probably take silly hat pictures. I'll let you know the final hat count and how much you've helped us raise before the end of the week, so do check back on our website, or follow us on Twitter or Facebook. You can also subscribe to our mailing list to get regular (but not clog-your-inbox regular) updates from us about our services, events and what we're up to.
Until next time.
Menaka
Keep in touch
Subscribe to our mailing list and get regular updates from Age UK Sutton including news, information, events, activities, our staff and the people who we help in Sutton.