We're on the move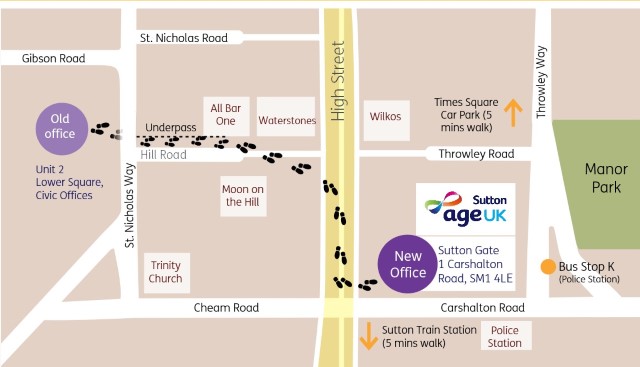 Published on 07 November 2018 02:19 PM
We are very pleased to announce that on 28 November 2018, we are moving into a new office at Sutton Gate, 1 Carshalton Rd, Sutton SM1 4LE. Our new premises are a mere 200 metres - or a five minute walk - from the location where we have spent the past twelve years improving later life in our borough.
Our new office puts us in a more prominent location on the top of Sutton High Street, almost opposite the Sutton Police Station. We are excited for the excellent visibility and accessibility this new building offers for us and our community. We will also be gaining some new 'building buddies' in the form of Sutton Housing Partnership and Encompass.
From Monday 3 December, we'll have a new address and telephone number:
Age UK Sutton, Sutton Gate 1 Carshalton Road, Sutton SM1 4LE
Telephone: 020 8915 2233
Our email address remains the same: info@ageuksutton.org.uk
Why we are moving
While our old premises have served us well – and we have many fond memories of our time here – there are a number of motivations in our decision to move.
Space - Our organisation has grown, but our space has not quite kept pace. While we are still a relatively small charity, we are far busier, and with more staff, volunteers, and service users to accommodate now than when we first moved into our Lower Square premises in 2006.
The facilities and layout of the new office is a better fit for how we operate now. The main office has more room and will be open-plan, bringing our staff team together in one space as opposed to the more compartmentalised layout we have now. It also has more private meeting space for staff and volunteers to use for calls and appointments.
Visibility - Our new office puts us in a highly visible and accessible location at the top of Sutton High Street, and external building signage will clearly indicate our presence. We are confident this will make it easier for people to find us and we hope it will also bolster awareness of Age UK Sutton, and the help we offer to our community.
Accessibility - Being based at Sutton Gate puts us even closer to the hustle and bustle of Sutton High Street. The train station is a walk of less than five minutes, as is the Times Square Car Park and a number of buses from across the borough stop almost outside our door. The entrance to our building is easily accessed by ramp from the street, and more office space means better wheelchair accessibility and manoeuvrability.
We are very excited to start this next chapter of our life and look forward to serving our community and its people from our new location.
Enquiries
Questions? Want more information? Visit our Contact Us page to get in touch