Christmas Cards
Published on 22 October 2019 10:50 AM
Age UK Sutton is excited to announce the launch of our very first Christmas card.

We have been fortunate to have illustrator Beci Ward to design our cards. The cards are square, 140mm by 140mm.
For more information about Beci Ward's illustrations, please visit her website by clicking here.
Our cards will be available from our offices on Monday 28th October.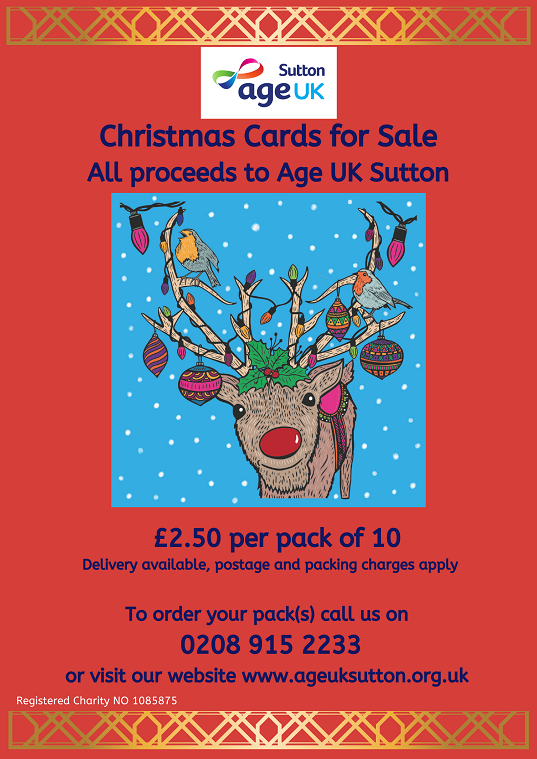 You can place your order online below and pay with cash on collection or you can place an order online and chose to have your cards posted.
Please use the buttons below if you want to pay for your cards online (before you make a payment, please fill out the form above).
Click below to pay for 1 pack of cards

(£4.30 including postage and packaging)


Click below to pay for 2 packs of cards

(£7.27 including postage and packaging)


Click below to pay for 3 packs of cards
(£10.52 including postage and packaging)


Click below to pay for 4 packs of cards

(£13.02 including postage and packaging)

Click below to pay for 5 packs of cards
(£16.42 including postage and packaging)

Click below to pay for 6 packs of cards
(£21.20 including postage and packaging)


Click below to pay for 7 packs of cards
(£23.70 including postage and packaging)


Click below to pay for 8 packs of cards
(£26.20 including postage and packaging)


Click below to pay for 9 packs of cards
(£28.70 including postage and packaging)


Click below to pay for 10 packs of cards
(£31.20 including postage and packaging)

If you would like to buy more than 10 packs of cards, please give us a call on 0208 915 2233 or email info@ageuksutton.org.uk