Sutton's youth and older people find common ground in making Sutton an Age-Friendly place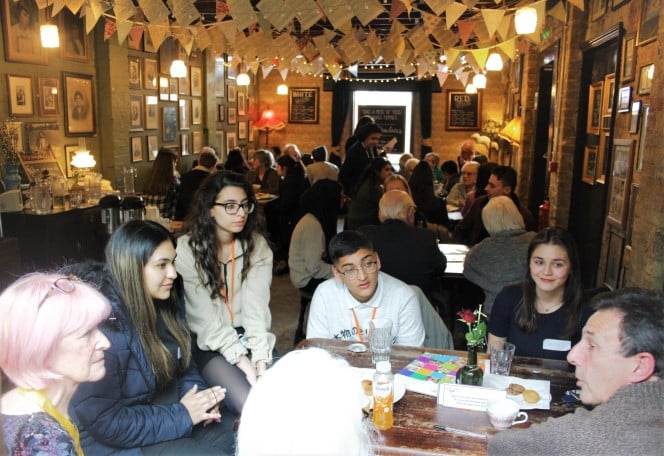 Published on 05 April 2019 11:26 AM
"We are not divided into young people and old people:we are just people"
On Tuesday 2 April we held our first 'In Conversations' event that brought together teenagers and older people from the Sutton community to talk about their experiences of ageing in Sutton.
Sixth-form students from Cheam High School (who have chosen us as their Charity of the Year for 2019) and older people from across the borough gathered for afternoon tea at Shinner & Sudtone, who were supporting the event. They were joined by the Deputy Mayor Councillor Chris Williams and the Deputy Mayoress, who participated in the conversations.
Speaking of his experience, the Deputy Mayor said:
"I was struck by the relaxed and easy way the conversations flowed in all the groups I sat in on. It very much reinforced the point that we are not divided into young people and old people; we are just people.
People can easily feel that they won't find common ideas and attitudes among groups that they don't belong to - which underlined the importance of events such as yesterday's - because it didn't so much as break down the barriers but showed that there weren't any barriers in the first place."
The conversations were wide-ranging, and uncovered a great deal of commonality among the generations. Some of the things discussed were:
Higher education and work
There was a consensus that there were many differences within generations towards higher education. Older people felt that they had more job opportunities available when they were young, with some leaving school at 16 and going straight into a job. University was often considered only for the very well off.
In contrast, younger people felt the only way for them to secure a job was through going into higher education, through apprenticeship schemes and degrees.
Both groups agreed there was a lot of pressure on the younger generation.
Growing up in the community
Reflecting on growing up in past generations, older people felt that the younger people didn't have the same resources they did, like access to free youth clubs. Some said that the clubs helped them through their teenage years, giving them something positive to keep them occupied and created social opportunities.
The younger people also expressed the view that older people thought they were deliberately on their devices because they were not interested in interacting with others. Older people wholeheartedly disagreed, noting that younger people had fewer opportunities in the community to take advantage of, compared to what they did growing up.
Technology
Both groups expressed worry about being scammed online, with students then sharing online safety tips with older people.
Older people reflected on technology in their youth – watching the Queen's coronation on a black-and-white television. Younger people said that growing up in a digital world meant a reliance on social media and television for entertainment. Some students felt they had missed out by not getting to experience a simpler childhood, free of the dominance of technology.
Loneliness
Younger people shared that they do make an effort to reach out to older people where they live, calling on them to check if they were OK.
Both groups observed that loneliness was not just something felt by older people. Adults living alone, young people – all could experience the lack of connection and isolation.
---
Towards the end of the event, younger and older people also shared ideas for making Sutton a more age-friendly place for all which included mixed-age events like quiz nights and concerts, classes and activities at schools for older people, and, overwhelmingly, more events like 'In Conversations' to give younger and older people the chance to meet and talk with one another.
Jill, 74, one of the attendees said "I really enjoyed today's event. The young students were so interested in what we had to say and our views on so many aspects. It was so nice to have their opinions."
Tess, 80 said "My overall feeling is that there is a lot of work to do, and not just aimed at us oldies. The young ones coming along are our tomorrows. I would like to make things good for them as well as us."
Sharing her experience, one young guest said "Speaking to people I wouldn't usually meet was nice. I would definitely attend the next event…it was incredibly enjoyable."
This was the first in a series of 'In Conversations' events that we will be hosting throughout the year, bringing different generations together.
We would like to hear from local schools, businesses and members of the community who would like to join future get-togethers and support them. To get in touch, call 020 8915 2233, email fundraising@ageuksutton.org.uk, or send us a message online.
Our warmest thanks to Shinner & Sudtone Sutton for providing a space and afternoon tea, and to the Deputy Mayor and Deputy Mayoress for helping to facilitate the conversations.
'In Conversations' in action: see pictures from the event
Keep in touch with us
Join our mailing list to receive emails from Age UK Sutton with our latest news, services, event and activity announcements, fundraising updates and volunteering opportunities