Art on Zoom Club joining the BS9 Arts Trail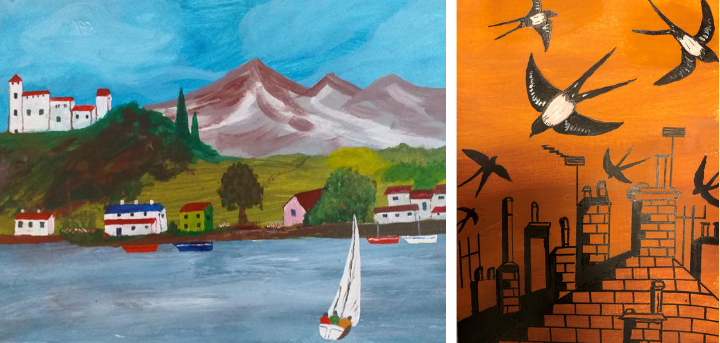 Published on 01 June 2022 11:57 AM
We're joining the BS9 Arts Trail with our Art on Zoom Club at Trinity-Henleaze URC, Waterford Road, Henleaze, Bristol BS9 4BT on 18th and 19th June.
We've been running a weekly Art on Zoom Club since 2020 to reach people who, at the time were practicing social distancing due to the pandemic. As Bristol steadily reopened we realised that for some older people having virtual activities was more accessible. For example, for those people who struggle to leave the house due to health reasons or have caring responsibilities, and so we have continued to run remote sessions with a few hybrid options as well, such as our art exhibition at the John Wesley New Room Café.
The annual BS9 Arts Trail is an opportunity to showcase some of the amazing art that has been created by the Club. Our artists mainly work in 2D mediums including painting, drawing and print work. We will be selling greeting cards made from the Club's work we would love to see our supporters at this event.
"I am 85 years old and am a retired nurse and health visitor. I've always had a keen interest in the arts and have dabbled in painting most of my life. I am at present chair bound and find going to classes impossible. Sitting for long periods and finding something to do is difficult so the Art for All Age UK Bristol sessions on Zoom are the highlight of my week giving me an opportunity to meet and share with others in the group, and I love it!" - Art on Zoom Club member.
To find out more about our Art on Zoom Club click here. To find out more about the upcoming BS9 Arts Trail click here.
*Update* We had a fantastic weekend at the BS9 Arts Trail and sold 120 cards created by our artists! A few of the artists visited on the day, including Tony (pictured below with one of his creations.) If you would like to buy a card created by our Art on Zoom Club please contact linkage@ageukbristol.org.uk