Training opportunities
Age Cymru Powys is pleased to be able to offer training courses and workshops in conjunction with our partners. Here are some details of our current and recent courses. Please don't hesitate to get in touch to find out more.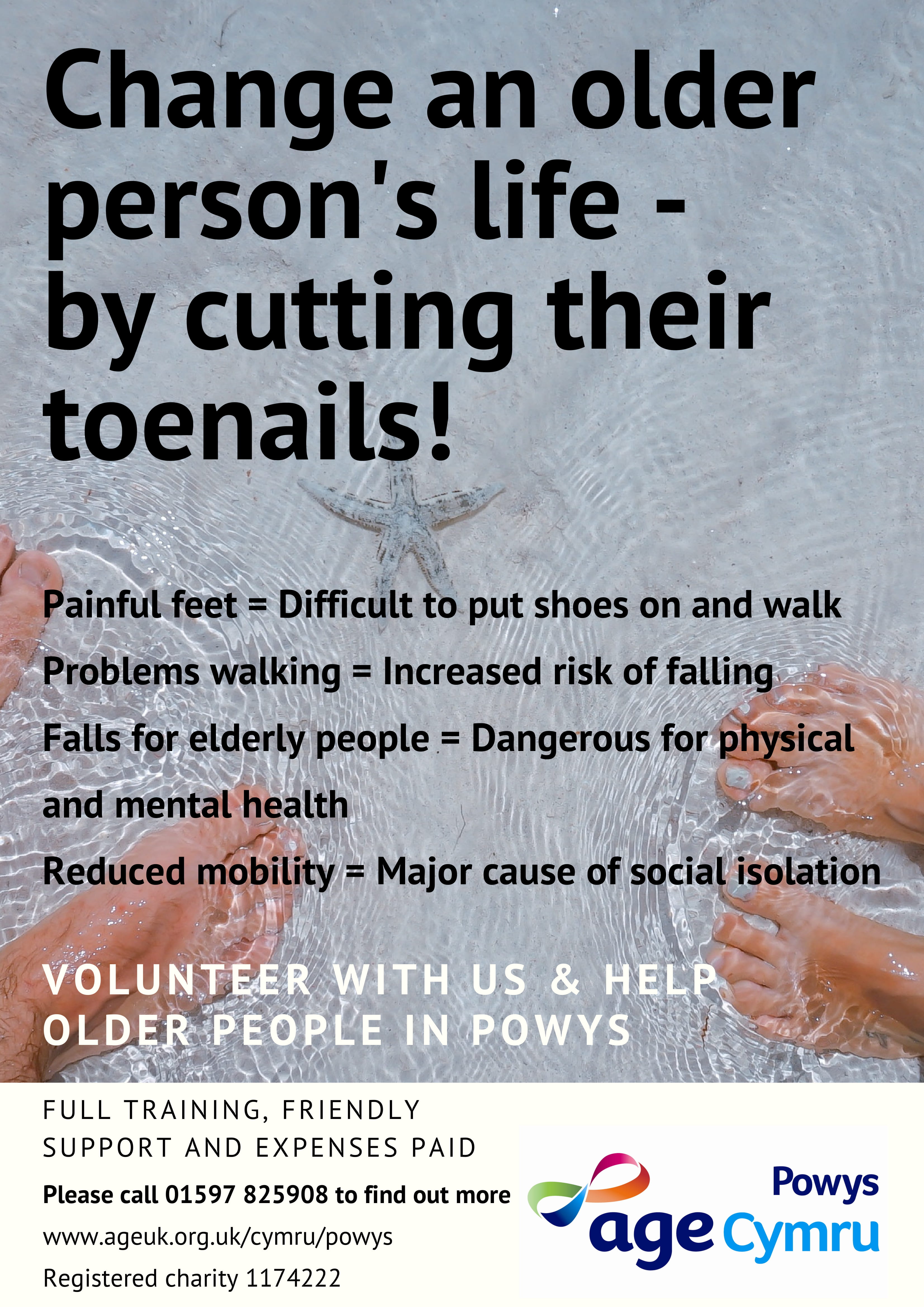 We urgently need people to help in our Simply Nails clinics across Powys.
Do you live in Powys? Could you spare only 3 hours per month to help local older people?
Then you could change an older person's life – by cutting their toenails!
Footcare may seem like a small thing, but it can make a big difference to older people's lives.
Many older people cannot cut their own toenails and this can cause painful and serious issues including:
Painful feet = Difficult to put shoes on and walk
Problems walking = Increased risk of falling
Falls for elderly people = Dangerous for physical and mental health
Reduced mobility = Major cause of social isolation
So cutting someone's toenails really can be life-changing!
Simply Nails is a not-for-profit footcare service for Powys residents aged 50+ run by Age Cymru Powys. We hold clinics across Powys where we carry out basic footcare. It's also a great opportunity to chat to older people about how they are getting on.
There is a big demand for our Simply Nails service and we need more footcare volunteers to keep it running. Volunteers receive full training and support from Age Cymru Powys – you would be working with us in one of our super-friendly teams.
Our existing footcare volunteers love the opportunity to do something wonderful for older people, that helps them get out, socialise and helps prevent falls.
We currently need volunteers for our 9 clinics in Brecon, Ystradgynlais, Llansantffraid, Glangrwyney, Builth Wells, Knighton, Llandrindod Wells, Welshpool and Newtown.
We are also looking to open new footcare clinics in additional locations across Powys, so please do get in touch if your area is not listed.
Come and join Yvonne and her friendly teams – only a few hours per month is required – and have fun cutting toenails or booking appointments (no toenail-cutting required!) whilst enjoying lots of tea, biscuits and good conversation with older people in your area of Powys.
We will be holding more Simply Nails training sessions across Powys soon, so if you would like Yvonne to visit your area then please do let us know.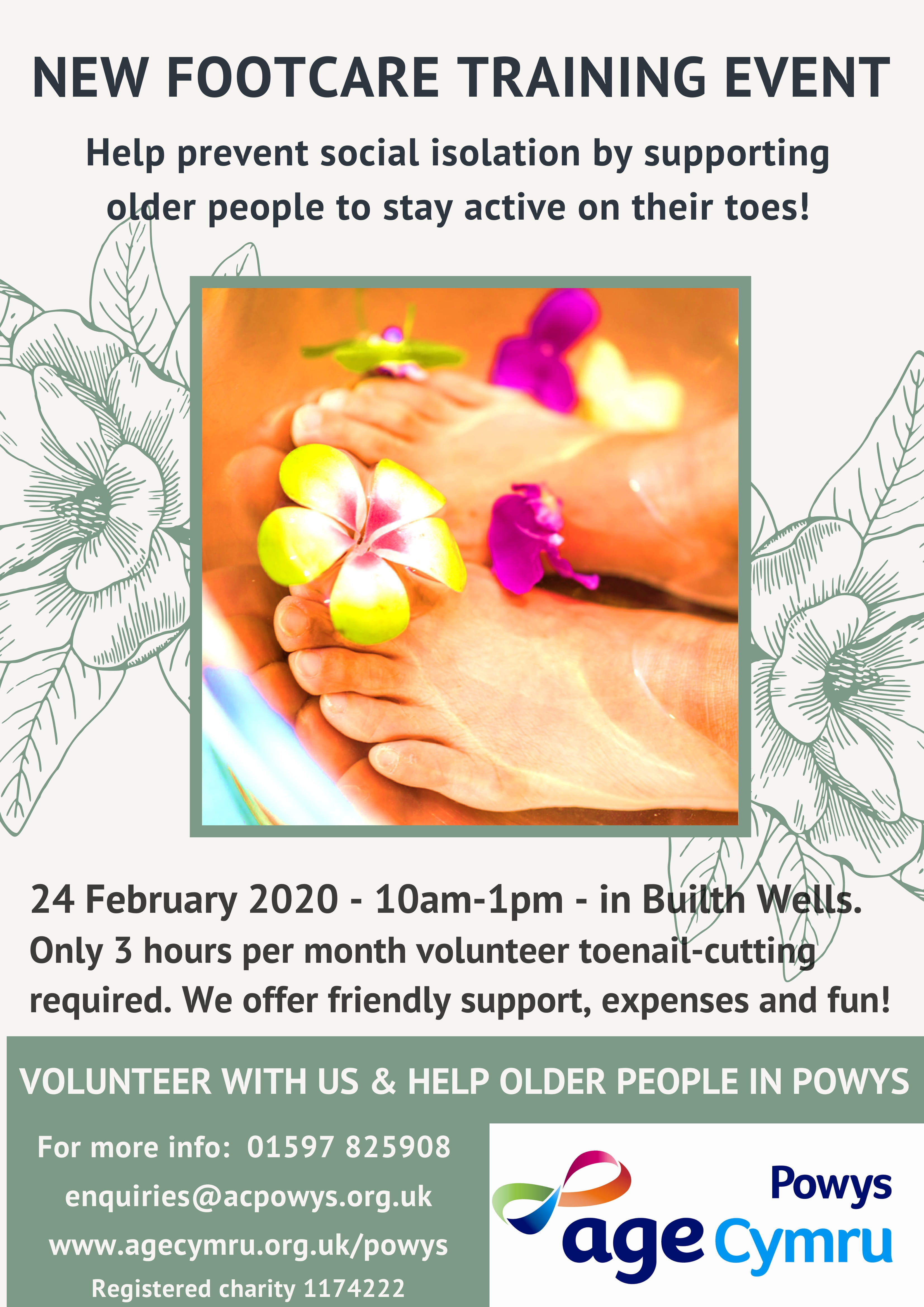 Exercise classes
Our exercise classes are a chance to get active and have fun! If you would like more information on joining in then please do get in touch. Are you interested in becoming a volunteer exercise class tutor? If you would like to help run an exercise class in your area then we would love to hear from you.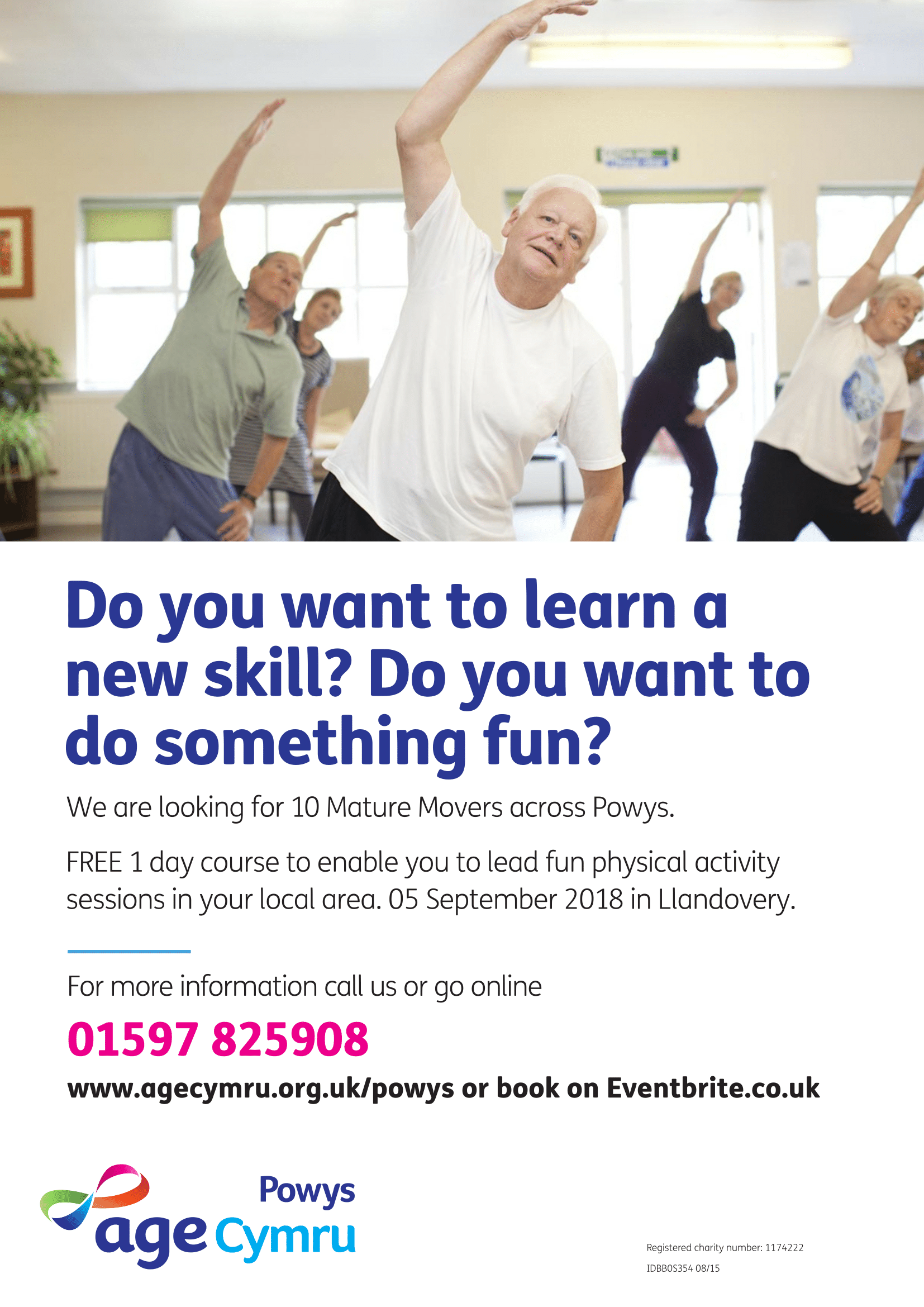 FREE Mature Movers Leader training course
05 September 2018 in Llandovery Memorial Hall
A fun, one day course leading to a qualification that will enable you to lead rewarding physical activity sessions in your local community.
What are the learning outcomes of the course?
By the end of the course, learners will be able to:
• Facilitate safe physical activity in a variety of mediums and manage inclusive skills to apply activity to a range of ages and environments
• Meet, greet, be welcoming and enthusiastic, inspire and create a fun environment encouraging participants to be regularly active
• To understand the elements of multi-skills
• Understand how to facilitate multi-skills activities

This qualification is designed to provide benefit to learners on the basis that it prepares them for deployment as an activator in multi-skills. Successful achievement of the qualification will enable activators in multi-skills to facilitate extra-curricular activities within educational settings including schools, further and higher education and community participation programmes.
The qualification is designed to support community development, with the aspiration to be able to tackle physical inactivity and social exclusion whilst supporting health, wellbeing and participation initiatives.
_________________________________________________________________________________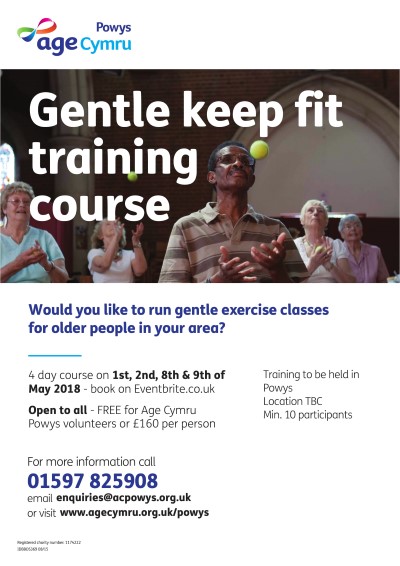 What is a LIFT leader?
A LIFT leader is someone who helps an older adult become or remain active through motivation, inspiration and leadership. They may be active in many ways, the program incorporates all types of exercise not just chair-based exercise. It looks at health, activity, fitness and exercise. At the end of the training, students will be able to arrange active sessions, lead and deliver, to people with different abilities and needs.