Try our 'Simply Nails' footcare service to help you to stay comfortable on your feet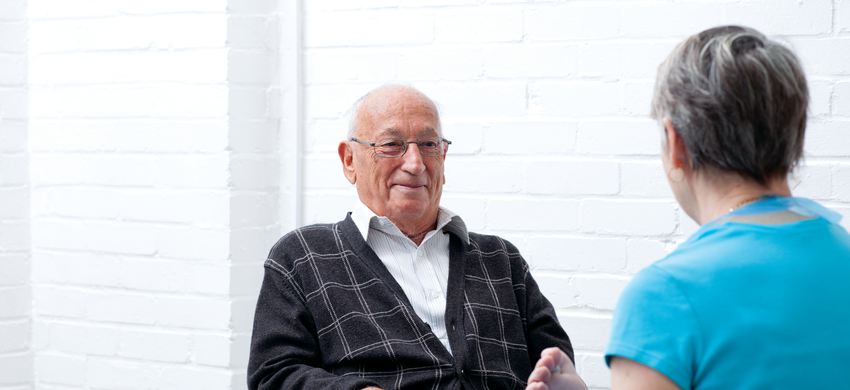 Keeping mobile is really important and cutting your toenails can be hard to manage. Simply Nails is a toenail cutting service for people over 50 who have difficulty cutting their toenails for any reason.
Our team of trained staff and volunteers will cut your toenails and have you feeling on top of the world again.
There will be a small fee for each appointment and you will have to purchase your own toenail cutting kit from Age Cymru Powys.
We will need to know about your general health and any medication that you are taking, but don't worry we will go through this with you during the initial phone call.
We work in conjunction with the Powys Teaching Health Board Podiatry (PTHB) Service and all of our staff and volunteers are trained by PTHB.
Simply Nails helps prevent dangerous falls and associated social isolation. It supports PTHB by offering an affordable alternative for clients to maintain good foot health.


How can I book an appointment?
For North Powys - please call 01686 623707 or email us.
For South Powys - please call 01597 825908 or email us.


Powys-wide footcare clinics
We currently have 9 footcare clinics across Powys in Welshpool, Brecon, Ystradgynlais, Llandrindod Wells, Builth Wells, Newtown, Knighton, Presteigne and Crickhowell with more to be included soon.

Using our footcare service supports our charity work
Our footcare service is not for profit, so every time you pay for a service with us, you're supporting our charitable work across Powys.


Look after your feet and they will look after you!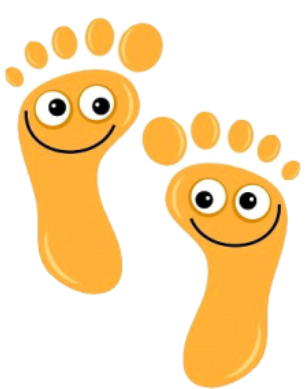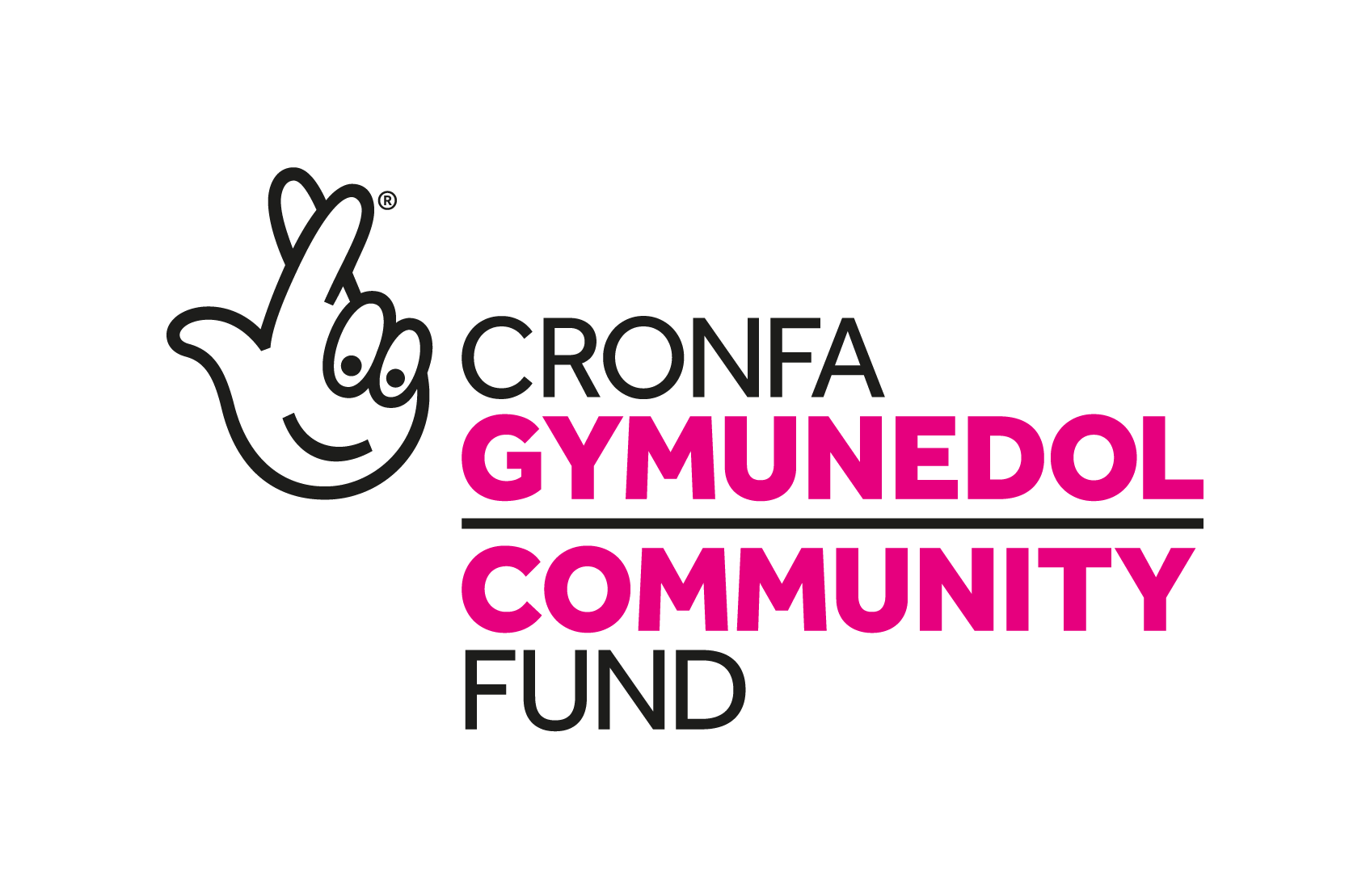 We are so grateful to the National Lottery and all you lovely supporters buying a lottery ticket.
You helped us be here for older people across Powys, who were very badly impacted by Covid 19.
This grant helped us provide essential services including:
Tackling isolation and loneliness, supporting volunteers to be here when an older person was lonely and had no one;
Wellbeing support, pulling in services to help vulnerable older people and their families manage at home;
Essential footcare support in Powys hubs to help with pain and mobility issues.
A big thank you to the National Lottery, from our clients, their families, volunteers, staff and trustees.
Volunteers needed for toenail-cutting or booking appointments
Would you like to help older people who struggle to cut their toenails? Can you spare 3 hours a month? Then you could help older people to have less painful feet and keep active with less chance of having a fall. We hold regular training days for new footcare volunteers and we provide full training, expenses and a great sense of fun with our friendly teams!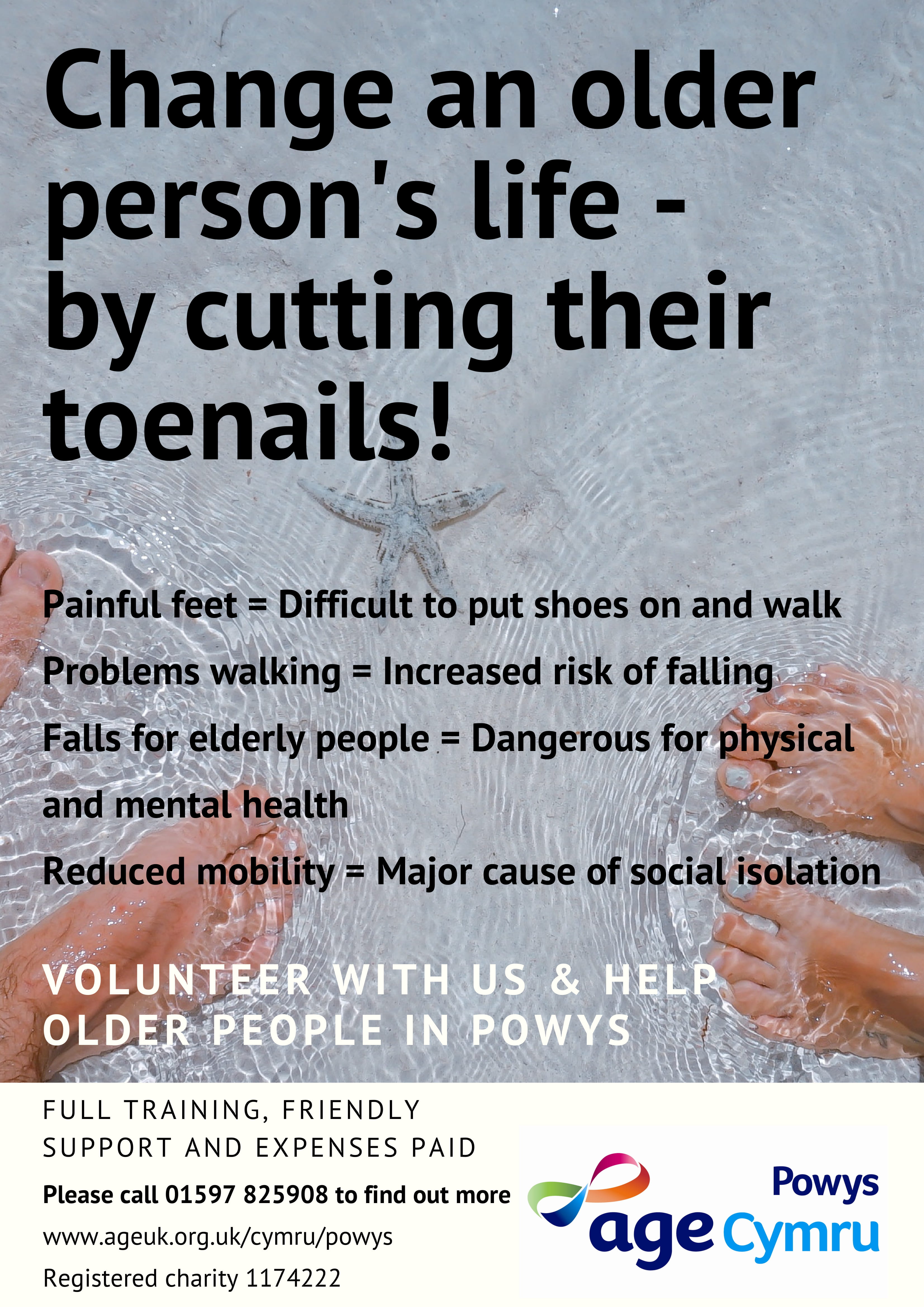 We urgently need people to help in our Simply Nails clinics across Powys.
Do you live in Powys? Could you spare only 3 hours per month to help local older people?
Then you could change an older person's life – by cutting their toenails!
Footcare may seem like a small thing, but it can make a big difference to older people's lives.
Many older people cannot cut their own toenails and this can cause painful and serious issues including:
Painful feet = Difficult to put shoes on and walk
Problems walking = Increased risk of falling
Falls for elderly people = Dangerous for physical and mental health
Reduced mobility = Major cause of social isolation
So cutting someone's toenails really can be life-changing!
Simply Nails is a not-for-profit footcare service for Powys residents aged 50+ run by Age Cymru Powys. We hold clinics across Powys where we carry out basic footcare. It's also a great opportunity to chat to older people about how they are getting on.
There is a big demand for our Simply Nails service and we need more footcare volunteers to keep it running. Volunteers receive full training and support from Age Cymru Powys – you would be working with us in one of our super-friendly teams.
Our existing footcare volunteers love the opportunity to do something wonderful for older people, that helps them get out, socialise and helps prevent falls.
We currently need volunteers for our 9 clinics in Welshpool, Brecon, Ystradgynlais, Llandrindod Wells, Builth Wells, Newtown, Knighton, Presteigne and Crickhowell.
We are also looking to open new footcare clinics in additional locations across Powys, so please do get in touch if your area is not listed.
Come and join our friendly teams – only a few hours per month is required – and have fun cutting toenails or booking appointments (no toenail-cutting required!) whilst enjoying lots of tea, biscuits and good conversation with older people in your area of Powys.
We will be holding more Simply Nails training sessions across Powys soon, so if you would like us to visit your area then please do let us know.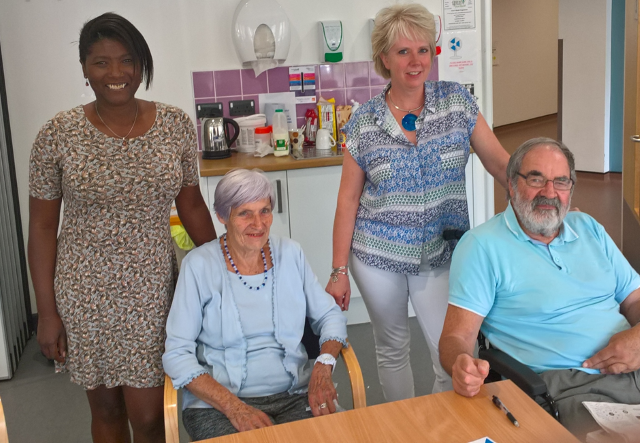 Previous Footcare Course - contact us for new dates!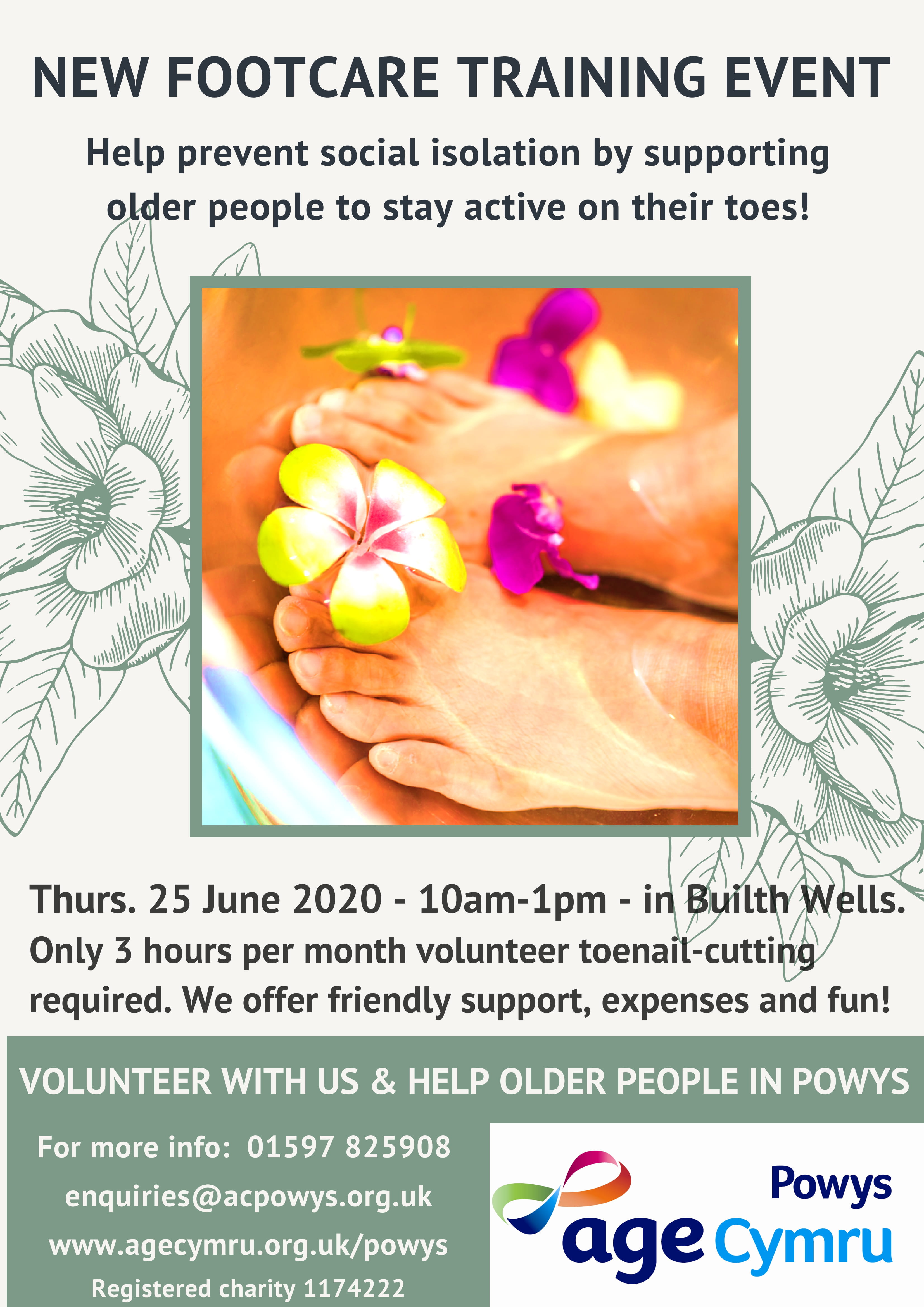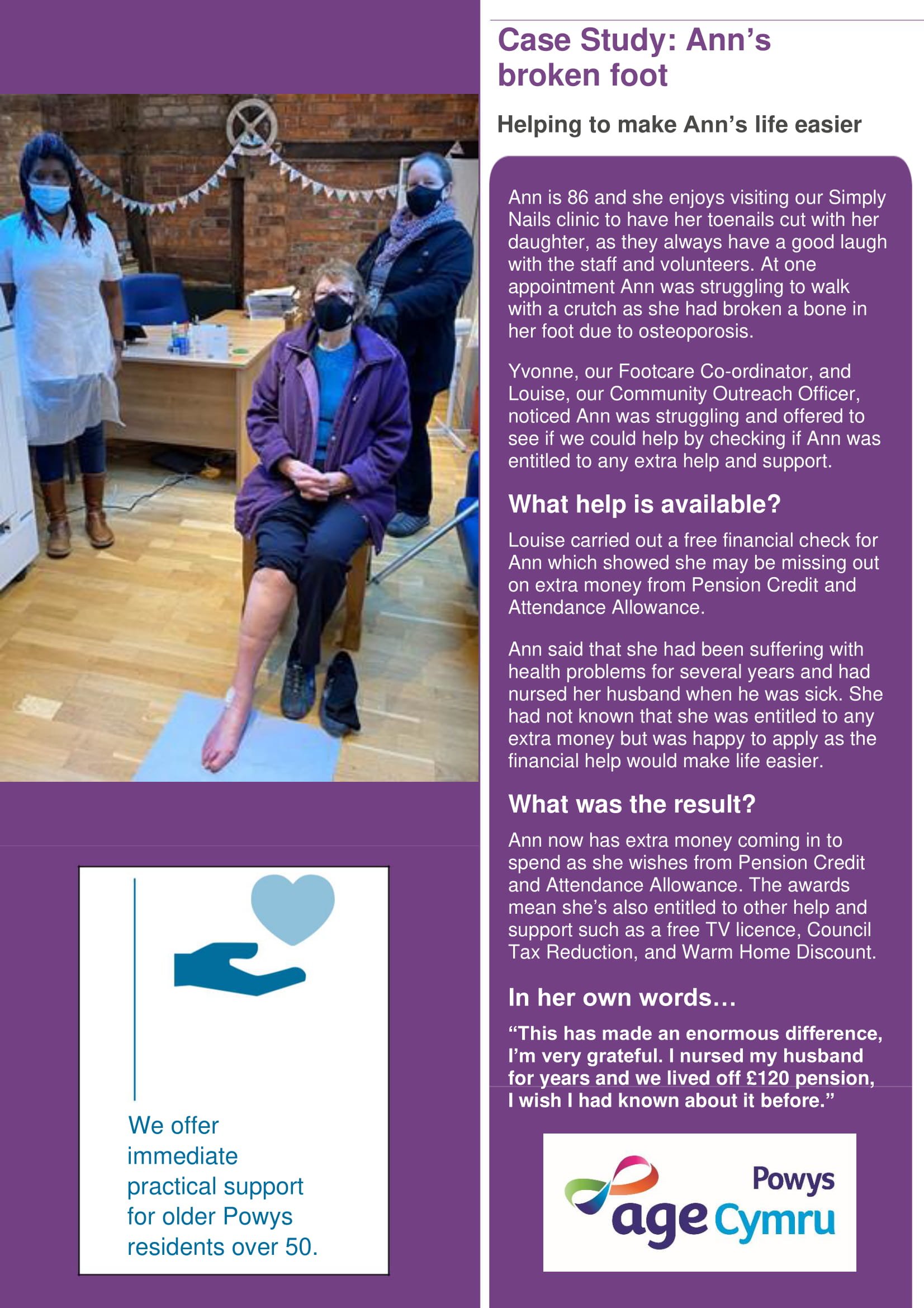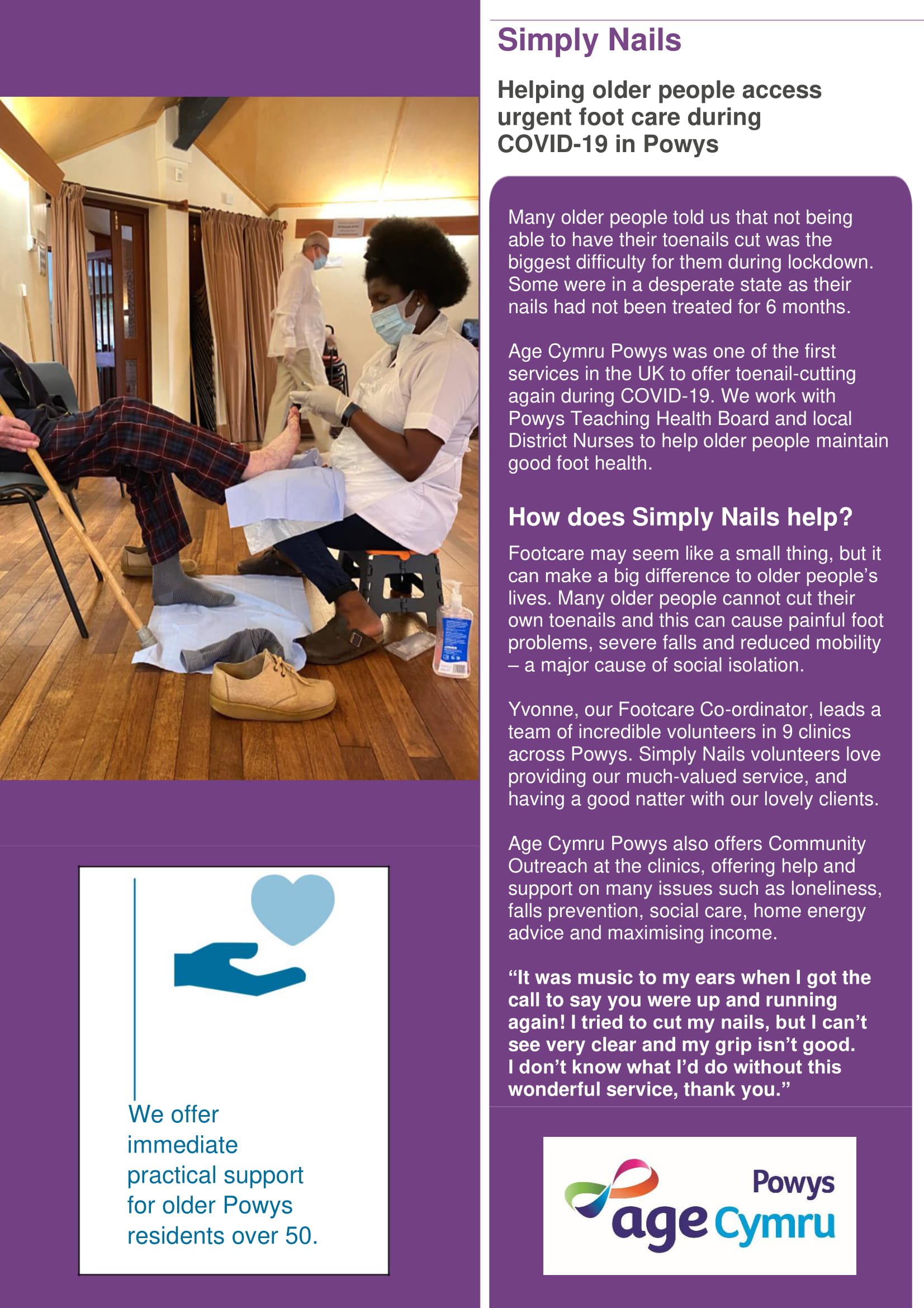 Other information you may find helpful
Related pages on our website
Related pages on other websites