To apply for a role with Age Cymru Powys please visit: indeed.com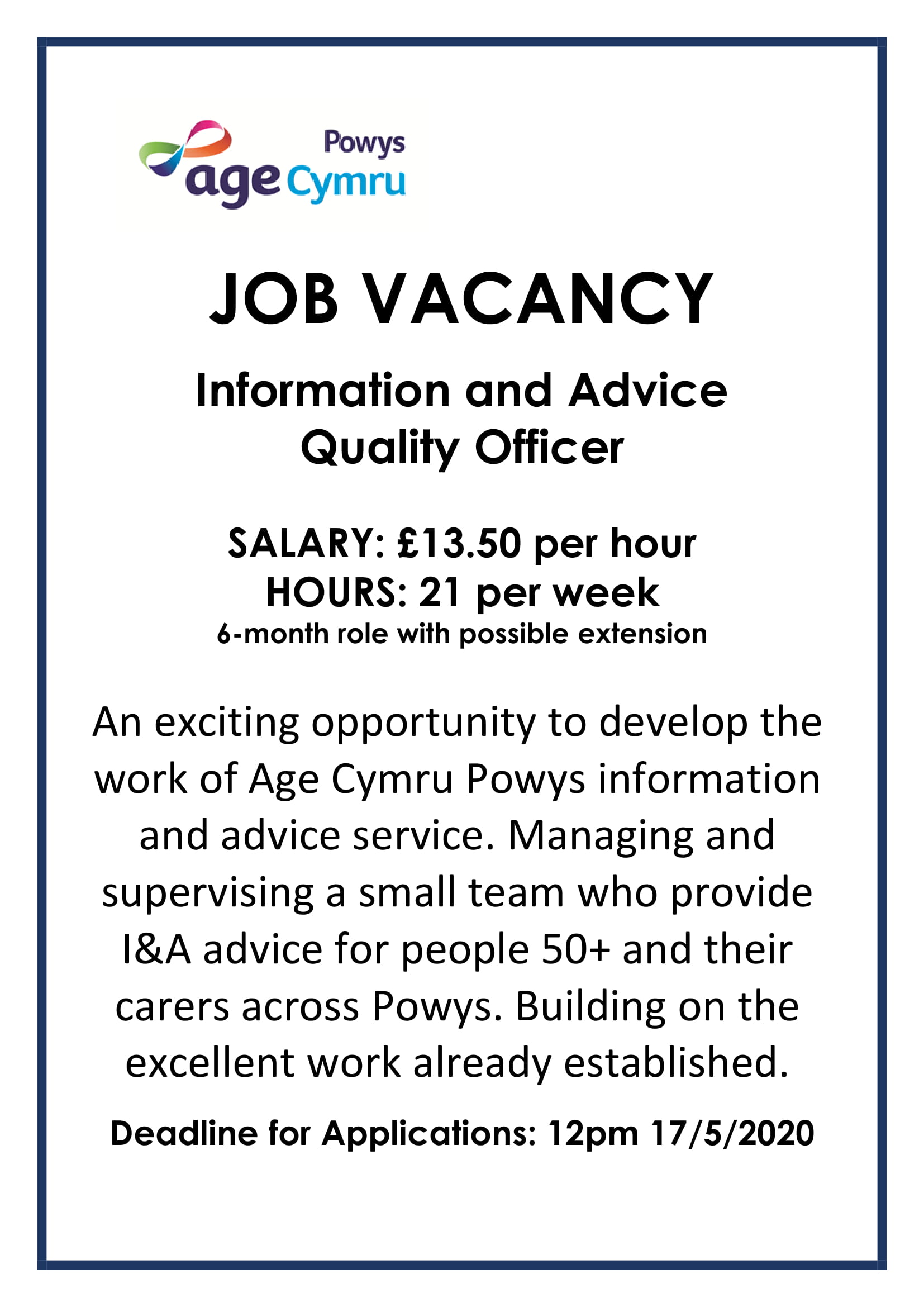 Information and Advice Quality Officer
Enhanced DBS required for this role essential
Hours Part-time 21 hours per week, Temporary, Contract 6 months possible extension dependant on funding
Salary: From £13.50 per hour
Reporting to Chief Officer
Supervising 3 Information & Advice Officers and a small number of volunteers
Job Description
Purpose of role
We are looking for someone with an eye for detail, experience delivering excellence in advice services and experience managing a small team.
To be responsible for the effective management and delivery of I&A services at Age Cymru Powys
To provide information and advice support for staff, volunteers working to develop good quality standards in line with Advice Quality Standard.
To supervise and support a small team of staff and volunteer-based information and advice volunteers.
Main duties
I&A service operational and strategic management, reporting to deadlines and improving quality of overall outcomes to inform strategic direction.
1.1 To manage and support I&A staff across Powys, including supervision, appraisal and identifying staff training needs required.
1.2 To ensure that I&A services meet the relevant quality standards, and to be responsible for evaluating quality and outcomes.
1.3 Reviewing case files in accordance with the AQS standard.
1.3 Working with the CEO, to develop a strategy for the expansion of I&A services for older people across the region, including developing partnerships as appropriate.
1.4 Working with the CEO, to identify funding opportunities for I&A services for older people across the region and to assist in writing bids and funding applications as appropriate.
1.5 To input into other strategies at the senior management level as necessary.
1.6 To prepare reports for the CEO, the Board of Trustees and funders as appropriate.
I&A delivery
2.1 To provide up-to-date information and advice to older people in Powys to cover for sickness or holidays experience dealing with e.g. community care, consumer rights, health, finance, leisure, learning and work, ensuring that they receive the appropriate support either directly or through onward referral to another provider.
2.2 To provide welfare and benefits advice to clients and support them up to the reconsideration stage to gain those welfare benefits
2.3 To work to level 3 casework, maintaining appropriate client records using the CharityLog database in line with the General Data Protection Regulations 2018.
2.4 Working with the I&A Officers, to ensure that a range of factsheets, publications and briefings are available and are updated regularly to meet changes in need and legislation.
2.5 To maintain a thorough and up-to-date knowledge of supporting literature and to research subject matters as necessary to assist clients to achieve the best outcomes.
2.6 To liaise regularly and develop and maintain good relationships with other I&A providers and relevant agencies, including other 3rd Sector organisations and statutory sector agencies.
2.7 To participate in local I&A marketing and promotional activities, including networking within the region as appropriate.
Volunteer supervision and support
3.1 To ensure that all I&A volunteers are recruited, supervised and supported.
3.2 To provide regular supervision and support to advice and information volunteers in Powys.
3.3 To undertake training assessments with volunteers and provide ongoing training updates.
Role expectations
• To adhere to all the organisation's policies and procedures and the staff handbook.
• To attend management and any other meetings/events relevant to the project development.
• To participate in any supervision/appraisal meetings.
• To participate in staff meetings as necessary and relevant.
• To participate in any training deemed necessary by the CEO.
• To undertake such other duties, within the competence of the post holder, which may reasonably be required from time to time.
This job description may be amended from time to time in relation to project development and this role may from time to time require flexibility in working hours.
Person Specification:
Educated to a professional standard, such as Degree, NVQ level 4, A level, etc. (However, experience instead of qualifications will also be taken into consideration) Essential
Proficient in Microsoft office applications and social media Essential
Experience of successful service or project planning, development, management and coordination Essential
Knowledge of the role of statutory, voluntary and private sectors in relation to service provision for older people. Essential
Experience of quality performance and achieving quality marks. Essential
Experience of managing, supervising and developing staff Essential
Experience of delivering I&A to level 3 Essential
Practical commitment to user and needs-led services and to a collaborative approach to service development. Essential
Experience of working with older people Essential
Knowledge of national and local strategies for older people Essential
Excellent communication skills, both written and oral Essential
Experience of adhering to reporting requirements. Essential
Motivated and able to motivate others Essential
Welsh speaker Desirable
Own transport, appropriate driving licence, own car with business insurance, taxed, MOT'd and serviced annually. Documents will need to be produced at interview. Essential
COVID-19 considerations:
We have some face-to-face safe visits taking place at our client's homes. Procedure and risk assessment in place for each visit.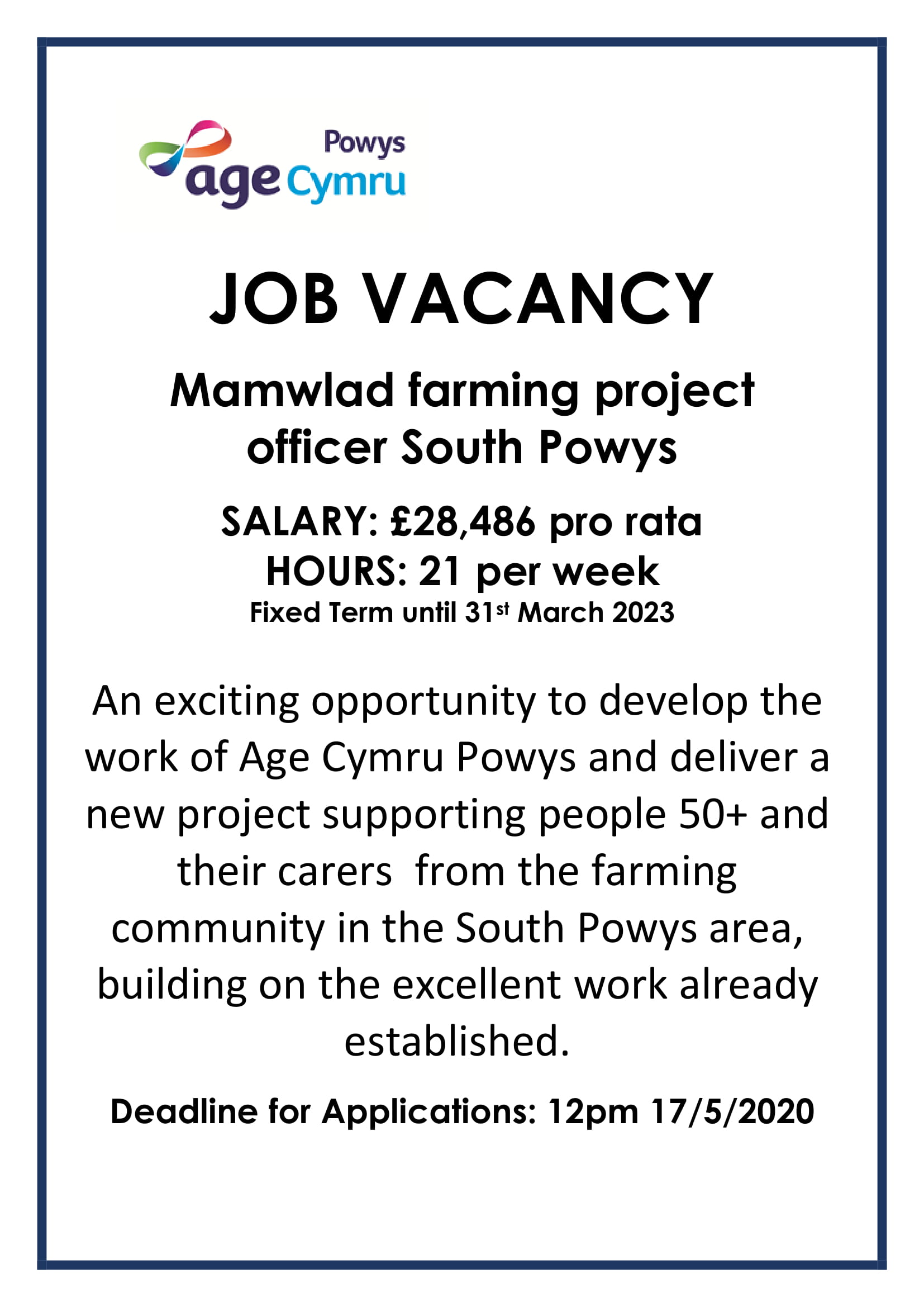 Job Description
Job Title

Mamwlad Support Officer South Powys

(Mamwlad Project)

Reports to

Chief Officer

Salary

£27,916 pro rata rising to £28,470 pro rata subject to successful completion of the 6-month preliminary assessment period.

Contract length: 31st March 2023 as provisionally funded by Welsh Government

Hours

21 hours per week

Location

Working from home or our Llandrindod Wells office
Purpose of this Role:
Age Cymru Powys exists to help build society where older people are respected, valued and are able to live the life they choose. We aim to provide excellent quality services tailored to the needs of older people in Powys, to raise the profile of age issues and enable the voices of older people to positively influence policy and provision, be a valued, effective, reputable and expert older people's support organisation. And collaborate with other organisations across Powys and Wales enhancing services and avoiding duplication.
At Age Cymru Powys, we believe that no older person should be vulnerable. We support older people through information and advice and advocacy to provide support every step of the way based on their abilities and need.
The Mamwlad Support Officer/ Manager will roll out delivery on South Powys. You will be responsible for ensuring that older farmers or farm workers receive a high-quality service with information and advice and advocacy. You will be delivering at the frontline, helping, and assisting individuals, to manage complex issues.
You will also be engaging with the rural community and farming businesses to raise issues and to work out the best approach, to develop the project and the long-term benefit of those we support. The ideal candidate will have knowledge of supporting older people, understanding the farming industry in Powys. You will be delivering on the aims of the project, building on the work already started, developing it so it becomes sustainable. Your work should be to a high level, to maintain organisational and professional standards expected of Age Cymru Powys. You will ensure that service and needs are reviewed and met in line with the key targets and contractual expectations.
To succeed in this role, you will need experience of working independently, experience of developing a successful a project, creating and managing networks and working with vulnerable people. You will also need excellent communication skills and the ability to deliver high standards of performance, produce data reports and manage budgets.
This will involve working as part of a project team with staff from Care & Repair in Powys.
Developing ways in which to overcome barriers preventing older farmers from accessing services will be key.
You will gather feedback from service users and others, including those in a Project Support Group, in order to help steer the work of the project and provide monitoring information.
Main duties and accountabilities
1 Customer Service
1.1 Ensure that the client understands and is kept informed of all the procedures and practices involved with their particular circumstances.
1.2 Provide excellent information and advice, keeping knowledge and skills up to date and relevant.
1.3 To deliver information advice over the telephone, via email Welsh is Desirable, but not essential.
1.4 Advocate on behalf of clients in dealings with statutory authorities, and other agencies
1.5 To liaise with clients and family members as necessary.
1.6 To recruit and train volunteers to support older farmers across Powys and to actively take part in the development of the service.
1.7 In conjunction with colleagues, provide an effective telephone response and enquiry service.
1.8 Be proactive in the promotion of the project and the organisations work and ensure targeted publicity through production of leaflets, media coverage, social media and other promotional methods such as talks to groups, farming businesses such as vets or attending relevant events such as farmers markets as required.
2 I&A and Advocacy
2.1 To visit clients in their own homes, providing the required level of advice and information, and maintaining regular contact with them at each stage of the case.
2.2 Advise clients of the financial help available, including, for example, grants, welfare benefits, equity release, etc. and assist them to obtain the aid to which they are entitled.
2.3 Working alongside the older person having strength-based conversations to discuss later life ambitions and planning for the future.
2.4 Identify other areas of help which may be needed by, or are available to the client, and make referrals and applications on behalf of the client as appropriate.
3 Planning and Organising
3.1 Plan and organise own workload to take into account changing priorities.
3.2 Deliver agreed key performance indicators for the role and for the project.
4 Communication
4.1 Use appropriate communication methods when dealing with clients to take into account their individual communication needs. Providing an empathetic and professional service.
4.2 Establish and maintain good working relationship with others including partner organisations.
4.3 Liaise with colleagues within Care and Repair Powys and Age Cymru Powys to deliver a seamless service to clients.
4.4 Ensure all lines of communication are open and cases are progressed in a timely manner with the focus being on the best possible outcome for the client.
4.5 Act as the key contact for selected external partners/organisations in local or Powys wide networks linked to the farming community.
4.6 Along with staff from Care and Repair, set up and develop the Project Support Group.
Monitoring, Recording & Reporting
5.1 Maintain the smooth running of cases by ensuring good records and case notes are kept on Charity Log.
5.2 Provide monitoring information, reports and case studies as required by the CO, and Project Board.
5.3 Ensure the appropriate quantity and quality of client feedback is gathered.
5.4 To work to the standards of AQS and help support the effective development of the service working with other staff and auditor to achieve excellence in monitoring and delivery.
Financial Management
6.1 Ensure the project operates within the funding available and offers the charity good value for money.
6.2 Maintain accurate records, adhering to internal financial procedures.
7 Administration
7.1 Be responsible for all own personal administration and set examples of good practice for the team.
7.2 Maintain comprehensive records of cases by updating databases Charity Log electronic filing system in a timely fashion.
8 Health & Safety
8.1. Promote and maintain an active approach to lone working, health and safety, in respect of yourself, colleagues and clients and adhere to Health & Safety policies/procedures at all times.
8.2 To attend and participate in all relevant training courses.
9 Generic
9.1 To abide by and promote the ethos and vision of Age Cymru Powys.
9.2 Take responsibility for own personal development and seek out opportunities for learning and training. Keep up to date with developments in relevant fields of work and research.
9.3 Be aware of, and act in accordance with, the Age Cymru Powys Confidentiality Policy, and the requirements of the Data Protection Act.
9.4 Be aware of, and act in accordance with, the Age Cymru Powys policies and procedures.
9.5 Actively promote the Age Cymru Powys Welsh Language scheme and be aware of and act in accordance with the requirements of Equality & Diversity legislation.
9.6 Participate in staff meetings and training courses as required.
9.7 Demonstrate a pro-active commitment to effective change management and its delivery.
9.8 Support the work of other staff in order to cover absence through leave or sickness or when workloads require extra support.
9.9 Any other duties commensurate with the post, as may be required by Age Cymru Powys.
Benefits:
Company pension
Life insurance
Sick pay
Work from home opportunities
Flexible hours