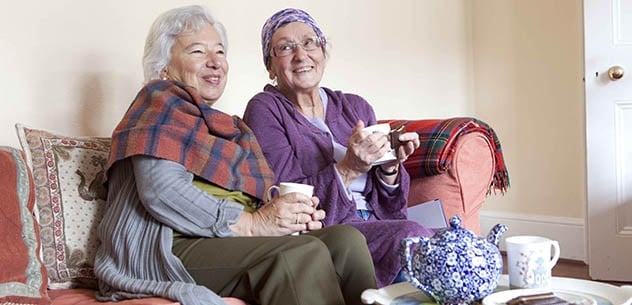 Age Cymru Powys offers help and advice to keep you staying warm and well in winter.
Age Cymru Powys campaigns to raise public awareness of the health risks that cold weather and a drop in temperature can have on older people.
Each winter, one older person dies every 7 minutes from the cold.
Whilst many of us look forward to the build-up, and buzz of the festive season, many people dread what winter has in store. Winter can be especially hard for many older people living in our communities, especially for those who have lost loved ones along the way.
Our campaign, called Spread the Warmth, aims to help all older people to live more comfortably and safely at home during winter, and to stay connected with others and be a part of what's going on in their community.
We want to make winter more than just 'bearable' for older people. We want all local older people to know that Age Cymru Powys is here to help. We offer a dedicated and confidential information and advice service, talks and awareness sessions, and practical services like home visits and toenail cutting.
A delivery driver called us the other day because the lady he was delivering to opened the door wearing a hat and coat. He said to her 'Sorry, I didn't realise you were going out.' But she said, 'No, I'm just cold, that's all'.
He was very worried so he called us, and we arranged for her to get some practical help.
We also get requests from GPs, Housing Associations and individuals – a whole range of organisations and people. In winter, a lot of our calls are about broken boilers, people being cold, and people concerned about others being cold.
Living in a cold home can damage your health. So our Warm Homes programme is designed to help you stay warm and well through the cold months.
The Warm Homes programme can help Powys residents aged over 65 in two ways:
• help increase your income to pay for energy bills
• help make your home more energy efficient so you can stay warm in the winter
Here's how the programme can help you keep your home warm.
BENEFIT ENTITLEMENT SESSIONS
These one-to-one sessions usually take place in your home or via the telephone according to C-19 measures. Their purpose is to:
• increase your income by making sure you've applied for all the benefits you're entitled to
• provide support through the benefits application process
In 2020/21, Age UK identified over £51 million of unclaimed benefits within 6 months, with an average of £3,000 per year secured for each older person.
"The visit was so helpful. I value my independence but realise that I can ask for help when needed and not struggle alone."
In a home energy check, a trusted handyperson will visit your home or discuss with you via the telephone (according to C-19 measures) to check how energy efficient your home is. The handyperson can fit appropriate equipment to increase the energy efficiency as C-19 measures allow. This includes things like:
• energy-saving light bulbs
• draught excluders
• reflective radiator panels

The handyperson can also offer practical tips to help you keep your fuel bill down.
"My husband is disabled and needs to be warmer all the time. The home energy check has helped a lot and with the extra knowledge we know how to keep warm without spending more money."
In both of these one-to-one sessions we will also:
• provide advice on keeping warm and saving energy
• offer free Age Cymru information guides that may be useful
• refer you to local services you may find helpful
Keeping warm in the colder months is a huge issue for many homeowners who live in Powys. Many people live in poorly-insulated houses which are not on the main gas grid and are therefore expensive to heat
Would you like a FREE CHECK to ensure you're getting all the help you're entitled to this winter?
Or would this be useful for someone you care for?
Call us on 01686 623707 / 01597 825908 for more information or to book a telephone appointment.
How you can get involved in Spread the Warmth
Please help us reach the older people living in Powys this winter who desperately need our help to keep warm, safe and well and in touch with others.
Get in touch to find out how you can help us to Spread the Warmth – together, we can help people feel warm, healthy and in touch with others this winter – you can contact us here.