Veterans Should Not Be Forgotten in Powys – Dedicated Support Service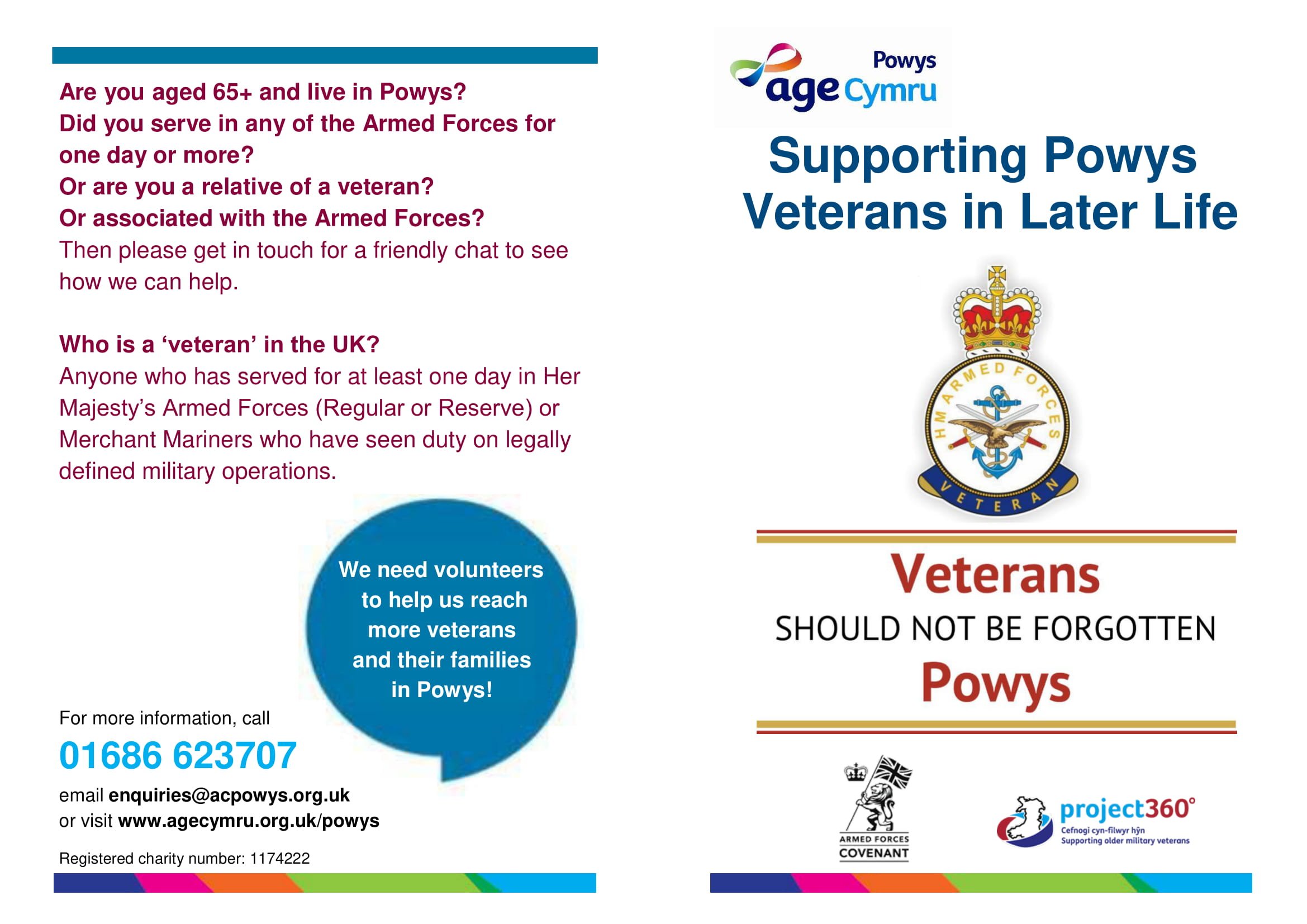 Supporting Powys Veterans in later life
Veterans Dedicated Support Service is a free service delivering financial, practical and wellbeing support for Powys military Veterans, their relatives and associates of the Armed Forces aged 65+.
Age Cymru Powys (formerly Age Concern) is your local, independent older people's charity providing information, advice and support for older people in Powys for many years.
We provide a free, confidential and impartial service to help Veterans, their relatives and military associates make the most of later life. The service embraces our values to help build a society where older people are respected, valued and able to live the life they choose.
We offer home visits for a friendly chat under social distancing rules. We're also available via telephone or video call.
ACP Veterans Support offers:
Dedicated Support Service for Veterans
Military Pensions & Grants Eligibility Check
Later Life Goal Planning
Veteran-to-Veteran Support
Income Maximisation
Social Connection Service
Wellbeing Services


We're asking the Powys community to get behind us and make a pledge to share our project, in order to help us identify those older veterans who may benefit from this service but may not be as visible in our communities.
How can you help us reach more Veterans aged 65+ living in Powys?
Display or distribute the ACP Veterans service leaflet to your clients / local community
Signpost older people to ACP Veterans service should you feel they may benefit from it
Arrange a group discussion with your chosen staff / clients / local social group to raise awareness
Include a description of ACP Veterans service in your newsletter
Share links to our organisation's website or social media communications

If you feel that we could be of service to you, or if you know of any veterans, their families or military associates that may benefit from this service, then please don't hesitate to let us know how we can help.
Please call 01686 623707 or email: enquiries@acpowys.org.uk for further information.
Veteran Friendly GP Practices
The Royal College of GPs is working with NHS England and NHS Improvement to accredit GP practices as 'Veteran Friendly'. This programme enables practices to deliver the best possible care and treatment for patients who have served in the Armed Forces.
Nearly 1,000 GP practices in England are already accredited through this programme. These GP practices are supported to identify and code their veterans, and to appoint a clinical lead who undertakes training and other activities related to veteran healthcare.
The Royal College of GPs provides accredited practices with an information pack to help increase their understanding of the health needs of veterans, and the services available to them and we would like to see this in Wales, but before we can go any further we'd like an idea of how many GP surgeries are already 'Veteran Friendly'.
Joining Forces would like to know in relation to GP surgeries in Wales:
If they ask the question 'Have you ever served in the Armed Forces?' on their registration form.
If they do ask the question, have they asked the question of those that registered with the surgery prior to it being added to the registration form.
Do they display a copy of the attached poster in their waiting room.
Are they aware of the priorities set out in the Armed Forces Covenant.
Let us know by contacting Age Cymru Powys via email: enquiries@acpowys.org.uk or call 01686 623707.
Thank you