Information Services and Support
Age UK Lancashire provides an information and advice service for older people aged 65+ and their carers.
The service is free of charge, confidential, independent and impartial. We can help you with a range of issues which may be about claiming benefits, housing, health and care issues or local services. You may be facing a crisis, or just considering your options. We value diversity, promote equality and challenge discrimination in all that we do. We respond to an individual's needs without regard to their gender, sexual orientation, disability, race or religion.
We aim to provide the information and advice that you need for the issues that you face.
We won't judge you, persuade you or tell you what you should do – we will listen, explain all the available options to you and support you in the course of action you decide to take. If we aren't able to help you, we will try to help you find someone who can.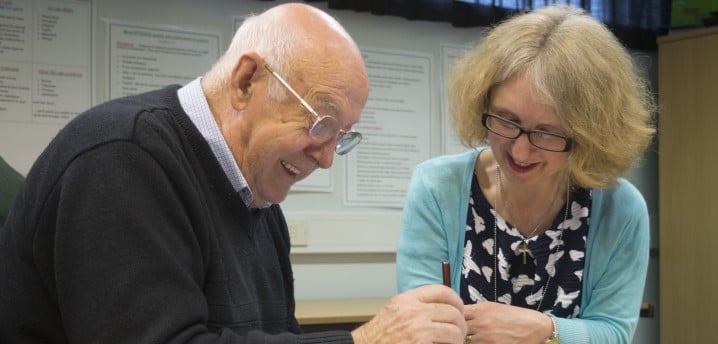 How to Get Information and Advice
You can choose the way to contact us that suits you the best
By telephone
Face to face appointments
Home visiting service (in special circumstances)
Letter or email
Advice Line: 0300 303 1234
Our telephone information and advice service operates during our opening hours, which are 9.00 am - 5.00 pm. We will ask you some questions to assess your needs and arrange to call you back at a mutually convenient time. This Advice Line is delivered by highly trained staff to guide you through queries about Welfare Benefits, Community or Social Care, Housing Options and Local services and support. They have access to detailed, up to date information and if you struggle to get out or prefer a telephone conversation this is ideal for you. This service is available for residents who are over 65.
Outreach Surgeries
You can book a face-to-face appointment with one of our advisers at one of our outreach surgeries listed below. Please ring 0300 303 1234 to be referred for an appointment:
St Anne's: 7 St George's Road, FY8 2AE. Every Wednesday and Thursday morning and Drop in on Wednesday afternoon.
Clitheroe: Ribble Valley Homes, De Lacy House, Station Road, Clitheroe BB7 2JT. Alternate Fridays: 10.00 - 12.00pm
Home Visiting Service
In special circumstances, we are able to provide a home visiting service for those who are unable to attend a surgery. The home visiting team supports people with benefit checks and claims, such as Attendance Allowance and may be able to help with other queries, as required.
Letter / email
You can email us on advice@ageuklancs.org.uk
Or you can write to us at:
I&A Team, Age UK Lancashire,
3-2-5 Storey House,
White Cross Business Park,
South Road,
Lancaster,
LA4 4XQ
Age UK Lancashire is a brand partner of Age UK, the national charity. We help many more people than we can directly support, through campaigning. We use the evidence from our service to influence change in policies and practices. If you are interested, you can help us by becoming a volunteer, or by making a donation.
Check out our Facebook page and Twitter feed where there is lots of useful information or our website for the latest news www.ageuklancs.org.uk
If you need to speak to someone outside our opening hours you can contact the national Age UK Adviceline on Freephone 0800 678 1174 (operates 365 days a year from 8 am - 7 pm):
How Did We Do
Age UK Lancashire is committed to ensuring that the services we provide meet the highest quality standards. As one of our customers, we want to know what you think about our services so that we can learn from your experiences and make improvements where necessary.
It is important to us that we maintain the highest standards and this is not possible without your voice being heard so please take a few moments to complete this form and return to Age UK Lancashire, Suite 22, Railway House, Railway Road, Chorley, PR6 0HW.
Click here to complete the online How Did We Do Feedback Form or download it
Contacts
Information and Advice is offered across the county. Each area has its own local office contacts in addition to our countywide advice line: 0300 303 1234

For further useful telephone and email contacts
Free booklets and online information
Age UK produces free information guides and factsheets on a wide range of topics, including home adaptations, dementia, and advice for carers. You can find a complete list of guides and factsheets on the Age UK national website.

If you prefer to read information online, the Age UK national website has information and advice on many topics, including how to find a care home, how to avoid scams, and Power of Attorney.