2017 AGM held in Northampton
Published on 18 October 2017 01:05 PM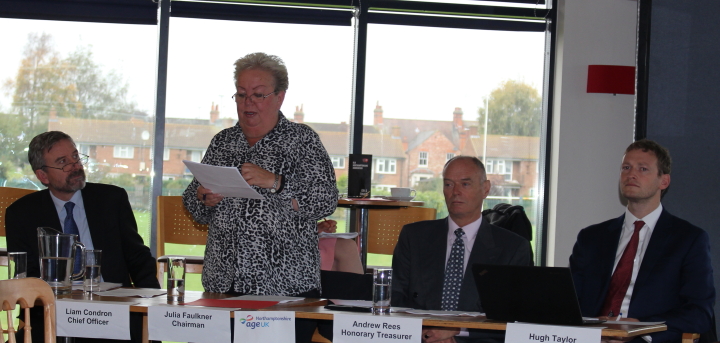 Chairman Julia Faulkner welcomed invited guests and speaker Hugh Taylor from Aleron to the meeting to hear about the work of Age UK Northamptonshire over the past year
After an informative and highly topical presentation on "Social Investment and the Future Voluntary Sector Funding Mix" by Hugh, Julia proceeded with the order of business.

Chief Executive Liam Condron gave a comprehensive review of the work of Age UK Northamptonshire over the past year. He said that despite these extraordinary times "the humanity we bring to our work is what makes the difference to older people in the county".

Honorary Treasurer Andrew Rees presented the annual accounts, Honorary Officers and Trustees were elected and Grant Thornton was re-appointed as Auditor.

Gareth Norris of Grant Thornton spoke briefly to confirm that the auditors were satisified with Age UK Northamptonshire's Financial Statements.

There was no other business apart from a special thank you to Liam Condron for his dedication and hard work over the past 25 years. He will be a hard act to follow.

Julia also thanked staff, volunteers and everyone who has supported Age UK Northamptonshire over the past year, enabling the charity to make a positive difference to thousands of older people and their families.