Kettering shop celebrates 25 years
Published on 26 July 2019 04:17 PM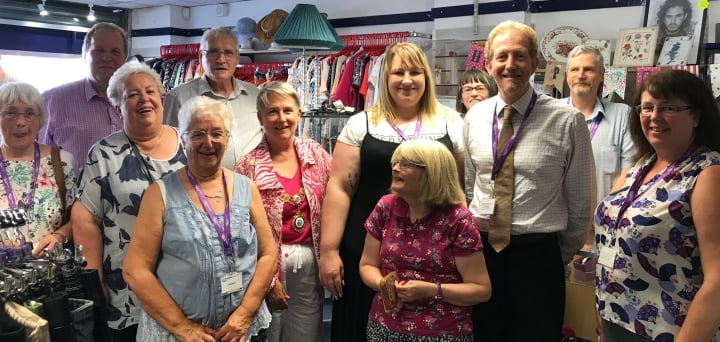 Staff and volunteers were joined by the Mayor of Kettering to mark the special anniversary
Our thriving shop in Stamford Road reached an important landmark this year, celebrating 25 years of trading and raising vital funds for the charity. Shop Manager Nerissa Haimes and Chief Executive Chris Duff [pictured above with customer Patrick, volunteers Jan, Andrea, Pam, Claire and Arnold, our trustees Julia and Kevin, Deputy Manager Sharon, and the Mayor in pink jacket] were thrilled that the Mayor of Kettering Cllr Keli Watts could join us for the birthday celebrations on Thursday 25th July 2019.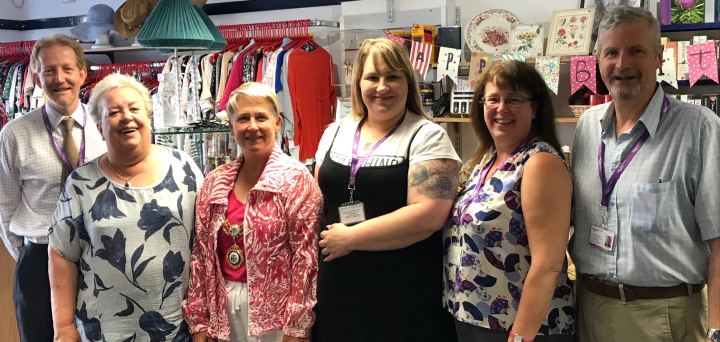 Charity shops rely on the hard work of many local people. Our staff ensure the shop is run efficiently and profitably and volunteers give up their spare time, knowing they are making a positive contribution to their community. We know that our volunteers enjoy keeping busy in the shop, making new friends and helping to make a difference. The income raised from all our shops plays a vital role in enabling Age UK Northamptonshire to provide support to thousands of older people in the county.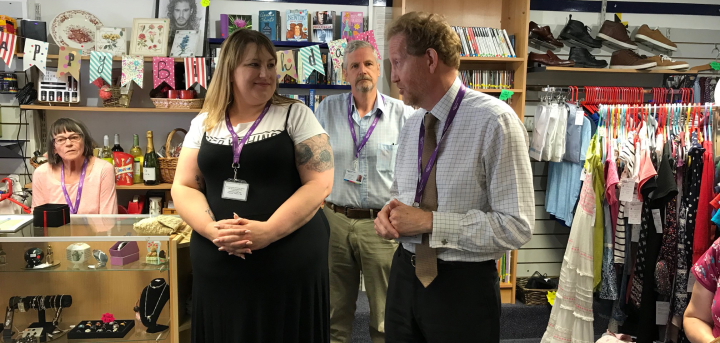 The Mayor said how pleased she was to be invited. She explained how she is very focused on supporting the elderly and, as we are all living longer, we will be needing Age UK Northamptonshire's services more. The Mayor also stressed what a fan she was of charity shops because they are such an excellent way of recycling resources and reducing waste. By encouraging people to re-use clothes and other items we are protecting the environment.

Shop Manager Nerissa said she was pleased that so many customers and volunteers had been able to join us for the celebrations and to enjoy the drinks, nibbles and free raffle. Thank you to all our customers and we look forward to another 25 years of successful trading.