Book of memories launched
Published on 02 January 2020 11:57 AM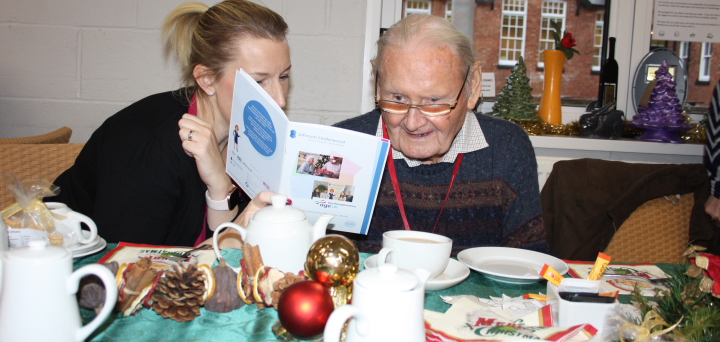 Johnson Underwood sponsor a fascinating anthology.
Having chosen Age UK Northamptonshire as their charity of the year for 2019/20, Northampton-based recruitment agency Johnson Underwood staff will be volunteering and fundraising for us over the next 12 months. They are neighbours of our St Giles Street shop in Northampton (and also not far from our Venton Centre in York Street) and say they are keen to support a local charity that does so much for older people.
By sponsoring the publication of a "Northamptonshire Memories Book" that brings to life the memories of 11 clients at the Venton Centre, Johnson Underwood hope that the 28-page booklet will raise awareness of our day centres and the role they play in helping older people feel less lonely and isolated. The 11 people featured in the "Northamptonshire Memories Book" come from all over Northamptonshire and their stories provide a fascinating window into the history of the twentieth century in the county.
The booklet was launched at a special event on Tuesday 17th December at the Workbridge cafe in Northampton. All the featured clients who contributed to the anthology were invited along to enjoy a festive cup of tea and mince pie as a special thank you for sharing their memories. Carol Johnson, Managing Director of Johnson Underwood, said "We are really proud to be supporting Age UK Northamptonshire as our charity of the year. We are especially looking forward to raising funds by the sale of the Northamptonshire Memories Book and we hope to raise awareness of the amazing work this organisation does to help older members of the community in Northamptonshire."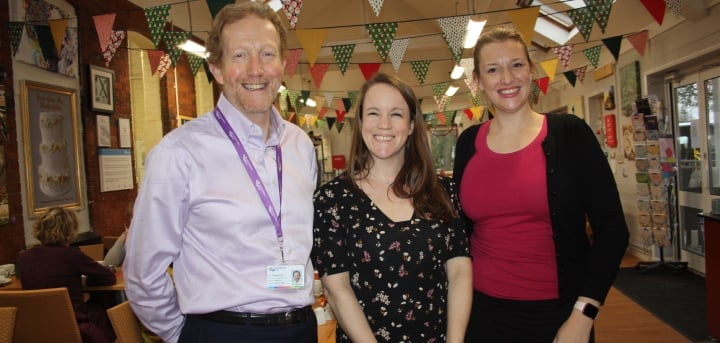 The book launch was attended by Chris Duff, chief executive of Age UK Northamptonshire, who said "We are thrilled that Johnson Underwood have chosen us as their charity of the year. They have come up with some exciting joint projects for us to work on together and that our clients can be directly involved with. As a local charity we are not funded nationally and get no government subsidies. The support of local businesses is vital and helps us to keep doing what we do, which is to improve later life for people living in Northamptonshire. The Northamptonshire Memories Book celebrates our amazing clients and their fascinating life stories."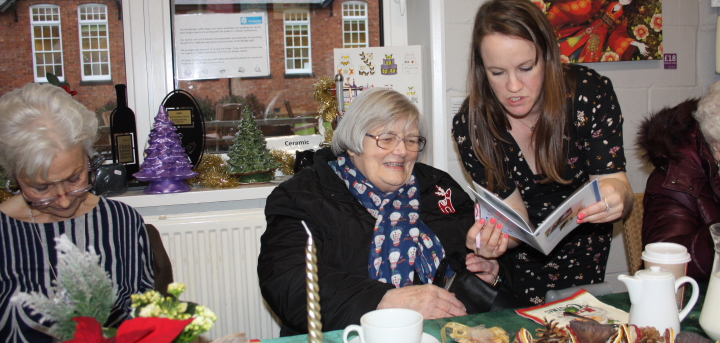 Jean points out her entry in the booklet to Heather from Johnson Underwood.
Buy the Kindle version on Amazon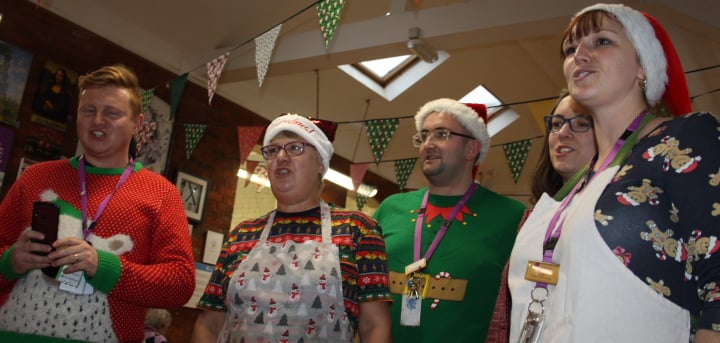 Staff from the Workbridge cafe surprised us all by giving us a jolly rendition of "We wish you a Merry Christmas"!
The booklet, which was printed by Concept Midlands Print, is on sale in Age UK Northamptonshire's shops in Northampton, Kettering, Burton Latimer, Thrapston, Rothwell, Far Cotton and Brackley, and costs £2.50. All proceeds will help the charity carry on providing support to older people throughout the county.
Related pages on our website
Related pages on other websites