Thank you Tollers Solicitors
Published on 31 May 2019 02:33 PM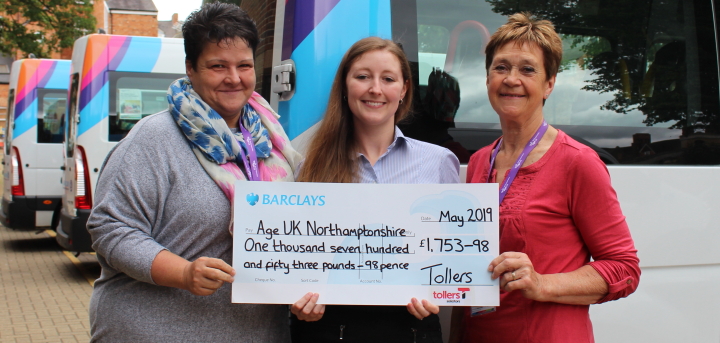 Every donation is vital and makes a difference to local older people
Venton Centre managers Vicky Denney and Ali Church were delighted to welcome Tonina Ashby of Tollers Solicitors to The Venton Centre in Northampton on Friday 31st May. Tollers Solicitors chose the local Age UKs in the areas where they have offices as their "Charity of the Year 2018/19". Over the past year their staff have volunteered at the charities' day centres and at fundraising events and they have fundraised themselves for the charities.
Clients in the activities room at the Venton Centre showed their appreciation for the donation by giving Tonina and Tollers Solicitors a hearty round of applause. And Vicky confirmed that "your donation will be put to very good use".
We are always delighted to receive donations from local businesses and welcome the opportunity to involve them in our fundraising activities or as volunteers. Please call us on 01604 611200 if you'd like to support Age UK Northamptonshire.