Happy 90th Birthday Audrey
Published on 11 May 2020 10:17 AM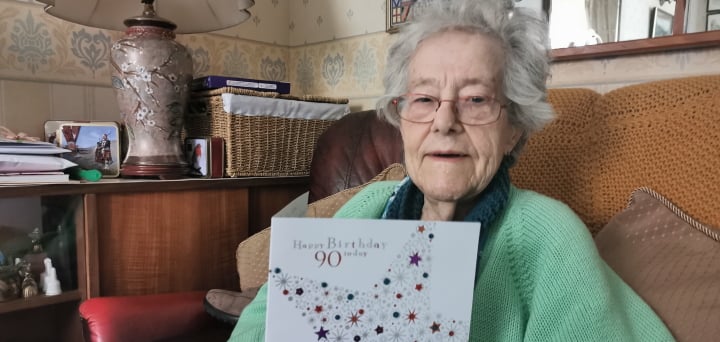 Amy and Sham helped make Audrey's birthday special
Amy Shelton, Coordinator of our Collaborative Care Team Wellingborough, tells us that on Friday 1st May she visited a lady in Northampton who told her she would be celebrating her 90th Birthday all alone in lockdown.
Amy tells us she met Audrey because Age UK Northamptonshire has been supporting her during the coronavirus pandemic by doing her shopping. Audrey had mentioned that her 90th birthday would be on 2nd May and she would have no one to celebrate with her as her family live in another area of the country.
"During my shopping delivery visits I also discovered her love of cheese rather than chocolate, so my colleague Sham and I thought it would be a lovely idea to take her round a little birthday gift to help lift her spirits. With the help of Natalie Kindon we also got hold of some large print books for her, as she had been unable to get them from her local library. As an avid reader myself, I felt her pain!" says Amy.
Needless to say, Audrey said she was overjoyed and very touched Amy's birthday visit. "We were thrilled to bring a smile to her day," says Amy.
All of us at Age UK Northamptonshire are doing our best to cheer people up during these difficult times and we try to ensure no one feels forgotten. By making a donation to our Coronavirus Emergency Appeal you can help support the charity and enable us to make a difference to older people in the county, who need us more than ever at the moment.