COVID-19 testing in care homes
Published on 28 May 2020 12:46 PM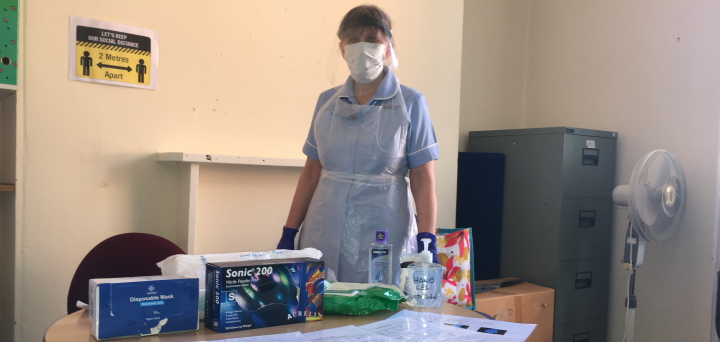 Our staff are helping to test people for the coronavirus
Age UK Northamptonshire is supporting the NHS in carrying out COVID-19 tests in care homes across Northamptonshire. In order to meet the demands of the Government's Coronavirus testing targets, the NHS is working with support from Northamptonshire County Council, Public Health, Woodland Hospital, Northamptonshire Carers and us to get the crucial swab tests completed.
Our staff were asked to help frontline NHS staff complete the tests. The staff who stepped forward to support the NHS have undergone full training via Zoom and in the care home setting, including donning and doffing PPE, hand washing and completing the test itself, which involves swabbing the back of a person's throat and both nostrils. The test can be completed quickly and is a crucial part of the Government's strategy to stop the spread of the coronavirus.
Age UK Northamptonshire staff will be supporting with swabbing adults in residential care for as long as they are needed. This is not the first time we have worked with the NHS. As a local, independent charity we have completed several contracts on behalf of local clinical commissioning groups. Most recently Age UK Northamptonshire staff have been working in Northampton General Hospital and Kettering General Hospital ensuring that patients have everything in place to be discharged smoothly. The support offered ensures unnecessary delays are avoided and much-needed hospital beds are freed up in a timely manner.
We have been operating in Northamptonshire for over 65 years and are well placed to assist the NHS. As a person-centred organisation, we have years of experience in providing support to older people. We have used that experience and our expertise to respond quickly to the needs of older people during the COVID-19 pandemic, running an emergency food, shopping and medication delivery service across the county. We are also adapting our other services such as homecare cleaning, to ensure they are meeting the needs of some of the most vulnerable people in the county.
Chris Duff, our Age UK Northamptonshire's Chief Executive, said "I am really proud of our staff and volunteers and the way that they have adapted in times of adversity. Everything we do is focused on helping the older population in Northamptonshire and we're delighted that we're able to support our amazing NHS colleagues and partners with such important work."
David Munt, Hospital Director of Woodland Hospital, said "We felt it was extremely important to support the NHS collaboratively by swabbing care home residents and dedicated care workers in our local community to ensure the safety and protection of our most vulnerable. Hopefully together, we will make a difference."
Louise Tarplee, Northamptonshire Clinical Commissioning Group's Lead Nurse for COVID-19 Infection Prevention and Control, said: "We are hugely grateful for the support of Age UK Northamptonshire, alongside all our other partners, to improve access to COVID-19 testing in our care homes across the county. This is part of wider partnership work to help local care homes with their COVID-19 response, which also includes the delivery of infection prevention and control training to care home staff."
Age UK Northamptonshire needs your help during these unprecedented times. Demand for our services is greater than ever but our income has greatly reduced. Please make a donation to our Coronavirus Emergency Appeal