Enjoying the refurbished patio
Published on 04 June 2021 10:03 AM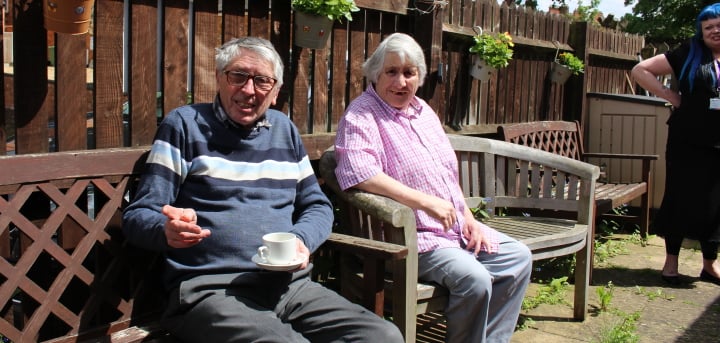 Day centre clients have been enjoying the warm weather
Now that the weather has finally turned sunny, our day centre clients are delighted to be taking advantage of the spruced up patio garden at The William and Patricia Venton Centre. Clients at the day centre had already chosen plants to be potted up for the patio in anticipation of the weather improving. At the end of May our admin worker Geri and husband Ron spent a Saturday digging up weeds, clearing away bits of rubbish and potting up more flowering plants. This means that the previously neglected outdoor area is now looking fabulous and is the perfect spot to sit for a chat and to enjoy a bit of natural light. There are plenty of sunflowers and colourful annuals and no weeds in the flagstones. There are even a few tomato plants in a growbag for our clients to enjoy watering. We hope to be picking tomatoes in a few weeks.
David [pictured above with Jen] says "It's the perfect place to sit and eat an icecream."
Senior Day Care Co-ordinator Bethany Smith says "It's wonderful to have somewhere nice for people to sit outside, especially as we are still being careful to follow social distancing guidelines. Many of our clients do not have their own garden, so we hope they will enjoy being able to watch the plants grow and look after them if they wish."
Staff and clients at the day centre are so appreciative of Geri and Ron's hard work that Bethany and David presented Geri [pictured centre] with a card and box of chocolates to say a huge thank you.