Next Steps in Corby
Published on 02 August 2021 02:32 PM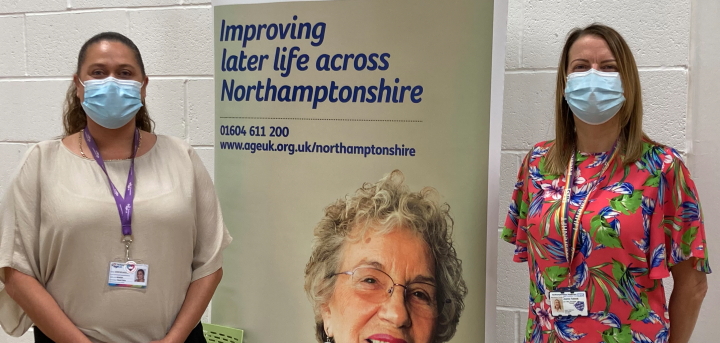 Providing information and support in Corby
Over the past eighteen months, Christine Goodwin [above left] of our Community Assessment Team has not stopped providing information and helping older people to be supported by our services and day care. As well as talking on the telephone she has continued to carry out assessments and home visits, whilst following covid guidelines at all times. But government rules have meant that many community events have been cancelled, so she was delighted to have a table at a Next Steps Workshop in Corby for older people with a diagnosis of dementia.
The small scale event at Oakley Vale Community Centre on Friday 30th July was organised by the Memory Assessment Service & Older Adults Community Mental Health Team for Corby and Kettering. Manager Joanne Tabbott and the team are cautiously and carefully inviting people to attend these enjoyable events, providing the opportunity for them to ask questions and to meet others in a similar situation.
Not everyone can use the telephone or go online, so being able to speak to a health professional or adviser in person can be hugely beneficial. Carers and relatives get the chance to pick up leaflets and find out about benefits and aids that can enable them to live independently. The person with the diagnosis of dementia can also ask questions and enjoy being in a supportive, caring environment where they won't be hurried and people are compassionate and understanding.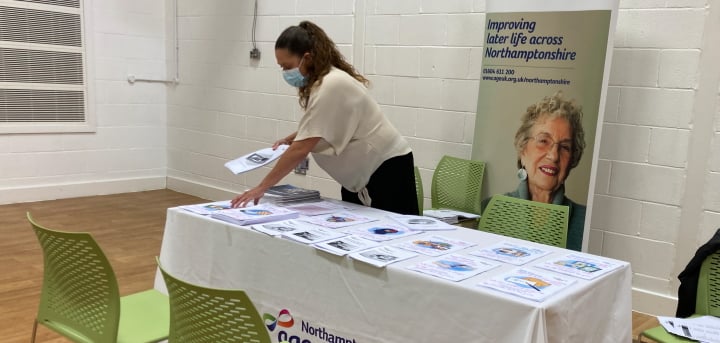 We bring a supply of information leaflets.
Please get in touch if you are organising an event for older people and would be interested in learning more about our services. Call us on 01604 61120.