The Incredible Cycling Chapman Brothers
Published on 20 July 2021 03:14 PM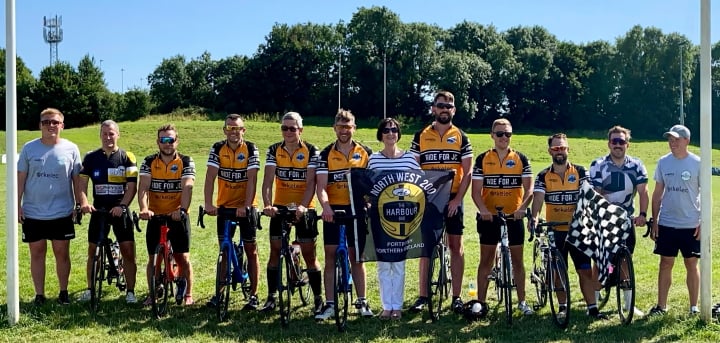 Family, friends and supporters turned up in force to cheer the return of the fundraising cyclists

On Monday 12th July Chris and Aidan Chapman, their cousins Nathan and Lee Joyce, and friends Josh Block, Jack Walther and Jamie Carmillet, set off on a mammoth challenge to cycle from Portrush in Northern Ireland to Kettering Rugby Football Club. They aimed to complete The John Chapman (JC) Memorial Charity Ride July 2021 in honour of their much loved father who died of cancer in April 2020 and set themselves a target of raising £3,000 for Age UK Northamptonshire. They returned to Kettering in triumph, on one of the hottest days of the year so far, and have in fact raised a magnificent £10,115 [standing at £12,060 on 22/11/21] for the charity.
"Donations received will be to support the extremely kind care workers of Age UK Northamptonshire's End Of Life Service, with a small part of the donations going towards a memorial bench (hopefully at Kettering Rugby Football Club) in Dad's memory," says Chris.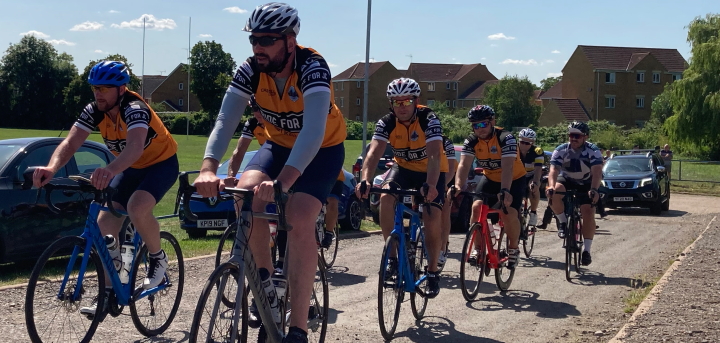 The cyclists were supported along the way by Danny Noble, Harry Joyce and George Newman. The route was chosen because the family has many happy memories visiting grandparents and watching motorcycle road races in Portrush. It was also John Chapman's favourite place for a drop of Guinness. Kettering Rugby Football Club has been a second home to the Chapman family, a place where lifelong friendships have been made, and they say it is somewhere special to this day.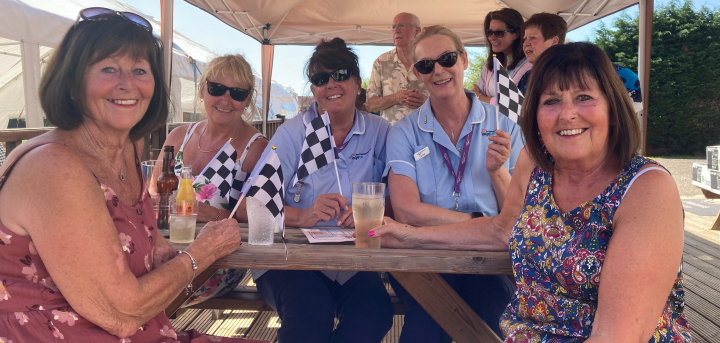 Age UK Northamptonshire EOL carers Janet and Lynne say they were privileged to have met John Chapman and were glad to be able to support him and his family in his final illness.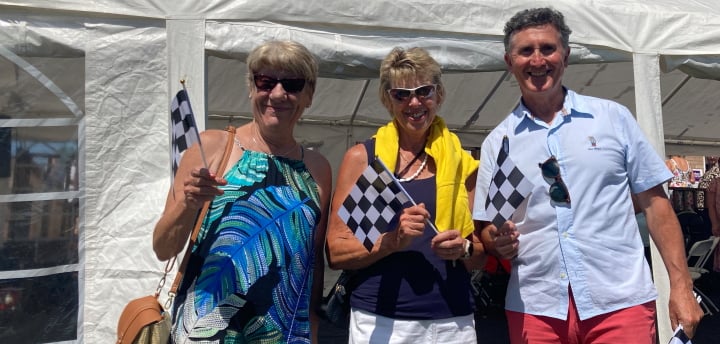 Sue Watts and Diana Murkin from Age UK Northamptonshire were delighted to meet Fergus, one of John's closest friends, and to welcome the fundraising cyclists back to Kettering Rugby Football Club on Saturday 17th July. It was a bitter sweet occasion for many, an opportunity to celebrate the life of a wonderful man, loved by so many, and also to share memories and feel his loss. Age UK Northamptonshire says a huge thank you to Gail Chapman, and to her very special family and friends, for helping us to make a difference in Northamptonshire.
You can donate to Chris and Aidan's fundraiser here online.