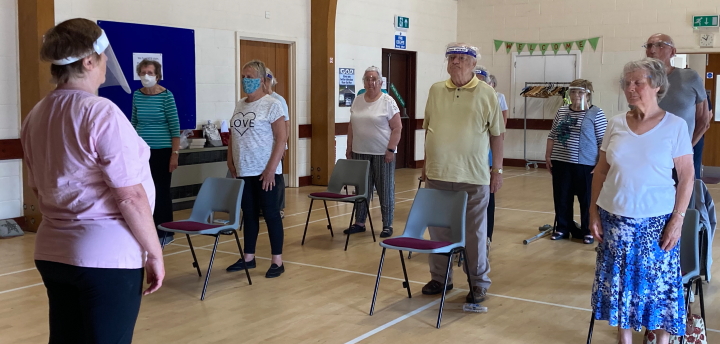 Every session starts with a gentle warm-up, sometimes seated, sometimes standing
We will be following social distancing guidelines at all times, with extra hygiene procedures in place to minimise the risks to participants and the instructor.
Volunteer Margaret Hughes delivers chair-based exercises in Kettering and surrounding areas that promote enhanced mobility and an increase in confidence. They are a social occasion for all who attend. Margaret has particular expertise in gentle exercise for people who have experienced a stroke.
Please contact the Lifetime Activities Team on 01604 611200 if you are interested in attending the class.
Every Friday
John Yeoman Hall, Meeting Lane, Burton Latimer NN15 5LS
10am - 11am
£3 per session
Please call the Lifetime Activities Team at Age UK Northamptonshire on 01604 611200 for details about joining the class.
Feedback from class members
"I look forward to the session every week. It's not just the exercises that do me good but I enjoy the social aspect of chatting with people afterwards."
Joan, aged 76
Structured classes coming up
from 14/1/22
week one: working with bands to stretch and strengthen muscles
week two: working with weights to give strength and power
week three: working with balls to stretch and improve spacial awareness
week four: working with balloons to stretch, build confidence and enable communication and have fun!
week five: working with the silk parachute for upper trunk, enable communication and more fun
week six: working on mobility to strengthen, sharpen skills and confidence with gait