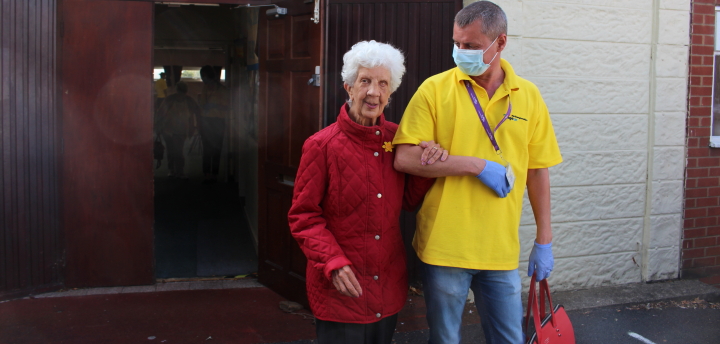 Rockingham Road, Kettering
Our day centre at the Baptist Church rooms takes clients from the local area.
Open Monday to Friday
10.30am to 2.30pm
Our centre manager and his small team are thrilled to be welcoming clients back to new premises in Kettering. We are able to provide day care in comfortable, spacious rooms with access to lovely gardens.
Covid-19 restrictions, and our commitment to keeping our clients safe, mean that we are operating with smaller numbers than previously. We are also observing social distancing guidelines and following strict hygiene routines.
Baptist Church rooms
Rockingham Road
Kettering
NN16 9JA

Telephone enquiries 01604 611200 or call the manager Mark Morgan on 07787 224312.

Please get in touch
At the moment we are not able to welcome you to join us for a taster session but we welcome enquiries from older people or relatives who are thinking about day care.
Our small team provides a warm welcome.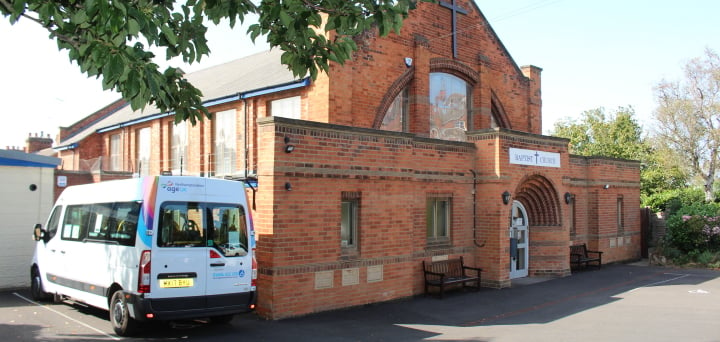 There is plenty of space to enjoy in Kettering.
Fun making pancakes

Clients took part in a week of pancake-themed activities in February.

Fun eating pancakes

As well as making the pancakes, our clients enjoyed eating them too!
February 2021
At the moment around 43 clients are attending our Kettering Day Centre in Rockingham Road each week. Our capacity, due to covid restrictions, is 60 places (12 per day) and that will increase when the need for social distancing and other restrictions are lifted. Since we re-opened in October we have eight new clients and we know that more people are waiting to join us once the situation changes.
Clients who have returned to us since the March lockdown tell us they have regained their confidence, both mentally and physically, and are far happier now than they have been during the last 12 months. Manager Mark Morgan and his team have noticed clients are feeling more positive, and being able to look forward to future activities and events creates a happier environment for everyone at the day centre.
We work hard to arrange activities for our clients that are both mentally and physically stimulating and always make sure they are enjoyable. The new venue has attractive, accessible gardens and we are already planning outdoor activities for clients, when the weather permits.
The new venue also means that Mark is hoping to arrange social activities involving the Baptist church and their members, which will benefit the local community as well as our clients and their families. When government guidelines allow, he plans to hold weekly coffee mornings for anyone who wishes to join in and there are plans for entertainment and maybe a street party or two within the grounds. Being able to discuss this with clients, and involving them in plans, has dramatically improved their outlook on life after this uncertain period.
Mark feels that the opportunity to socialise and meet friends is the most important service that the day centre provides. For some of our clients it is the only chance they get to be with others and to feel part of a community again. Christmas was especially hard for many people and, for some, we were the only company they had to look forward to. Taking part in our Christmas activities and "themed weeks" made a huge difference and was a happy distraction for them. We have stayed in touch with our clients and supported them throughout the pandemic, even when the day centre was closed due to the lockdown. We have regularly delivered dinners to clients at home and we telephoned them every week for a chat and to check how they were.
Our Kettering Day Centre is a thriving little centre that provides a safe and happy environment for many older people who feel lonely and isolated. It also gives carers and families a much needed break, and they know that their loved one is being well looked after.
Please get in touch if you or a relative are interested in joining us. You can call our Manager Mark Morgan on 07787 224312.