Supermarkets introduce dedicated shopping hour for older people and the vulnerable
Published on 19 March 2020 02:02 PM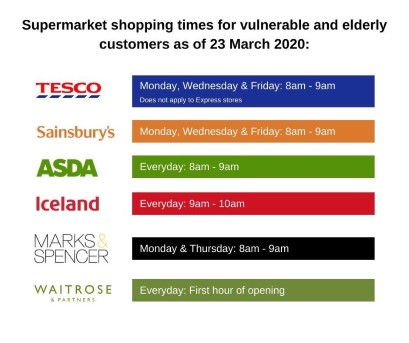 You will all have noticed that some shelves in your local supermarket have been empty over the last week or so, with many essential items such as toilet rolls, soap and hand sanitiser, bread flour, long life milk, tins of beans etc have been in short supply.
The big chain supermarkets have come up with various ideas to improve matters and ensure that vulnerable and older people can shop more easily and safely. The plans include designated shopping times when only vulnerable and older people can shop, earlier closing hours to enable staff to re-stock depleted shelves with a wider range of every day products, limiting the number of each item that you can buy and closing cafes and fresh meat, fish, salad and deli counters.
Those of you who do your shopping on-line may find that your supermarket will offer you priority for delivery slots if you are vulnerable or over 70. Also they may have brought forward the cut-off time to make alterations to your on-line order. Other shops have decided to increase the number of 'click and collect' slots that will be available, so if you are able to do this you will help free up a delivery slot for those who need their shopping brought to their door as they are self-isolating.
Check with your local supermarket to see what they will be offering. Some examples are:
From 19th March Tesco will be introducing storewide restrictions of three items per customer on all product lines and all multi-buy promotions will stop. All their shops will close at 10pm to enable restocking of shelves. Their larger shops will designate one hour between 9am – 10am Mondays, Wednesdays and Fridays to allow vulnerable and older people only to shop.
On 20th March the larger Asda stores will designate the hours between their store opening and 9am for vulnerable and older people and their carers to shop.
From 23rd March Sainsbury will give vulnerable and older people priority access to on-line delivery slots. Purchases are limited to a maximum of three items per grocery product and a maximum of two purchases of toilet paper, soap and UHT milk.
Iceland stores are being encouraged to set aside dedicated time for vulnerable and older shoppers each Wednesday
Aldi is limiting purchases to four items of any one product during each visit
Waitrose have brought the cut-off time for online orders forward to 12noon and they may reduce the service in their shops occasionally in order to re-stock their shelves