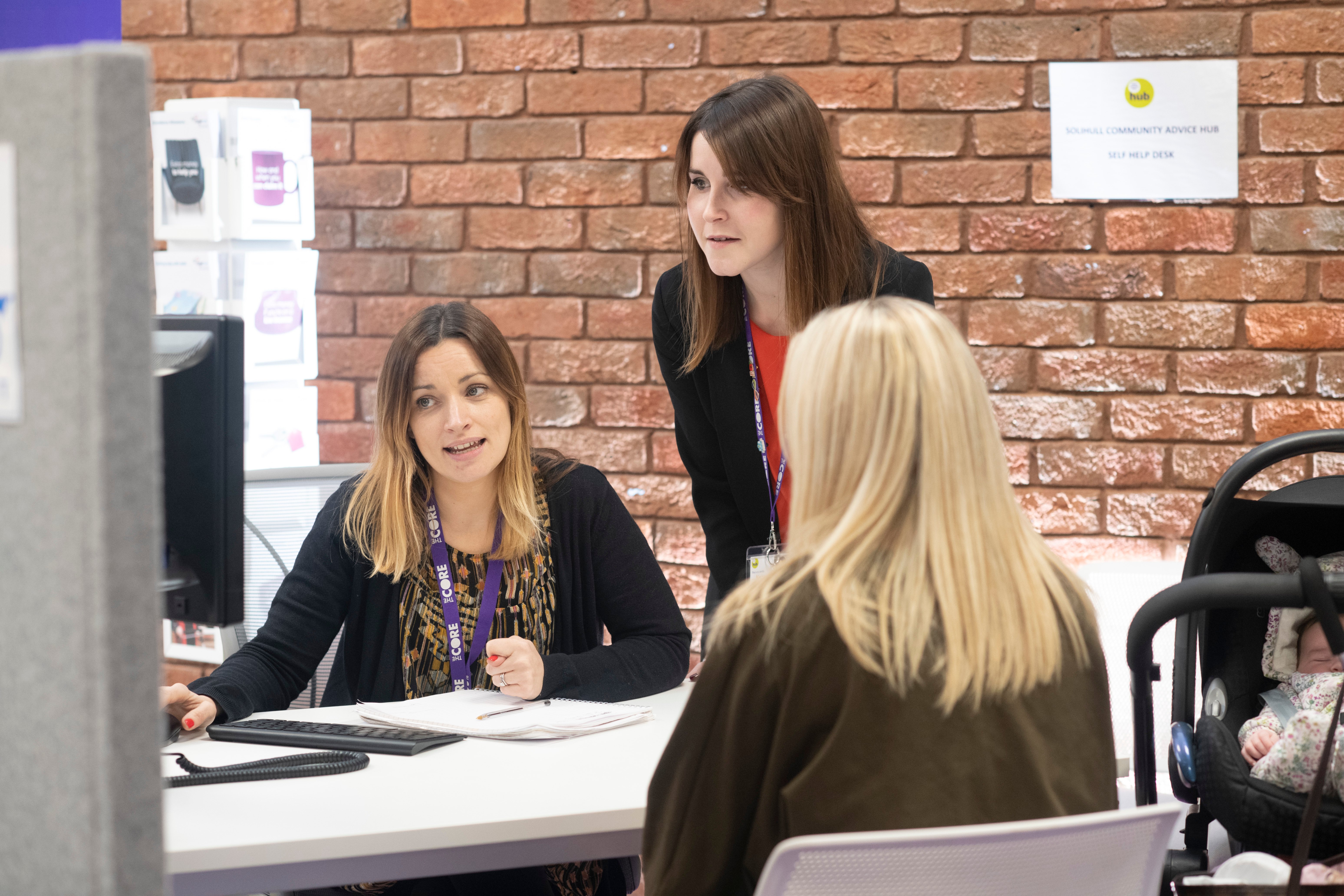 Age UK Solihull is the lead partner in the delivery of the Solihull Community Advice Hubs. The Advice Hubs are for everyone and are the first point of contact for information, advice and support in Solihull and the gateway into services to meet residents' needs.
Visit the Advice Hubs
The opening times for 'drop-in' sessions at the Community Advice Hubs are changing from 7 October 2019. This is happening so we can offer more appointments for cases that may take longer, and to reduce waiting times in peak periods.
Click below to see the opening times of each Hub.
The Core, Solihull Library (South Solihull)
Monday 10am to 4pm
Tuesday 10am to 2pm
Wednesday 10am to 2pm
Thursday 10am to 4pm
Friday 10am to 2pm
Wednesday is our quietest day at The Core but it's actually the day we have more staff and volunteers available so it's usually a shorter waiting time. But remember, we close at 2pm for team training.
Chelmsley Wood Library (North Solihull)
Monday 10am to 2pm
Tuesday 10am to 4pm
Wednesday 10am to 2pm
Thursday 10am to 2pm
Friday 10am to 4pm
Call the Advice Hubs
Call 0121 709 7590 - Monday to Friday 10am to 12pm and 2pm to 4pm (close at 12pm on Wednesdays)
FAQs
Click below to find out more about the Advice Hubs.
What are the Community Advice Hubs?
The Community Advice Hubs bring together under one roof, a partnership of local voluntary organisations who will provide high quality Information and Advice, and support you to access services that meet your individual needs and circumstances.
The Hub offers 2 levels of support:
Level 1 - Provision of the low level information and advice necessary for you to manage your own needs.
Level 2 - Referrals to specialist organisations that provide the services to meet your individual needs.
Who can use the Community Advice Hubs?
Any adult who is a resident in Solihull, or a carer of a Solihull resident.
Do I need an appointment?
General information and advice is available without appointment. If you require a service that needs to be referred to a specialist caseworker or partner organisation you are advised to telephone or email for an appointment. These services include debt, benefits (PIP, ESA and Attendance Allowance Forms), specialist employment and housing advice, energy switching, Blue Badge online form completion.
Other services available at the Community Advice Hub by appointment include:
BID Services (for those with a sensory loss)
People Plus (Direct Payments Payroll and Managed Accounts Service)
Solihull First Advocacy
Alzheimer's Society
Gateway Lifestyles Service – advice and support for getting active, wellbeing, smoking and weight-loss
Healthwatch Solihull – have your say on local health and care services
Solihull Carers Trust
Birmingham and Solihull Women's Aid
RSVP (Rape and Sexual Violence Project)
LGBT Birmingham (monthly drop-in)
Pension Wise
Read Easy
SMBC Income and Awards (Housing and Council Tax Benefit)
Solihull Community Housing
IAPT (Improving Access to Psychological Therapies)
Free half hour legal and financial advice clinics
What services can I access at the Community Advice Hubs?
The Community Advice Hubs will provide you with access to services and organisations that can support you in all areas of your life such as:
Care in and out of the home
Disability and long term conditions
Mental and Physical Health
Learning Disability
Residential Care
Benefits and Grants
Direct Payments
Debt and Money Problems
General Health and Wellbeing
Leisure, Clubs, Activities and Exercise
Employment
Legal Problems
Caring Responsibilities and Respite
Housing
Loneliness and Isolation
Energy Efficiency
Weight, Alcohol and Smoking
Filling out Forms
This list is not exhaustive
Age UK Solihull is working in partnership with Solihull Mind to ensure residents living with mental health difficulties can access specialist services to meet their needs.
How do I access the Community Advice Hubs?
There are two Advice Hubs.
North Solihull
Our North Solihull Hub is located in Chelmsley Wood Library,10 West Mall, Chelmsley Wood, B37 5TN.
It is on the 2nd floor above Asda and it is accessible by a lift or stairs.
The frontline service at Chelmsley Wood is open 10am to 2pm Mondays, Wednesdays and Thursdays, and 10am to 4pm Tuesdays and Fridays.
South Solihull
Our South Solihull Hub is located on the first floor of The Core, Solihull Central Library, Homer Road, Solihull, B91 3RG.
The frontline service at The Core is open 10am to 4pm Mondays and Thursdays, and 10am to 2pm Tuesdays, Wednesdays and Fridays.
You can also call the Advice Hubs on 0121 709 7590 Monday to Friday 10am to 12pm and 2pm to 4pm (close at 12pm on Wednesdays)
Factsheets and Guides
We have factsheets, guides and local information available. If you're looking for a tradesperson, would like to find out about local clubs, or need details of local care homes or agencies, look no further!
Age UK Solihull is an Appointed Representative of Solihull Mind for the purpose of FCA Regulated Debt Advice, Debt Counselling and Debt Adjustment. FCA Registration Number 784680. Solihull Mind is a Registered Charity Number 516058. Registered Office 14-16 Faulkner Road Solihull B92 8SY.
Other information that may be of use
Related Links
'Like' us on Facebook