Age UK Sunderland Hits Platinum Supporting Older Wearsiders for 70 Years!
Published on 14 December 2020 10:26 AM
Age UK Sunderland is celebrating 70 years of supporting older people across Sunderland as a strong, local and independent charity run by and for the people of Sunderland.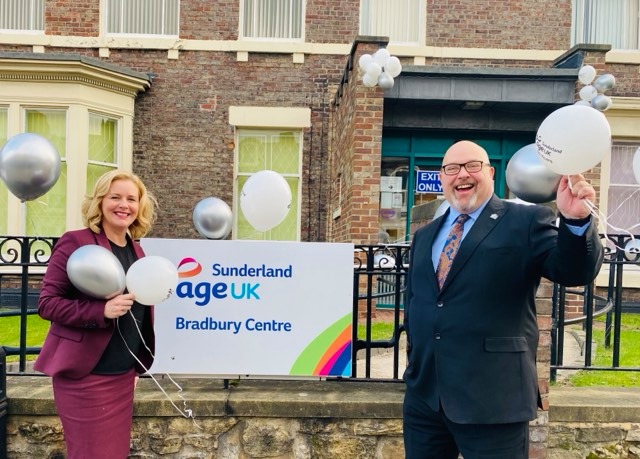 Pictured above left to right, Tracy Collins, Director of Age UK Sunderland and Graeme Miller, Chair of Age UK Sunderland
The Charity's aim is to promote the well-being of all older people throughout the City of Sunderland, improve their quality of life and help them maintain independence.
This has been a strong focus for the Charity during the pandemic as staff and volunteers have went above and beyond to help the older people of the City during this uncertain time.
Graeme Miller, Chair of Age UK Sunderland commented:
"We are so proud that we are celebrating 70 years of supporting older people across Sunderland. The organisation has gone from strength to strength over the years and remains dedicated to ensuring older people's needs across Sunderland are met and continues to campaign on issues that affect some of the most vulnerable people of the City.
We would have loved to have a big 70th celebration, inviting older people from across the City, but sadly due to the pandemic we are unable to do this. We will be celebrating safely and marking this fantastic achievement.
Coronavirus is a clinical challenge and we are urging older people to adhere to the latest government guidelines, however we believe the social impact poses the same risk. Some older people can rely on great support from their families but not everyone is so lucky so we are working very hard to ensure that there is support available to help get them through.
Our dedicated staff and volunteers will continue to support and we are urging everyone to safely stay in touch with older relatives and friends to keep their spirits up. The Charity has built strong foundations over the last 70 years to ensure dedicated support is provided to older people during the current crisis and in the years to come."
The Charity has made a plea for everyone in Sunderland to think about the older people in their lives during this difficult time and the marked impact the pandemic has had on the mental health of older residents to ensure love and compassion is shown.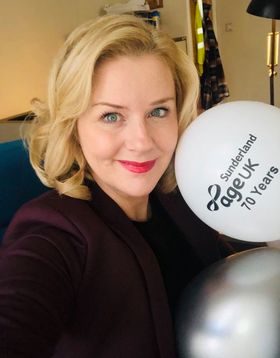 Pictured above: Tracy Collins, Director of Age UK Sunderland
Tracy Collins, Director of Age UK Sunderland explained "Now is not the time to back off our older population, who need more love and support than ever. We are urging everyone to provide reassurance as many older people's health and wellbeing is deteriorating as a direct result of the pandemic. As a charity we have seen a rise in mental health issues and as the pandemic progresses we hope that everyone looks out for and provides support to older people in our local communities.
As Christmas approaches we expect to see these issues escalate further, at the close of what has been, for many, a terrifying and isolating year, older people are looking ahead to a Christmas like no other in living memory. We have been here for 70 years and we're determined to be there in the future.
Before the outbreak of coronavirus, we were already facing a loneliness epidemic amongst older people. But as a result of the pandemic, this crisis has intensified.
We're working hard to relieve the isolation and despair felt by so many, but this Christmas could be the loneliest yet for the older people most in need."
If you would like to support Age UK Sunderland to continue to do their vital work please make a donation by visiting https://www.ageuk.org.uk/sunderland/get-involved/donate/ or email enquiries@ageuksunderland.org.uk. The Charity is also recruiting more volunteers to help in the quest against loneliness in older people if you are interested please email barryhall@ageuksunderland.org.uk or telephone 0191 514 1131.