Meet Jo: Community Services Manager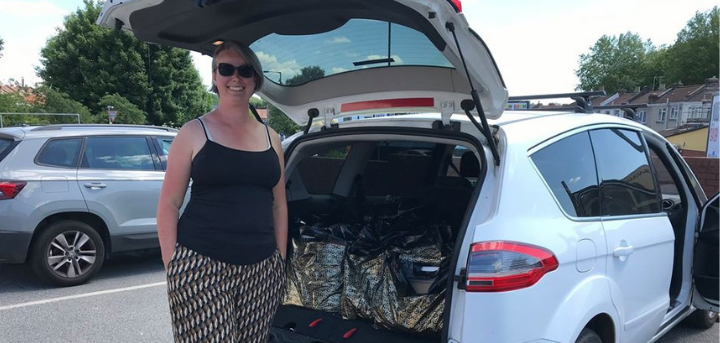 Published on 16 November 2020 06:05 PM
Jo joined Age UK Bristol as part of a merger between LinkAge and Age UK Bristol in April and became our Community Services Manager. In this role, Jo develops our services aimed at enhancing wellbeing through social connections. Her role supports the people we work with to stay active, connected and independent.
Jo manages our Friends Ageing Better project, the New Beginnings team, and our Active Together and Healthy Together projects.
Jo's role involves a lot of variety; she can be doing anything and everything from discussing Covid-safe regulations at the New Beginnings Centre, working with Support Hub partners on virtual activities such as our upcoming event with the SS Great Britain, and developing our befriending service. During lockdown, Jo also helped with distributing activity packs and arts supplies. (Pictured above).
One challenge Jo has taken on has been to provide a range of activities for people during Covid. Pre-Covid our FAB project ran a variety of events across Bristol, including catch up cafes, discos and Tai-Chi however these activities have had to adapt to social distancing measures and many have gone online, something that Jo is very conscious of. "I think it's a struggle for many people, not just older people, as all our usual activities have had to go 'virtual'. At Age UK Bristol, we are working hard to develop safe activities that can take place face to face. At the same time we have had some wonderful feedback from participants of online and telephone groups to say that being able to socialise has been a lifeline during this time."
In the future, Jo would like to see a greater diversity of what is on offer at Age UK Bristol to reach across various groups and needs. "We need to be thoughtful of people from different cultures, with different access needs and ensure that we are offering something for everyone."
Its challenges like these that Jo enjoys. Jo has been working for years on the challenge of how to reach the most isolated older people in the city. "I really enjoy the problem-solving part of my job and I hope that it can make a difference to people's lives. Since Covid, I think we have had a lot of innovation around loneliness as we have had to think outside the box to get results. This doesn't mean that we've got all the answers, I think we're all still learning and developing what we do. For this reason, we're always open to partnership work and to share learning."
To find out more about activities and events taking place, visit the LinkAge website: www.linkagenetwork.org.uk