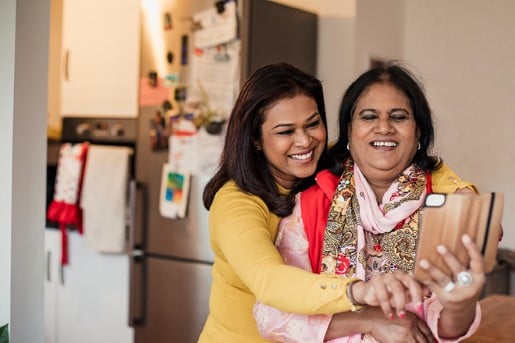 What do Sharing Time volunteers do?
It's a terrible thing to be lonely. Did you know that 1.2 million older people are chronically lonely? You can do something to help by becoming a Sharing Time volunteer with Age UK Cambridgeshire and Peterborough
Sharing Time volunteers get matched with an older person in the community. They visit them or call them on a regular basis to provide companionship.
What you will get out of it?
It's a great way to make a real difference to someone's life.You'll be giving something to your community. You get to be part of Age UK Cambridgeshire and Peterborough's volunteer team. Volunteers tell us they find Sharing Time really rewarding. Just some of the feedback we've received:
" It's so fulfilling to visit every week, we have a great laugh and it's just lovely."
" I feel as though we are both volunteering, not just me, we share stories, reminisce and enjoy keeping each other company."
" It's so enjoyable and interesting to hear people's life stories and become part of their life in later years. I love to hear my older friend say "I do look forward to your visits every week - you're my friend, you make me smile and you brighten my day" - It gives me a senses of pride to be a good friend."
" It gives me the opportunitiy to give something back to the community and has enabled me to meet some very interesting and wonderful people. It has become a really important part of my life and I feel so lucky to have met the people I have through volunteering." (a volunteer with us for 21 years)
What is expected of me?
Sharing Time volunteers are expected to call or visit their friend regularly. This usually involves a commitment of around an hour per week, over a long period of time. Volunteers will also need to agree to an enhanced level DBS check, attend a short training session and provide references. Volunteers are encouraged to come along to at least one ongoing training and social event offered once a year, for development.
Sharing Stories, Sharing Life
Watch videos explaining the importance of conversation and reminiscing
Sharing time Volunteer Description
For more Information on Sharing Time Volunteering please download the description below.
Volunteer Leaflet
For more information on Volunteering please download our leaflet.
Sharing Time Volunteer Form
If you would like to Volunteer with us please download the volunteering application form below