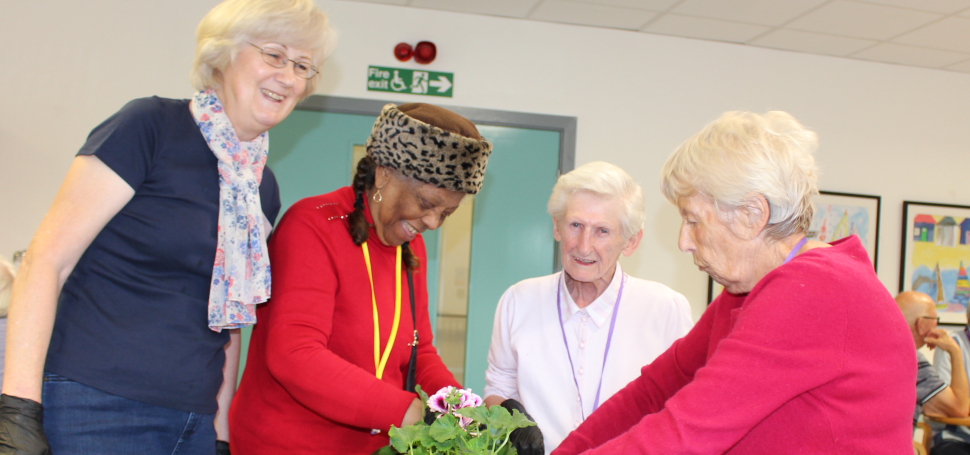 Age UK Milton Keynes is a local independent charity
Together we can improve later life for everyone in Milton Keynes
Call us on 01908 550700
Who we are
Age UK Milton Keynes works with and for older people to make a real and positive difference that contributes to their wellbeing and quality of life. We have been working in the local community since June 1978 and in 2018 we celebrated 40 years of improving later life in the borough of Milton Keynes.

On Tuesday 1st June 2010 we changed our name to Age UK Milton Keynes, having joined the Age UK partnership formed from the merger of Age Concern and Help the Aged. We continue to share the same values, standards and overall aims: to help all older people make more of life.
Where you can find us
Our main office is based at The Peartree Centre, 1 Chadds Lane, Peartree Bridge, Milton Keynes MK6 3EB and we run a smaller centre and cafe in The Food Centre, 791 Avebury Boulevard, Central Milton Keynes MK9 3JT (above Iceland).
How we are funded
It costs over £120,000 a year to run our free Information & Advice Service which handles around 6,100 enquiries every year. In the financial year ending March 2018 our advisers helped older people in the borough of Milton Keynes make successful claims for approximately £1.5 million in welfare benefits as well as resolving matters which were causing real anxiety. We rely on the income raised in our shops and on donations and fundraising to pay for the Information & Advice, Advocacy, Befriending services, which are provided for free. Charges for our services (domestic cleaning, shopping, toenail cutting, sitting service, gardening and handyperson) are kept as low as possible and aim to cover our costs, sometimes making a small surplus. The charge at our Lunch Clubs is supported by around £25,000 every year from general funds.
The support of individual donors and fundraisers, as well as contributions from local businesses is absolutely vital. 69p of every £1 raised is spent on charitable activities, enabling the charity to support some of the most vulnerable people in Milton Keynes. Money raised in Milton Keynes stays in Milton Keynes.
Annual General Meeting 2019
Age UK Milton Keynes' AGM will be held at The Peartree Centre on Thursday 26th September, 5.30 - 7pm.
Dear Di and the Memory Club team
Now that mum is going into a care home I am writing to thank you from the bottom of my heart for the wonderful experiences you gave her during her time at the Peartree Memory Club...I have some lovely memories of the activities and seeing mum very happily taking part - she really blossomed at the Memory Club with your kindness and nuturing...Please pass on my thanks to everyone involved. I am sad that this chapter is closing and will miss the friendly faces and supportive helpers, but I'm happy knowing that lots of others will benefit like us.
Daughter and carer of club member