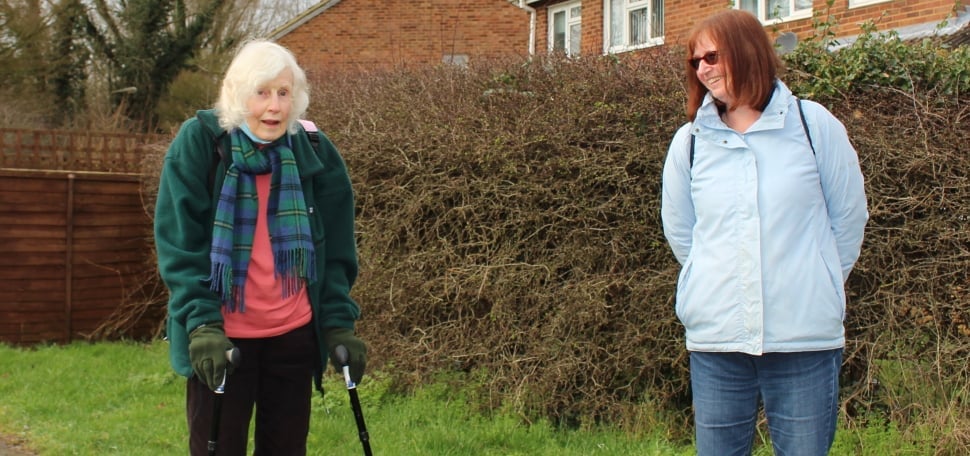 Could you accompany an older person on a short walk?
We need caring, patient people who would enjoy meeting up on a regular basis for some gentle outdoor exercise and a friendly chat.
We need an Honorary Treasurer
Could you help the Board of Trustees with their financial stewardship responsibilities and be a vital link between them and the senior management team?
Highlighted Volunteer Vacancies
Volunteer Sandwich Maker

We are seeking a volunteer who can help us make sandwiches on alternate Thursdays for a regular engagement at our Peartree Bridge office. Full kitchen facilities available.

RETAIL SUPPORT IN OUR STORES

We are looking for voluntary support within our retail stores (Bletchley, Newport Pagnell, Olney, Stony Stratford, Wolverton, Kiln Farm, Woburn Sands). If you are able to spare a few hours, please get in touch!

Women's Walking Football Volunteers

We are working in partnership with MK Dons to run an over 50s LADIES 'Walking Football' club. MK Dons provide a coach. This will be once a week at Sports Central, CMK. We would be looking for an energetic volunteer who can work in a co-ordinating type role, preferably someone with a keen interest in physical activity who can attend each session in this capacity, promote the programme, signpost potential participants to the session and ensuring an inclusive, welcoming, and social environment for participants. Sessions are Mondays 12.30 – 1.30pm. This role would roughly be 3 hours per week.
Food Delivery Driver

We require regular and ad-hoc drivers to deliver food parcels to clients in the MK area. Tuesday and / or Thursday afternoons 1-2hours. You will need your own car, mileage expenses will be paid.

Volunteer Drivers & Driver Mates

Our Furniture Store at Kiln Farm requires volunteer drivers and driver mates to help support their donation delivery and collection service. Tasks will involve the removal and delivery of donated items, which could include moving bulky furniture. This is a chance to be directly involved with helping raise vital funds for our organisation, which enables us to offer practical support for people in later life.
Receptionist

We are looking for reception cover at our Peartree Bridge offices. Duties will include greeting visitors to the building, signing in and temperature checking, signposting and some light administration work. The building is open Monday to Friday 9am - 4pm. Morning and afternoon shifts available to suit.

Volunteer Befriender

We are seeking volunteer befrienders who can commit to visiting an elderly client on a regular basis. The purpose of the visit would be for company and conversation. Our aim is to help reduce the loneliness and isolation that can affect people in later life. We also offer a walking befriending service to our clients. This could involve accompanying our client for a short walk at a comfortable pace for them. This is an extremely flexible volunteering opportunity, with visits to suit your schedule.
Notice - (Updated on: 24/5/2021)
Thank you for all the kind offers to help and support older people during the current pandemic. In order to keep everyone safe you must complete our Volunteer Application form (see below). As a responsible organisation we have to comply with normal government legislation and will need some details from you before you can volunteer.
Our volunteers keep the charity going
There are many ways your time and effort can help a local charity so please get in touch. Ordinarily we rely on around 390 volunteers (May 2021) who put their spare time to good use. They enable us to provide services and support to thousands of people living in Milton Keynes every year. And we hope you will get something out of volunteering too.
Fill in our online application form
Application form (138 KB) to download and print out
Application form (68 KB) to download and open with Microsoft Word
Please download and print out the application form that suits you. You can choose to print out a PDF or the Word document. The Word version can be filled in electronically by typing in the grey boxes. But you must save it so that it can be emailed to us or printed and then posted. Or call us on 01908 550700 and we will send you a form in the post for you to complete and return.
Meet new people, learn new skills

Being a volunteer gives you a regular activity to look forward to each week and you will meet new people and gain useful experience that looks good on your CV. Being a volunteer can help you get a bit of confidence and life-experience by doing something new. And you get the satisfaction of knowing that you are doing something useful.
Give something back

Whatever your age, talents or interests we are sure to find something that you'd enjoy doing and which would help us. Maybe you feel it is time to give something back to the community where you grew up; maybe you need work experience because you are hoping to go back to work.


Students and young people
If you are a young person not in education, employment or training (neet) becoming a volunteer can help you in many ways. You can use your skills, experience and energy to brighten the lives of older people.

We welcome young people still at school and can arrange work-placements or voluntary work that can count towards a Duke of Edinburgh award. Most people volunteer for a minimum of a morning or an afternoon a week, but get in touch and we'll try to arrange hours that suit you.






Why does Teresa volunteer for us?
"It's an opportunity to help others who need support.  I find it stops you thinking about your own problems and uplifts your own mood when you see what you are doing really makes a difference. It's a chance to become part of the community, give something back and meet new people. Also you can surprise yourself with learning new skills which you didn't think was possible. Can be challenging at times but I would definitely recommend."