Many of the staff who provide services and support to thousands of older people in Milton Keynes are based in offices at The Peartree Centre.
1 Chadds Lane, Peartree Bridge, Milton Keynes MK6 3EB.
The Peartree Centre is a well-designed venue for all kinds of social events and activities, where older people can feel safe and comfortable.
If you have any questions please call us on 01908 550700.
Opening hours
9am to 4pm Monday to Friday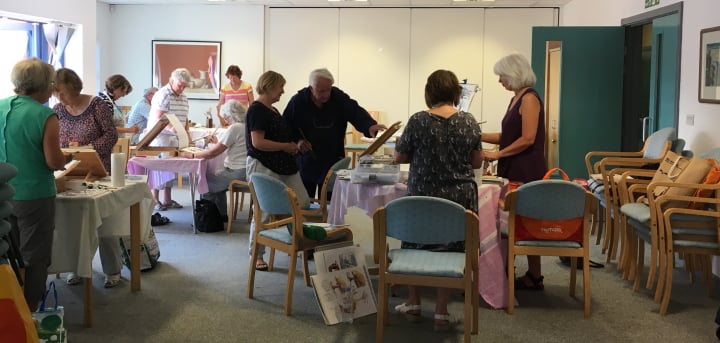 Finding The Peartree Centre
By bus
Bus route 4 is the most convenient for The Peartree Centre. If you are coming from the direction of the hospital you will need to cross under the dual carriageway using the underpass at the roundabout. The V8 Marlborough Street is a fast road so we would urge you to use the underpass.

If you are coming from the north of Milton Keynes you will get off the bus on the same side of the road as The Peartree Centre. It is also possible to catch the 14 to Milton Keynes Hospital, if you don't mind a 10 minute walk.

By car
The Peartree Centre is on the corner of Chadds Lane with the V8 Marlborough Street, to the south east of Central Milton Keynes, not far from the hospital.

If you are driving north up the V8 Marlborough Street, which is a dual carriageway, look out for a feeder lane on the right which is signposted Peartree Bridge. This turning is between the roundabouts on the H7 Chaffron Way and the H8 Standing Way and is quite easy to miss.

If you are driving from the north, down the V8 Marlborough Street, after the roundabout for the H7 Chaffron Way take the turning on the left into Chadds Lane. If you get as far as the turning for the Peartree Bridge Inn, near Roni's Hand Car Wash, you have gone too far.

The Peartree Centre is a modern redbrick building with blue window frames, set back from the road with a car park in front of it.

Still can't find us?
Ring us on 01908 550700 and we'll give you directions.
Thank you to our supporters
The money to pay for this one-stop centre for older people came from a variety of sources. It included grants from the Big Lottery, the Wolfson Foundation, the MK Community Foundation and the Margaret Powell Grants Fund, as well as from town and parish councils and others.

We also received generous donations from businesses and individuals. Many people held fundraising events to help us raise the money to build The Peartree Centre; without their valuable support we would not be in the fortunate position of being able to make a difference to the lives of thousands of older people in Milton Keynes.