13/10/20
During the coronavirus pandemic we are not able to hire out rooms in our Peartree Centre. We look forward to happier times when this will be possible.
The Peartree Centre is the ideal venue for a variety of events and activities, with excellent disabled facilities and plenty of accessible parking.
The Peartree Centre is available for regular bookings or occasional hires. It is popular for celebrating family and community celebrations and for meetings. Some of the rooms are particularly suitable for training sessions and more formal meetings. We are happy to show prospective hirers the facilities to help them decide which rooms would best suit their needs. Please contact the office as an appointment is required for viewings.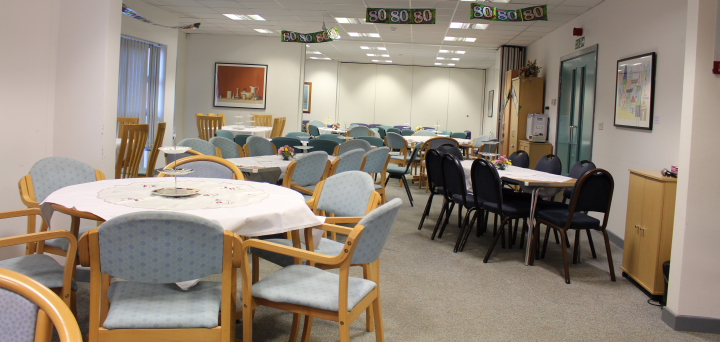 Rooms 2 and 3
Occasional room hire
To secure your booking for one-off events you will be asked to pay in full, at least 10 days before your event. A refundable cash deposit is also required against any damage which may be incurred. This must be paid when you pay for the booking. Payment is accepted by cash, cheque (payable to Age UK Milton Keynes) or credit/debit cards. The refundable deposit for damage can be collected from The Peartree Centre three days after the date of hire. The costs of any damage or additional caretaking/cleaning will be deducted from this.
These premises may be used for private functions only. Tickets must not be sold at the door. Alcohol may be sold if the hirer applies for a temporary events notice from Milton Keynes Council (telephone 01908 691691). Rooms must be vacated by midnight (9pm on Sundays).
Call us on 01908 550700
Rates
Full day (9am to 5pm)
Room 2 £90 - 25 - 30 people
Room 3 £85 - 15 - 18 people
Rooms 2 and 3 £130 - up to 50 people
Room 4 £85 - up to 16 people
Rooms 3 and 4 £130 - up to 34 people

Room 5 £60 - up to 5 people
Room 6 £60 - 6 to 8 people
Room 7 £105 - 16 to 18 people
Rooms 6 and 7 £130 - 20 to 25 people
Half day (9am to 1pm or 1pm to 5pm)
Room 2 £45 - see above for numbers of people
Room 3 £40
Rooms 2 and 3 £65
Room 4 £40
Rooms 3 and 4 £65

Room 5 £30
Room 6 £30
Room 7 £55
Rooms 6 and 7 £65
Out of hours
The charges are as above with an additional £15 per hour.
Tea and coffee
Charged at £20 per day or £10 per half day (up to 20 people).
Regular bookings
Please contact us to check availability and discuss your requirements.
Accessibility
All the rooms are fully accessible and the toilet facilities are accessible to disabled users.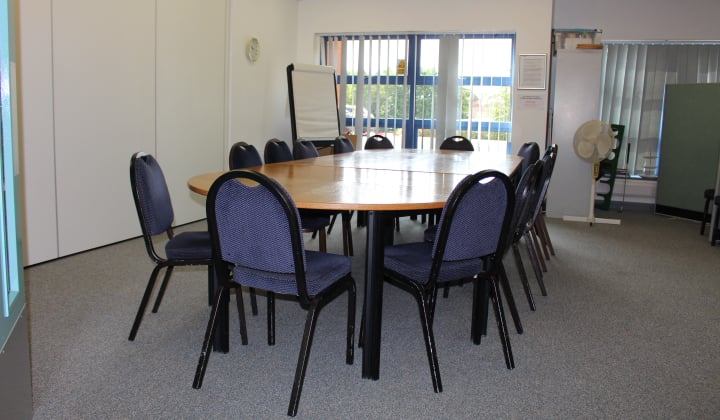 Room 4 on the ground floor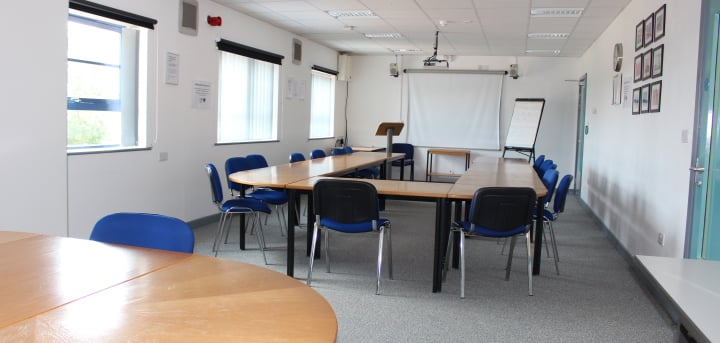 Rooms 6 and 7
Terms and conditions
Rooms must be booked for the total time required which includes setting up and cleaning up time at the end of the function. A caretaker will be present to open the building to hirers at the start and lock up at the end of the booking. At the end of the hire, car parks must be cleared of vehicles to allow the caretaker to lock the car park gates 15 minutes after the finishing time. Rooms must be left in an acceptable condition for subsequent hires, so please leave them clean and tidy. Cleaning equipment is available. The person who makes the booking must be present on the premises during the function and is required to ensure that the formal conditions of hire are observed. If the booking runs over the agreed time, an additional charge will be made at double time to cover additional caretaking costs. For safety reasons, fireworks, barbeques and bouncy castles are not allowed and smoking is not permitted in any part of the building.