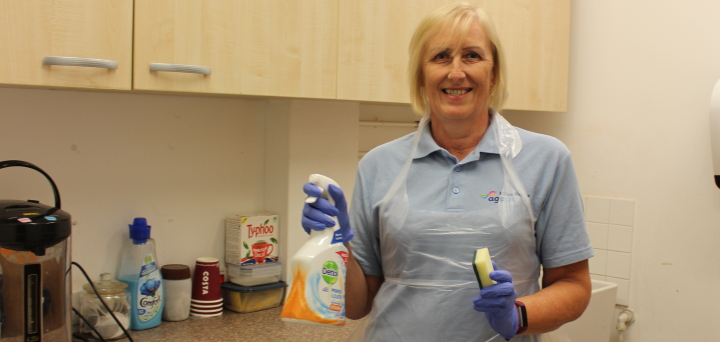 Special arrangements during the coronavirus pandemic
This service is only for people who have no symptoms of Covid-19 and are feeling well. If you are shielding or self-isolating please call us to discuss how we can help.
A vital service
We believe that a domestic cleaning and shopping service is vital to maintaining the health and wellbeing of our clients and that with correct measures in place their safety will not be compromised by our staff visiting their home. Many older people have not been able to change the sheets on their bed or keep the kitchen or bathroom clean during the coronavirus pandemic. Every client's needs are individual to them and we work to provide the service that suits them.
Extra measures being taken
We will call the client before visiting to check their circumstances
Staff will sanitise their hands at the start and end of every visit
Staff will wear correct PPE (Personal Protection Equipement) - face masks are non-essential
Clients must understand and be able to keep to social distancing guidelines and/or stay in another room, and this must be agreed in advance
Good ventilation is advisable, so windows should be opened where appropriate
We will let the client know what work has been carried out in their home
Staying up-to-date and following guidance
Our staff follow government guidelines to reduce the risk to our clients and themselves by following strict hygiene measures and taking sensible precautions at all times. If you have any concerns or queries about the service please call us on 01908 557874.
We also provide a Deep Clean Service for properties that need a more intensive clean.