We can help you look after your feet.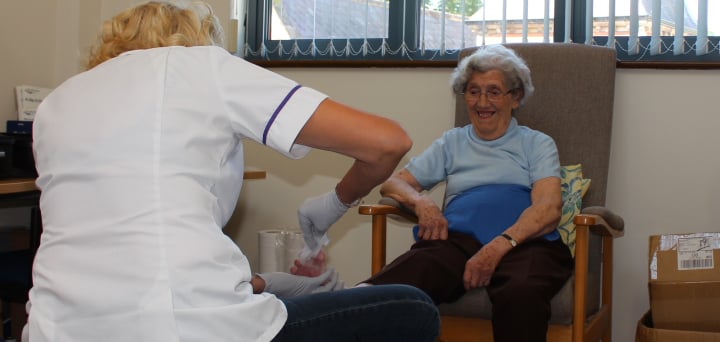 updated 21/3/21
Special arrangements during the coronavirus pandemic
We are making fewer appointments a day as visits are taking longer
Staff are wearing full PPE
Staff are working through the backlog of cancelled appointments and making regular appointments
We will be following our normal hygiene measures and the sterilising of equipment to ensure clients' safety
Our Footcare Agents will do their best to visit when requested
What does the service offer?
We visit you at home to trim your toenails. The Footcare Agent will gently massage your feet at the end of the visit. This is not obligatory but most of our clients enjoy having moisturiser rubbed into their feet.

A Footcare Agent will contact you by telephone to arrange a time to visit. They will not arrive at your home without notice. All our Footcare Agents (and all Age UK Milton Keynes personnel) carry proof of identity and will be happy to show you their identity badge. Please ask to see proof of identity if you are at all unsure.

During the initial appointment the Footcare Agent will
assess the condition of your feet and record their findings before cutting your nails.
talk to you about any medical conditions you may have and what you expect from the service.
This is your opportunity to decide how often you would like your toenails trimmed, although you can always change your mind later if you need to be visited more, or less, frequently.
Who is it for?
For older people and people with a physical disability, or learning disability, who can no longer manage to cut their own toenails.
How much does it cost?
We charge £22 for a simple toenail cut by our Footcare Agent
If you are diabetic, or have other health issues that affect the condition of your feet, the charge will be more than £22, depending on the Footcare Agent and the service offered. Our Footcare Agent will discuss this with you at the time of making the first appointment.
Most people pay in cash or by cheque at the time of the visit. We will come to an arrangement that suits you and the Footcare Agent.
On average our Footcare Agents visit people every four to six weeks
Our Footcare Agent will have confirmed the charge with you before arriving for your first appointment
Personal nail care kit
You can choose to buy your own footcare kit from the agent if you do not already own suitable equipment. The kit costs £12.50 and comes in a neat red case and our Footcare Agent will help you keep it clean.

Couples who are both using the service will need their own footcare kit for hygiene reasons.

Our Footcare Agents use sterilising equipment so you do not need to buy your own clippers if you prefer not to.
How do I access the service?
Please call us on 01908 557883 or send an email.
Footcare at The Peartree Centre is suspended
Our fully-qualified Footcare Healthcare Practitioner Lisa King provides a toenail cutting service at The Peartree Centre every Wednesday 10am to 1.30pm, currently on a drop-in basis. This is charged at the usual rate of £22 for a basic toenail trim. Lisa is also able treat corns, hard skin and fungal conditions. The price will vary depending on the treatment.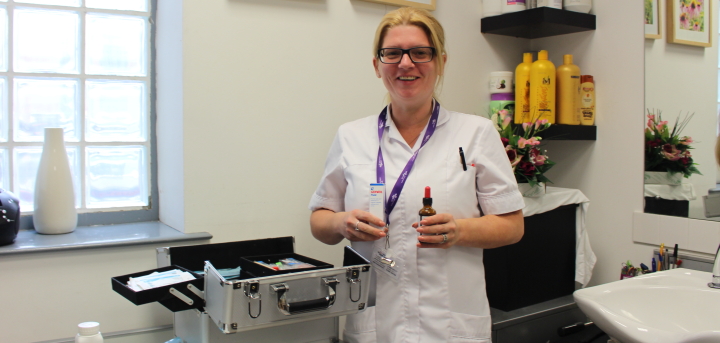 Real people, but anonymised for the internet.
Mrs G lives a full and active life but osteoarthritis makes it difficult for her to reach her toes and she has had several falls which have affected her confidence. Our Footcare Agent coming to her house ensures her toenails are trimmed regularly and her feet are well-cared for. She knows that she has someone to talk to if something about her feet is worrying her.

Mrs J uses a wheelchair and is in generally good health but bending down to trim her toenails is beyond her. Plus she has lost confidence in her ability to do so safely. "If you can't look after your feet properly then you're in trouble" says Mrs J. She looks forward to a visit from our Footcare Agent every eight weeks and appreciates the convenience of having a home visit.
Other information you may find helpful
Related pages on our website
Related pages on other websites