Andrew Lewer MP visits day centre
Published on 04 October 2021 02:21 PM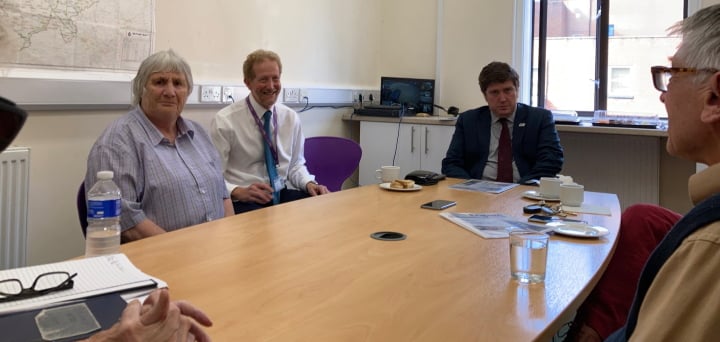 Local MP hears that "Care Can't Wait"
We were delighted to welcome Northampton South MP Andrew Lewer to our William and Patricia Venton Centre to hear about the work of the charity and to discuss the urgent need for social care reform. He also met four local people who rely on the centre for support.
Christopher Duff, CEO of Age UK Northamptonshire, said "The last couple of years have been particularly difficult for older people, many of whom have had to manage without the physical support of family and friends. Accessing care services has been challenging due to the complexity of the system and shortage of carers. What care is available is not always appropriate to people's needs. Loneliness and isolation have impacted on people's mental health, and it is harder for people to build confidence as we move out of the pandemic.
Every day we hear from older people about the problems they face with social care. We were delighted that our local Northampton MP spent time listening and speaking to the people who are affected by challenging care situations on a daily basis. While we are pleased that the Government has broken the log jam on care and has committed to a package of reform, a lack of any immediate funding for councils is one of the yawning gaps in the government's plan. Councils can only provide care when they have the funding to do so, and when enough care staff can be sourced locally by care agencies to deliver it. Both are now in increasing short supply in many places, making it harder than ever for older people to get the support they badly need.
This is a good first step from the Prime Minister but for him to truly keep his promise to 'fix social care' the Chancellor must now provide substantial funding to local government in the Spending Review."
Frank Hodson, Jennifer Farrer and David Branson come to the day centre several times a week and say they would be lost without the practical and emotional support they get from staff at the centre. Meeting up regularly with their friends at the centre has such a positive effect on their wellbeing that it is a major factor in their ability to live independently.
Jacob Brown came along to share his experience of caring for his mother Gretel, who has been diagnosed with dementia and whose health was rapidly deteriorating until she started attending the day centre.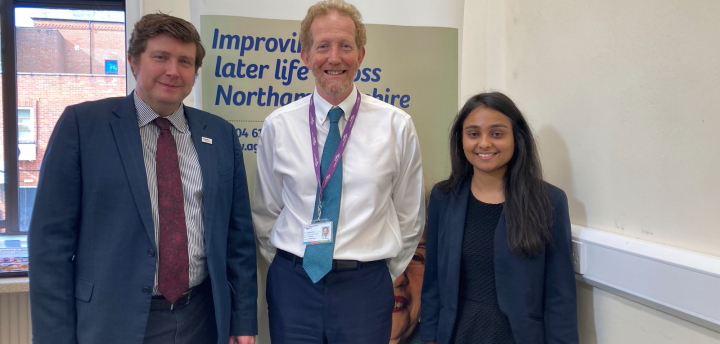 Andrew also met some of the staff, including the Day Centre Manager Bethany Smith [not pictured] and Roshni Mistry representing the national charity Age UK [pictured above]. He heard about the vital support that enables the charity's many clients to stay out of residential care. He heard first-hand about their experience of the social care system and was shown how supporting and improving services for older people is more important than ever as the country comes out of the pandemic.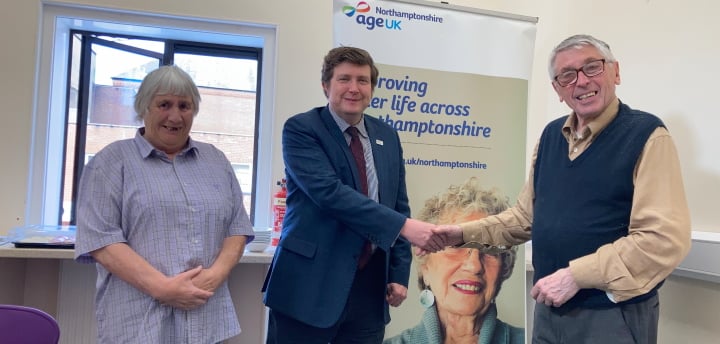 Andrew Lewer MP said "It was a pleasure to meet with Christopher and his team to have a good discussion on Adult Social Care provision. I also had the privilege to meet Jen, Jacob, David and Frank to hear about their experiences using Age UK Northamptonshire services."
Age UK Northamptonshire is calling for a new national system that's free and available to everyone when they need it.
We're joining Age UK, the national charity, in calling for a comprehensive, immediate funding package for councils to spend on social care so they can deliver:
high-quality care for older people when and where they need it
support for unpaid carers
better terms and conditions for care workers.
Visit Age UK's website to learn how you can join the campaign to Fix Social Care.