Falls Prevention Exercise opportunities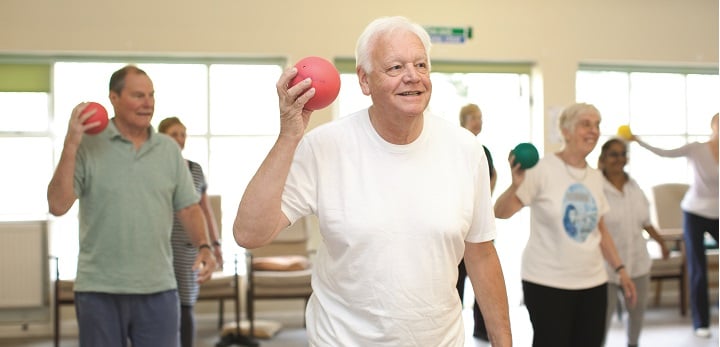 Age UK Redbridge, Barking & Havering runs a number of exercise classes for our Falls Prevention service, run by our qualified instructor Rama.
PLEASE NOTE THAT DURING THE CURRENT PANDEMIC ALL EXERCISE CLASSES ARE SUSPENDED UNTIL FURTHER NOTICE.
Courses are for 10 weeks and cost £3.00 per session, with payment for the course required up front.
Redbridge Sessions are as follows:
Tuesday Marion Lawson Court, Hainault from 2.30-3.30pm
Wednesday Parish Church Cardinal Heenan Centre from 11.00am-12 noon and from 12.30pm-1.30pm
Nordic Walking Valentines Park from 3.00pm-4.00pm
Thursday Ilford Library Chair based exercise 10.30-11.30am
Thursday Ilford Library Postural Stability 12.30-1.30pm
Thursday Ilford Library Breathing and relaxation 2.00-3.00pm
NEW... Tai Chi class starting Wednesday 12th February at Age UK Redbridge, Barking & Havering in our conference room from 9.30-10.30 am.
For information about exercise opportunities in Redbridge, contact Jasbir Jheeta on: 020 8220 6000 or use the email link at the bottom of the page
We are now offering exercise sessions through our Falls Prevention Service in Havering and Barking and Dagenham.
The Havering Exercise sessions will take place at the following venues:
Hornchurch Fire Station Community Room 42 North Street RM11 1SH - Chair based Yoga - Tuesdays from 10-11am
Tesco Roneo Corner Community Room 300 Hornchurch Road, RM11 1PY - Chair based Keep Fit - Tuesdays 12-1.00pm
Tesco Roneo Corner Community Room 300 Hornchurch Road RM11 1PY - Chair based Breathe and Balance Tuesdays 1.15-2.15pm
Havering Asian Social and Welfare Association Kilmartin Way Elm Park RM12 5NB - Chair based Yoga Wednesdays 2.15-3.15pm
Cranham Community Centre 115A Marlborough Gdns, Upminster RM14 1SR - Tai Chi Wednesdays 1.00-2.00pm
MyPlace Community Centre 343 Dagnam Park Drive, Harold Hill RM3 9EN - Tai Chi Wednesdays 3-4pm
The sessions in Barking & Dagenham will take place at the following venues:
Marks Gate Community Centre 119 Rose Lane Chadwell Heath RM6 5NR - Chair based keep fit Tuesdays 2.00-3.00pm
Eastern Road Baptist Church East Road Chadwell Heath RM6 6YJ - Chair based Yoga Thursdays from 2.00-3.00pm
For information about exercise opportunities in Havering or Barking & Dagenham please contact Lorraine Barfoot on : 020 8220 6000 or email: lorraine.barfoot@ageukrbh.org.uk