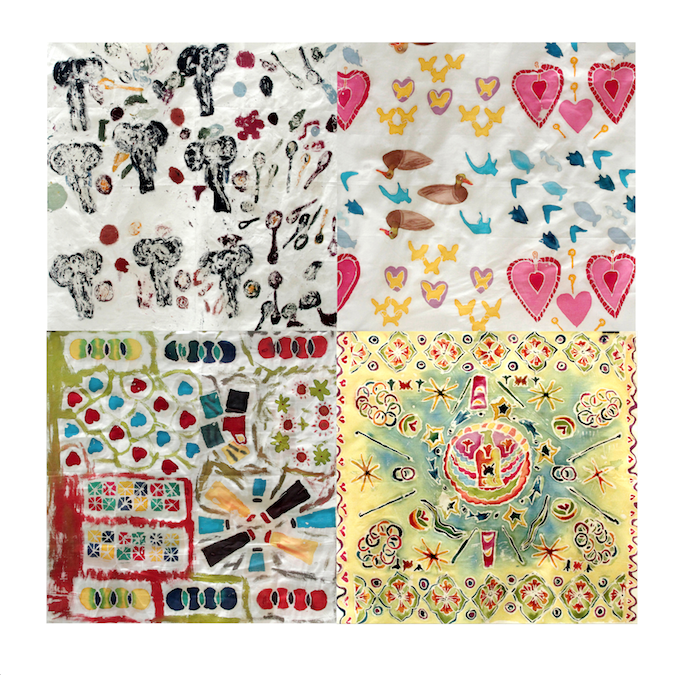 During the pandemic we have had to adapt most of our services, and providing activities has been a challenge! We have worked in partnership with Space Studios, CREATE, and activity leaders to provide some activities on line and in some cases over the phone where internet access was not available for some of our service users.
Making in Isolation, Together: Confinement, Solidarity and Survival
Making in Isolation, Together was an artist-led programme of workshops that provided opportunities for Redbridge residents over the age of 65 to make art, learn new skills and socialise remotely from their homes during the COVID-19 lockdown, March – July 2020.
Confinement, Solidarity and Survival was a 5-week project led by artist Nicole Morris. Participants received a package posted to their homes with the materials and instructions to create a collaborative batik. Together, the participants learned to draw patterns, moving from room to room in their homes, outlining objects of importance. They then posted their patterns back to Morris who mixed them all up and returned new ones to them. Mimicking collectives of people that congregate to exchange ideas, designs and make quilts together, the group created their own pieces from the patterns drawn by others. Over the 5 weeks the participants developed confidence in melting wax, using their tjanting tool, and painting with dye.
During the weekly 14-person conference phone calls, trust and camaraderie developed through sharing mistakes and epiphanies, as well as stories and memories inspired by the themes. The resulting work that you see here is the outcome of an inspiring group of people making together in the isolation of their own homes. Morris' interest in creating something together that archived the lockdown period, through both textiles and conversations, offered a chance to reflect on personal circumstances and varied experiences of this unprecedented moment.
Age UK Redbridge, Barking & Dagenham and Havering are a proud partner of the Making in Isolation, Together project and recognises the social benefits of creative activities. A photo of one piece of the artwork produced is shown above and will be dispalayed in our Wanstead Activity Centre. There is anothet hanging in our reception and a third to be hung soon in our offices. A poignant reminder of a year when everything had to change, for a while.
Our Di's Diamonds service has hosted many on line activities and have set up their own Facebook page to keep in touch with their members and provide fun and a chance to chat to others through their on line coffee mornings.
Below is a list of the activities currently provided and contact details if you wish to join in the fun!
MONDAY
AM
Zoom Creative Watercolour Class with Ioana Macovei 10.30 -12.30
Relaxed class using watercolours or pencils or just come along and watch.
Very relaxing - You can read Ioana's art newsletters and tutorials through the links at the bottom of the page
Contact Dis Diamonds Team to book onto class.
TUESDAY
AM
Chair Exercise with Keeley - exclusively for MS Society Contact Glenda
Langtons Meet up weather permitting - Contact Di's Diamonds
WEDNESDAY
Newbies Coffee morning - Contact Di's Diamonds
Market Hall Hideout Cafe Contact Di's Diamonds
Quilting via Zoom 10 weeks starting 21st July - Contact Di's Diamonds
Quiz (monthly) - Contact Di's Diamonds
Poetry (monthly) Contact Di's Diamonds
Book Club- Contact Di's Diamonds
THURSDAY
AM
11.am-12pm Zoom Coffee morning with Di's Diamonds
Singing for wellbeing with Havering Music School Contact Di's Diamonds (no classes in August)
PM
Zoom Tai Chi with Mr John Poon 12.15-1.00pm
Book with Dis diamonds by Emailing for place on class
Email: disdiamonds@ageukrbh.org.uk
Friday New Drawing Class with Artist Richard Tait 10.30-12.00pm
Book with Dis Diamonds
Art Newsletter produced by Ioana Macovei
Cliff and cottage landscape tutorial