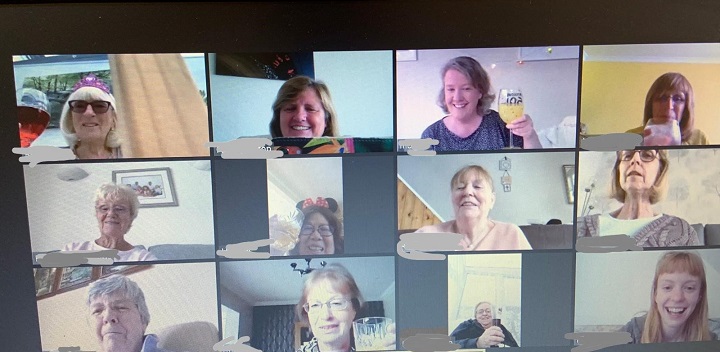 DUE TO THE CURRENT CORONA VIRUS ALL DIAMONDS AND GEEZERS ACTIVITIES HAVE CEASED.MEMBERS CAN STAY IN TOUCH WITH EACH OTHER THROUGH SOCIAL MEDIA AND PHONE CALLS OR MESSAGES. KIM, FIONA, AND MONICA WILL KEEP MEMBERS UP TO DATE WITH ANY DEVELOPMENTS.
Above is a recent image taken from a Zoom meeting with Di's Diamonds members for a 'Cocktail meet and chat'. Members are continuing to enjoy on line activities along with staff members Kim, Fiona and Monica who are constantly finding new things to do!
The following programme is subject to change.
Mondays 10.30am Art - Watercolour with Ioana. Lessons are via Zoom You can access Ioana's newsletters on our on-line activities page
Tuesdays 10.30 am - Vegetarian cooking
Tuesday pm from 26th January Creative writing
Wednesday Monthly Poetry session with Morris
Thursday Coffee morning 11am-12 noon
Pm Tai Chi with Master John Poon 1.00-1.45pm
Friday New Drawing class with Artist Richard Tait 10.30-12.00
For more information enquire through Diamonds Facebook or contact disdiamonds@ageukrbh.org.uk Or call Fiona on 07375704448
Please sign up Now.
To opt out of emails – please email Disdiamonds@ageukrbh.org.uk –mark in subject –Remove from Mailing List
Join Di's Diamonds and take advantage of a range of regular activities across Redbridge, Barking & Dagenham and Havering.
The chief focus of Di's Diamonds over the last year has been in Havering where we were granted a new contract from the Local Authority. We are delighted to announce that thanks to funding from the National Lottery Community fund this service is to be extended across Redbridge and Barking & Dagenham.

It's free to join if you are over 50 and if you provide an email address, we will email you the programme of events each month. As well as regular social activities, there are outings, theatre trips, and other special events for you to enjoy.
Whilst Di's Diamonds is for both men and women, there is also Diamond Geezers, a group, which offers activities exclusively for men.
As well as regular activities that take place weekly or monthly, there are also opportunities for days or evenings out, or activities at weekends all hosted by one of our friendly and helpful volunteers.
Email: disdiamonds@ageukrbh.org.uk
You can find all our contact details on our contact us page.
Di's Diamonds are looking for volunteer hosts in Redbridge, Barking & Dagenham to host a variety of activities in the community
We are extending our ever popular social network of older people age 50+ across Redbridge, Barking & Dagenham and we need some friendly people age 50+ to host events and activities in these boroughs. This could include coffee mornings, evening events, days out or a regular shared interest group. Our hosts input into coming up with activities for the calendar of events and we pride ourselves on welcoming everyone who wants to get involved.
To register interest please email Di's Diamonds disdiamonds@ageukrbh.org.uk or call Kate on 020 8220 6000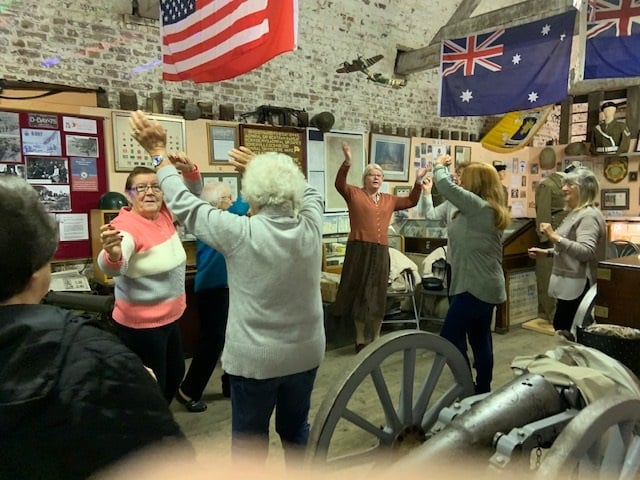 Di's Diamonds members had a great time on a 60's themed event to Purfleet Museum. A Double Decker bus took them to the Museum where they enjoyed lunch and dancing to 60's music. Pictured here dancing around the canons!