Coronavirus update – 19 July 2021
As restrictions are lifted, and limits on social contact have been removed we're delighted to be gradually welcoming people back to our centres, but we're keen to do so as safely as possible. As a result, we're keeping some measures in place.

Encouraging the use of face coverings
We want everyone to feel as safe as possible in our centres. With that in mind we're asking people to continue wearing a face covering if they can. While no longer a legal requirement, visitors will be asked to wear a face covering when in our indoor communal spaces or walking around our buildings. They can be removed when participating in classes/activities or if sitting at a table.
Working hard to keep you safe
We're keeping enhanced hygiene, cleaning and safety measures in place. Hand sanitiser is available and we're keeping restrictions on numbers in place for the use of confined spaces.
Thank you for your help with this - we hope to see you very soon!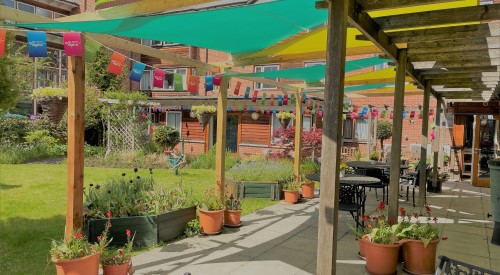 Lavinia House


How to contact us: 01903 731 800
Where to find us:
Lavinia House
Dukes Square
Horsham
RH12 1GZ
Please pre-book before visiting us.

What's on offer at our building?
This beautiful building and garden offers;
A café serving a wide selection of drinks, cakes and meals.
A variety of classes and activities.
A number of spaces for hire.

What's on?
Please give us a call, email or visit our Facebook page Age UK West Sussex, Brighton & Hove – Horsham District for the most up-to-date information.
Useful links: