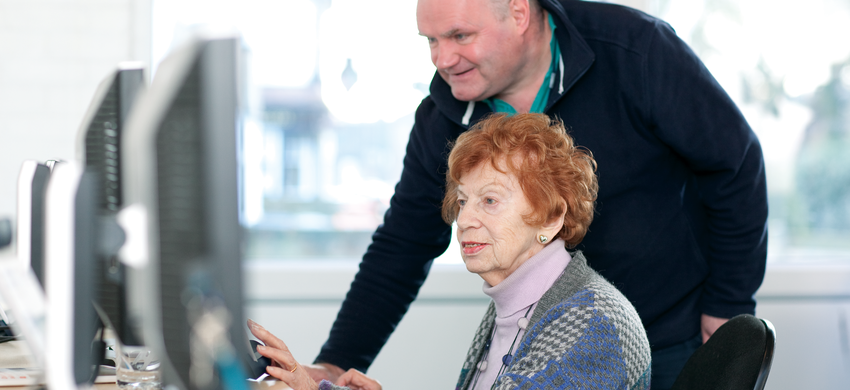 Age UK Brighton & Hove relies on volunteers to help us offer vital services in the local community. Would you like to lend a hand?
Volunteering is a great way to share your life skills and experience. You can make an invaluable contribution to your local community.
We welcome a diverse range of volunteers from all backgrounds, abilities and ages. If you have some spare time and would like to make a difference to older people in the community then Age UK West Sussex, Brighton and Hove would love to hear from you! Many activities that we run would not be possible without the support of volunteers.
As well as the satisfaction of knowing you are giving something back it can provide you with a feel good factor, adding to life's many achievements, and will really make a difference to those whose lives you enrich.
Why volunteer?
Volunteering is a great way to meet new people, learn new skills, and support the work we do in the community.
Who can volunteer?
Almost anyone can be a volunteer. We have a wide range of roles which suit different people and different skills.
How much time do I need to give?
It depends on the volunteer role you are interested in. Some people give an hour a week, other people do more.
What are the possible roles I could do?
Volunteering Opportunities with Age UK West Sussex, Brighton and Hove
We have a variety of volunteering opportunities catering to individual's differing skills and abilities and we are certain to find you a role that you will enjoy.
If you are still not sure what you may be able to do, we would be delighted to discuss this with you.
If you have some time to spare each week and would like to help us make later life a fulfilling and enjoyable experience for many local people, we would like to hear from you. Volunteers will receive support and training in their role
Telephone befriending and emotional support
Telephone befriending volunteer
This role is about having a conversation and being a listening ear. Ultimately this is a befriending role.
Dementia Daybreak services
Daybreak Club volunteer
You will assist the Club Coordinator and Support Worker in the smooth running of the service.
This can involve but is not limited to, preparing refreshments for customers, supporting staff in the delivery of activities provided and supporting customers to have meaningful engagement.
You will assist in supporting people living with dementia and their carers. Training will be provided to help you within this role, however a having a caring, compassionate and patient disposition is essential.
volunteers currently requied in Littlehampton, Horsham, Storrington, Haywards Heath, Crawley and Bognor Regis.
Gardening
Gardening volunteer
Required for gardening duties at the Laburnham Centre, Bognor Regis, West Sussex and at the Burgess Hill Centre, West Sussex
Kitchen Assistant
Kitchen Assistant volunteer

To assist the Senior Chef and Assistant Chef in the smooth operation of the Kitchen at the Laburnham Centre, Bognor Regis, West Sussex
Doorstep Support and Delivery Drivers
Delivery Driver volunteer
Volunteers required across West Sussex and Brighton & Hove
Support our clients by offering a friendly face and checking they are okay on a regular basis while delivering food, essential supplies and other items to their doorstep. You will be volunteering with centre managers to deliver to clients in the community.
Coffee morning assistant
Coffee morning assistant volunteer
This is at thePond Rd, Shoreham, West Sussex and at local cafes in Brighton & Hove.
The role involves welcoming members of the coffee morning and ensuring that they are safe and comfortable during their visit.
Liaising with the café staff to ensure the group are comfortable ie. Supporting with carrying drinks, ensuring tables are wiped and clean, getting umbrellas/parasols put up if needed or extra chairs etc.
Social Prescribing
Social Prescribing volunteer
This is an admin role in Littlehampton / Bognor Regis.
We are looking for someone with good IT and communication skills to support our team of social prescribers. Social prescribers support people by connecting them with services and organisations to support them to achieve identified goals. Client's are referred by their GP practice.
Information and Signposting
Information and Signposting Volunteer
To contribute towards the provision of a county wide information & advice service for older people by answering enquiries from the public over the telephone, responding to requests for signposting and routing clients who need advice to the most appropriate adviser. Supported by your peers and I&A manager.
Community Neighbour volunteer
Community Neighbour volunteer
This role is only in Brighton & Hove.
This role involves taking part in training provided by Age UK West Sussex, Brighton & Hove as well as committing to supporting an older person over a number of weeks. Ideally the volunteer would be able to commit at least an hour a week for 6 months.
What else you can do to support us
Take part in a fundraiser

Could you help us to raise vital funds by taking part in a fundraising event? We have regular events such as sponsored walks, but you could also do your own fundraiser like a cake sale.

Get your colleagues involved

Could you talk to your colleagues or your employer about how you can support us? We have lots of ideas for how organisations can get involved, including sponsoring an event, making us Charity of the Year, or donating equipment.
Contact Head Office 01903 731 800
Open 9am to 5.00pm Monday to Thursday and to 4.30 on Fridays.
Age UK West Sussex, Brighton and Hove
Suite 2, First Floor
Anchor Springs
Littlehampton
BN17 6BP
email: info@ageukwsbh.org.uk