Age UK Bristol and Bristol Ageing Better celebrate the UN International Day of Older Persons by committing to tackle ageism.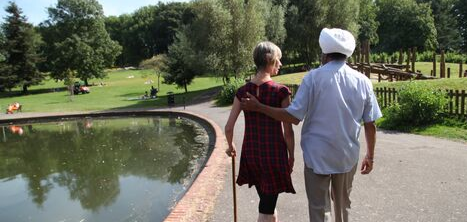 Published on 04 October 2019 11:48 AM
On the UN International Day of Older Persons (1st October), local leaders and organisations across the UK have joined in a campaign tackling ageism and talking more positively about later life. Age UK Bristol and Bristol Ageing Better are working to make Bristol a great place to enjoy later life. We are two of the partner organisations to be organising the Celebrating Age Festival throughout October.
Bristol Mayor Marvin Rees has joined local leaders across the UK in signing an open letter committing them to work towards Age-Friendly and challenging ageism.
With recent research suggesting that a quarter of people over 50 have felt discriminated against whilst doing everyday tasks or accessing services, the letter commits local leaders to challenging ageism within their own communities and organisations.
The letter has been co-ordinated by the UK Network of Age-Friendly Communities, part of the World Health Organisation's Global network of over 900 places committed to fostering healthy and active ageing. Bristol joined the network in November 2018 after close work between Bristol City Council, Bristol Ageing Better and Age UK Bristol.
As well as committing local leaders to take action within their communities, the letter asks the public to be part of the 'Journey to Age Equality' by joining the movement against ageism. Join Age UK Bristol and Bristol Ageing Better in the campaign locally, follow us on social media or get in touch to be involved.
The letter reads:
"If we are to make real progress towards age equality, we must all work to root out ageism in our own communities and organisations. We will challenge ageism wherever we see it, whether it's in public or in private, and ensure that the voices of older people are at the heart of our local decision-making."
Anna Dixon, Chief Executive, Centre for Ageing Better, which supports the UK Network of Age-friendly Communities, said:
"Many of us are living longer. While some of us can look forward with confidence to enjoying later life, others are being held back by outdated and damaging attitudes.
"Negative stereotypes about older age can have a pernicious effect on our self-perception, limit our ideas of what we can do as we get older and stop us making the most of these extra years.
"We are proud to have partnered with the UK Network of Age-friendly Communities on International Day of Older Persons to call for a change in how we all talk about ageing and people in later life.
"It is great to see so many influential leaders who are committed to making their communities more age-friendly, now collectively affirming their commitment talk more positively about later life. We hope everyone will join us to end ageism."
Marvin Rees, Mayor of Bristol, said:
"The city of Bristol is committed to enabling older people to feel safe, enjoying good health and continuing to participate fully in society. Talking positively about later life is a fundamental part of that commitment, and I am delighted to be joining other local leaders in our pledge to challenge ageism."
The Centre for Ageing Better recently announced a research project to investigate the language and framing of ageing in the media, on social media and in public policy. The results of the research will help to guide a variety of sectors and organisations in the way they talk about later life.
Look out for further information about tackling ageism in Bristol in the near future. Follow Bristol Ageing Better (@Babbristol) and Age UK Bristol (@ageukbristol) on Twitter and Facebook to get involved. Or contact Jen DeKalb-Poyer, Age UK Bristol Comms and Fundraising Manager, for more information, comms@ageukbristol.org.uk.