Celebrating 25 years of Age UK Bristol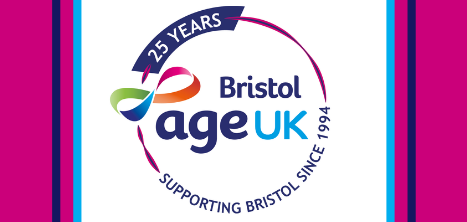 Published on 15 July 2019 04:48 PM
In October, Age UK Bristol will be celebrating 25 years of supporting older people in Bristol. We invite you to celebrate with us at a number of different events we will be hosting throughout the year.
Today we are delighted to unveil our new 'limited edition' 25 years Age UK Bristol logo. We will be using this logo throughout the year on our social media profiles and printed materials.
25 years is a milestone to celebrate. 25 years of supporting older people with our Information and Advice Helpline, 25 years of day service care and activities … 25 years of supporting Bristol communities to thrive. We have made a lasting difference to thousands of people in Bristol.
Our services for Bristolians over 55 is needed now more than ever and we want to ensure that we are here for the next 25 years to continue this work. As a part of our 25 year's celebrations we will be encouraging you to get involved in whatever way you can, whether that be celebrating with us at one of our events, volunteering or donating to support our services – every contribution helps and all funds raised in Bristol stay in Bristol. If you would like to donate £25 for our 25 years, you can do it online through this link or you can send a cheque made out to Age UK Bristol to AUKB 25 Campaign, Canningford House, 38 Victoria Street, Bristol, BS1 6BY.
Our first event will take place on Thursday 17th October at The Station on Silver Street from 5.30pm – 9.30pm where we'll be kicking off with an Over 50s Disco through our new project, Friends Ageing Better. Come and join us for a dance and a drink to celebrate. There will be music from the 60s, 70s, and 80s, and dance performances for everyone to enjoy. Test your luck with the raffle - you could win a fabulous prize! If you have any questions or access requests ahead of the disco, please contact FAB@ageukbristol.org.uk
We'd like to thank all of our supporters, volunteers and friends, for being with us for over two decades and working with us to make of Bristol a city where older people can love later live.
Sign up for our supporters' newsletter so you can stay up to date on all events and news linked to our 25 years celebrations and more. Sign up on the online form here.