VE Day at home
Published on 07 May 2020 05:24 PM
This year is the 75th anniversary of Victory in Europe Day (VE Day), when, on 8 May 1945, the Allies formally accepted the unconditional surrender of Nazi Germany's armed forces. It's a time of reflection, particularly during this period when we're facing some of the biggest challenges since the end of World War II.
With the Government's coronavirus lockdown measures keeping us indoors at the moment, many of us won't be able to mark this day in the same way we might traditionally. There are a number of interesting ways you still can, though, from the safety and comfort of your own home.
A moment of silence
The most traditional way for everyone to reflect and remember those who went to war is to pause at 11am on 8 May and hold a 2-minute silence.
Great British Bunting
BBC local radio stations are currently asking people to commemorate VE Day by getting involved with the 'Great British Bunting', by getting creative and making adornments to hang in your windows. That's what Chief Petty Officer Toner (pictured) has done, as part of Age UK Wirral Joining Forces Veterans Project.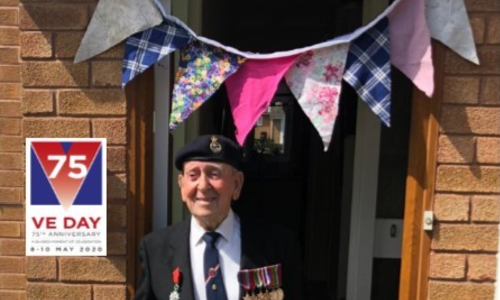 Your bunting could include images of those who served in the Armed Forces during World War II, such as a grandfather or great-grandfather, as a way of recognising their service.
Alternatively, you could get family members of all ages to draw a poppy (the enduring symbol of remembrance) or a dove (the symbol of lasting peace). These could also be put up in your windows – alongside the rainbows you may have already created to spread hope during these trying times.
Guidance and inspiration on bunting can be found here at bbc.co.uk/makeadifference. If you decide to make some, you can share them on social media using the hashtags #GreatBritishBunting, #VEDay75 and #JoiningForces, to inspire others to do the same.
VE Day 75
VE Day 75 was due to be a 3-day international celebration, from 8-10 May. And while the organisers have since instructed people to cancel or postpone community celebrations due to the coronavirus outbreak, there will still be some small, meaningful contributions.
Solo bugler/trumpeters are encouraged to play the Last Post at 2.55pm (GMT) on the 8 May, from the safety of their homes. So, too, are Pipers to play Battles O'er at 3pm (GMT). At that same time, the BBC will be broadcasting Winston Churchill's rousing VE Day speech, which announced the victory, and featured the words:
"My dear friends, this is your hour. This is not victory of a party or of any class. It's a victory of the great British nation as a whole.
"We were the first, in this ancient island, to draw the sword against tyranny. After a while we were left all alone against the most tremendous military power that has been seen. We were all alone for a whole year.
"There we stood, alone. Did anyone want to give in? Were we downhearted? The lights went out and the bombs came down. But every man, woman and child in the country had no thought of quitting the struggle."
Have a singalong
Singing can help with stress and lift the spirits, so why not join in this UK-wide rendition of Dame Vera Lynn's 'We'll Meet Again'. At 9pm on 8 May, join in with the singalong on BBC One, alongside a host of celebrities including Dame Joan Collins, Alison Steadman OBE and Elaine Page OBE.
We'll Meet Again
We'll meet again
Don't know where
Don't know when
But I know we'll meet again
Some sunny day

Keep smiling through
Just like you always do
'Till the blue skies chase
Those dark clouds far away

So will you please say hello
To the folks that I know
Tell them I won't be long
They'll be happy to know
That as you saw me go
I was singing this song

We'll meet again
Don't know where
Don't know when
But I know we'll meet again
Some sunny day

So will you please say hello
To the folks that I know
Tell them I won't be long
They'll be happy to know
That as you saw me go
I was singing this song

We'll meet again
Don't know where
Don't know when
But I know we'll meet again
Some sunny day