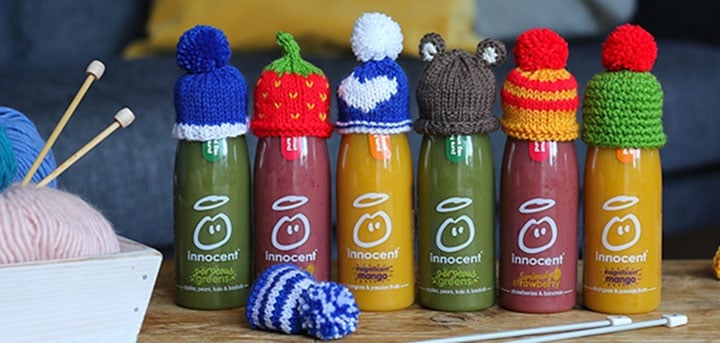 What is the Big Knit?
The Big Knit is the campaign that Age UK runs in partnership with innocent drinks where we ask you to knit little woolly hats which then go on to their smoothies. For every smoothie sold, Age UK receives 25p.
---
How to get Involved
We'd love you to knit lots of lovely little hats for this year's Big Knit and whether you're a knitting novice or a purling pro, it couldn't be easier.
Download the knitting patterns below, make yourself a nice cup of tea, find a comfy chair and knit away!
Hand in your hats
Once your little knitted creations are ready, drop them off or post them to:
Age UK Isle of Wight,
147 High Street
Newport
PO30 1TY
How does the Big Knit help?
The money we raise from the Big Knit helps us be there for older people who have no one else to turn to – so those little hats really do make a big difference!
The Big Knit is our partnership campaign with innocent drinks and has been running since 2003. Throughout 2018/19, knitters sent in an incredible 1.5 million handmade hats. Each one of these not only kept an innocent smoothie's head warm in winter, it raised 25p for Age UK.
---
How does knitting hats help?
Watch our video to see just how much this means to people like Jean and John:
If you've bought a hat on a smoothie and would like to send it back to be used again, you can pop it in the post to us or pop it in our letterbox when you next pass. We'll keep it safe and innocent will put it on another smoothie, to raise even more money for Age UK Isle of Wight.