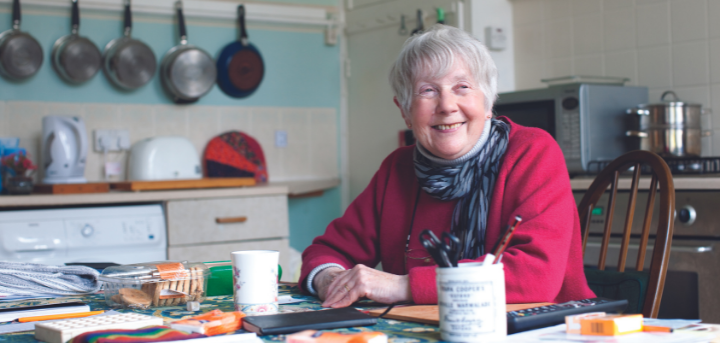 The award winning Good Neighbour Scheme is a cornerstone of our services. We provide vital assistance, friendship and reliable support for local older people who have no one else to turn to. We have a small network of wonderful volunteers working within every community on the Isle of Wight.
The past two years have been a whirlwind for our scheme. Age UK Isle of Wight supported the IOW Council with the Islands Covid helpline supporting local residents with all of their shopping/ medication collection and delivery needs.
We also provided thousands of welfare calls across the pandemic to our older residents who found themselves alone, vulnerable and completely isolated. This support was only made possible by the hundreds of Island residents that came forward, many who had been furloughed from work, to help us to support our local residents.
Whilst we are now learning to live with Covid 19, and people have returned to work, we have slowly lost these amazing volunteers but the demand for support from our older island residents has only increased. We Need Your Help.
Why volunteer?
Volunteering is a great way to meet new people, learn new skills, and support the work we do in the community.
Volunteers gain a real sense of achievement, knowing that they are allowing some older people to retain their independence and remain in their own homes. There is also the chance to make new friends and your intervention helps to reduce feelings of isolation, exclusion and loneliness.
Who can volunteer?
Almost anyone can be a volunteer! If you are aged 18+, we have a wide range of roles which suit different people and their skills all of which make a huge impact and difference to the lives of our older Island residents.
How much time do I need to give?
It depends on the volunteer role you are interested in. Some people give half an hour a week, other people do more dependant on their availability. If you are a befriender your time is likely to stay the same each week based on how many resident you take on to befriend, if you choose to support with transport these can ebb and flow dependent on need and your availability. We work around you.
Whats the process of becoming a volunteer?
For the safety of our older residents we vet all of our volunteers. We ask you to complete a simply survey and then we invite you in for a short meeting and then complete a DBS check on your behalf. On return of this, you are assigned a designated coordinater that will then line up some wonderful residents in need of support for you to meet.
Your designated coordintor will make regular contact with you to ensure that things are going well as in on hand throughout the week to support you as required.
Volunteering for The Good Neighbour Scheme
The type of support that the Good Neighbour Scheme provides can differ from day to day. We try to match you with older residents local to you own area for ease. We ask that you provide us with guidance of your availability and when the occasion arises within your availabilty we would call you to ask if you could help with any of the below:
Telephone befriending; Calling from the comfort of your own home to check in and have a chat with a local resident
Face to Face befriending; This could be visiting those at their home or outside in the open air.
Helping with small home tasks; Simple things like changing a lightbulb can be a real help to those who are less able.
Administration; This could be letter writing or help with paperwork or simply dropping off something to the local postbox for them.
You can choose which elements that you would like to help support you local residents with. Some volunteers however, would prefer to volunteer their support with one specific role, see below for more info about those options.
Apply To Volunteer
Fill in our short simple application form and our Good Neighbour Scheme team we will be in touch as soon as possible!
Specific volunteering roles with Age UK Isle of Wight
Befriending can be done from the comfort of your own home over the telephone or face to face. Help us combat local loneliness by signing up as a volunteer today.

Many local residents are not getting all the benefits to which they are entitled. You could be trained to help them complete the forms and claim for those entitlements.
You could help older people to access technology so they can learn how to keep in touch with family & friends, or access things like online shopping.

We host a variety of fun-filled family friendly fundraising events across the year to support the charity and we always need a helping hand ad hoc with a variety of roles.
What else you can do to support us
Take part in a fundraiser

Could you help us to raise vital funds by taking part in a fundraising event? We have regular events such as sponsored skydives, but you could also do your own fundraiser like a cake sale.

Get your colleagues involved

Could you talk to your colleagues or your employer about how you can support us? We have lots of ideas for how organisations can get involved, including sponsoring an event, making us Charity of the Year, or donating equipment.