Walking Befriending
This service provides volunteer befrienders to accompany an older person on a short walk near their home.
updated 26/5/21
Telephone befriending and befriending visits
Our befrienders are following government rules during the pandemic so they are now able to meet up indoors subject to certain conditions. We continue to provide a telephone befriending service. The number of volunteers we are putting in touch with older people is growing all the time, as the coronavirus pandemic has meant many of us are not able to socialise as normal. Older people who are vulnerable or nervous of socialising very much appreciate the opportunity for a chat with a friendly, caring person.
Please call us on 01908 550700 if you or someone you know would be interested in this free service.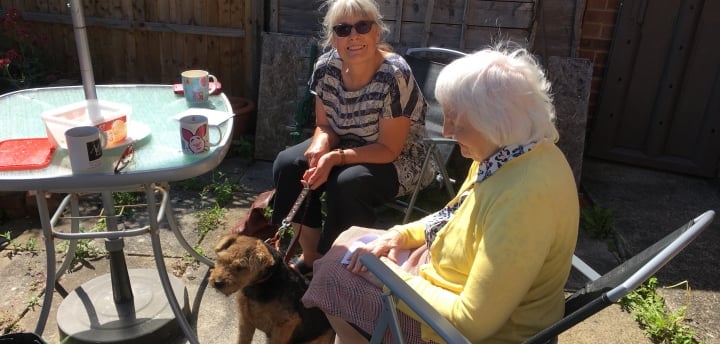 We are now able to visit for a chat outdoors on a regular basis.
Isobel

I haven't been out for nine weeks now but I'm trying to take it all in my stride. I love chatting to Maryanne my regular befriender. This morning Caroline from Age UK Milton Keynes also rang and checked to see if I was ok and if I needed any more help. We talked about the many events in my life and I told her about a record that I recorded for my parents' silver wedding anniversary. I still have the record.

Stock photos, real names and words.

Maryanne

I've been chatting with Isobel for several weeks now, phoning her every Tuesday afternoon for hour or so long chats. We get on really well and talk about just anything! Isobel is such a lovely interesting woman, full of stories. This week she told me "I don't feel invisible any more, knowing that people care is really comforting." Isn't that wonderful to hear?

Stock photo, real names and words..
Other information you may find helpful
Related pages on our website
Related pages on other websites