Hospital Aftercare Service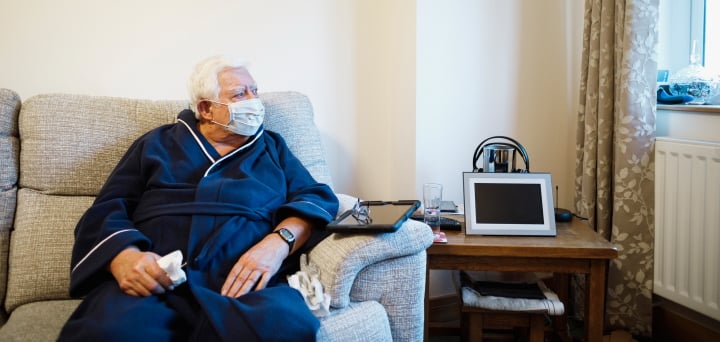 We can support vulnerable people for up to six weeks after leaving hospital, attending A&E or following a procedure as a day patient.
What does the service offer?
If someone is unable to leave hospital because they have no family or other support locally, where it is appropriate, we can take them home and provide support.

Sometimes a simple practical task can be preventing an older person being discharged from hospital - perhaps they were rushed into A&E in their nightclothes and have no suitable clothes to wear for the journey home. Or maybe their home is in an unhygienic condition and needs a deep clean to make it safe.
Who is it for?
For vulnerable people who live in Milton Keynes and/or are registered with a Milton Keynes GP.
How much does it cost?
This service is provided without charge for up to six weeks. After that people can choose to pay for our Independent Living Service or other services at the usual rate.
How do I access the service?
Our staff visit people on the hospital wards or can be contacted on 01908 996073 or by email has@ageukmiltonkeynes.org.uk They will arrive at the hospital within one hour of being contacted by hospital staff between 8.00am and 8.00pm seven days a week, including bank holidays, except Christmas Day and Boxing Day .

We will obtain as much information as possible from hospital staff so that we can ensure it is appropriate and safe for someone to be taken home. We also carry out an assessment at their home to make sure they will cope and that they have all the support they need.
About the service
We can make a hot drink and a light meal if needed and will ensure that your bathroom and kitchen are safe for you to use. We will change bedding and tidy up where necessary and install or position hospital equipment where appropriate.
Our staff will shop for essentials and can also help you deal with post and pay bills. They will also make appointments and collect

pensions or

prescriptions. We can make sure you are aware of all the help and support Age UK Milton Keynes provides and signpost you to Council services and other places of support.
We can help you make benefit claims before you leave hospital and try to resolve any money matters that are worrying you. Once you are home we can help you deal with your post, pay bills and make appointments. If necessary we can collect pensions and prescriptions and will do our best to help you settle

comfortably at

home.
Sometimes coming out of hospital can be a shock to your system and you lose a bit of your confidence. A member of our team will be happy to sit with you and have a chat if that is what you'd like.
We will take the time to listen to your concerns and will do our best to answer any questions you may have. We can also accompany you on short walks and help you take the gentle exercise you need to regain your strength.
If you are the patient and are also a carer - perhaps your husband or wife has dementia and relies on you - if you are being discharged from hospital and have no support locally, we can help.

It can be difficult to know where to turn for advice. We can find out the answers for you and refer you to other agencies where appropriate.
Tel 01908 996073 or 07540 350974
Some restrictions

We do not replace carers who help with washing, dressing and toileting. We do not replace existing support of help that family, friends and neighbours can offer. We do not replace healthcare professionals such as nurses or therapists and we do not provide a general transport service.

We are able to help hospital staff by making drinks and getting snacks for patients, but our staff have not received NHS training on feeding patients.

We would always ensure that the patient does not have dysphagia (swallowing difficulties) and we will only help a person with feeding when we have been assured by medical staff that there is no risk to the patient.
Find out more
Call us on 01908 996073 or send an email
Additional Winter Support
We have successfully secured additional Winter Support funding from the BLMK CCG to offer an enhanced Hospital Aftercare Service until 31st March 2022.
This additional funding will enable us to support people being treated at home by their GP or community teams and prevent admission to hospital, take more patients home from hospital, transport them to essential medical appointments, collect prescriptions and carry out welfare checks.
Outstanding help to the hospital
Age UK Milton Keynes has been an outstanding help to the hospital over these very difficult times. Their support and energy in helping both our patients and families and carers to access the support that they need has been invaluable.
I cannot thank Age UK Milton Keynes enough for all of the help that they have given us to keep our patients both safe and supported.
Joe Harrison,
Chief Executive at Milton Keynes University Hospital NHS Foundation Trust
September 2020
Extra support during the pandemic
We are providing extra support during the coronavirus pandemic. We are using our adapted vehicle to take some clients to have their covid vaccination at the GP surgery wherever possible. Our small team is telephoning around 80 clients on a regular basis, for a friendly chat and to try to allay any fears they may have. These are difficult times for us all but many vulnerable, older people are feeling very anxious, and staying at home can be particularly hard if you live alone.
Where necessary we are able to visit, perhaps to carry out a small domestic task or just stay for a while and listen.