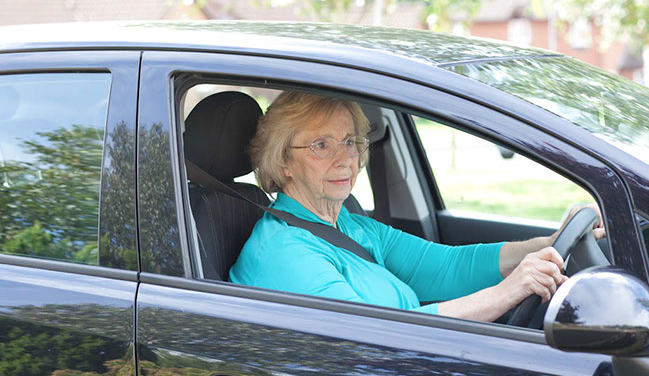 Volunteer drivers are allocated one or two older people (current guidelines state that volunteers can only take one client in their car) who they collect from their homes and take to our gentle exercise classes or one of our clubs, returning them home later.
Volunteers find it rewarding to get to know the older people and to see them benefit from our services. Volunteers also enjoy being part of our friendly teams. Older people really appreciate their drivers, as it gives them the confidence and reassurance they need to start going out.
We pay expenses at 45p a mile. Your normal car insurance will usually cover volunteering at no extra cost but we recommend you check with them. Masks, gloves and infection control training will be provided.
Volunteer Driver Roles
Gentle Exercise Class Volunteer Driver

Volunteers drive an older person or two to and from our Postural Stability Instruction (PSI) exercise classes at the Renewal Family Centre on Lode Lane. Volunteers spend about 2 or 2.5 hours per week in this role, including one hour having a drink in the cafe with other drivers, or taking a quiet break, whilst the older person takes part in the class.

The classes take place on Monday and Thursday mornings, and Wednesday afternoons, term-time only. Occasional drivers also needed.

This is a rewarding role. The older people are often nervous to start with as they have all had a recent fall, but you will build a relationship with them and see them grow in strength and confidence over the 20 week course. We have a high success rate in preventing future falls for the participants.

Read about Shirley (pictured above with Driver, John) and how our PSI service has improved her confidence in an article that was featured in the Solihull Observer here.

Clubs Volunteer Driver

We are also looking for Volunteer Drivers to bring people to our Wednesday Afternoon Club at Moseley Cricket Club in Shirley.

Volunteers collect one or two older people from their homes and bring them to the club for 1.00pm every Wednesday, and take them home when the club finishes at 3.00pm.

Drivers are welcome to stay at the club in between, getting to know the clients and other drivers, having a cup of tea and slice of cake, and joining in with activities.

Volunteers will spend 3 to 3.5 hours a week in this role.

Again, this is a rewarding role as you will get to know the older people and help give them the confidence to go out and socialise.

If you're unable to help on a weekly basis, we're also looking for people to be Relief Drivers to help out occasionally.
Interested in becoming a Volunteer Driver?
Complete our volunteer application form and return to volunteering@ageuksolihull.org.uk.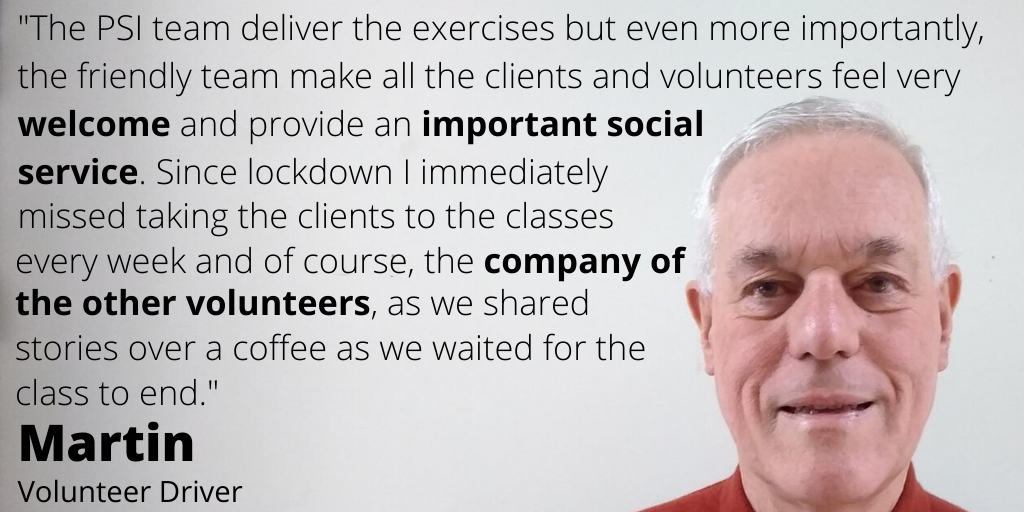 More comments from some of our Volunteer Drivers
"I have a great relationship with the clients - they always appear to enjoy the PSI classes which benefits them physically as well as socially."
"It gives me an opportunity to give back to society while I feel able, fit and well. It is very rewarding to see people's health and mobility improve and to be involved in a hugely professional and worthwhile service."
"It is rewarding to see the progress of the clients over the 20 weeks. They also really enjoy the social benefits."
"Getting to know the clients is always enjoyable and seeing their appreciation of the classes and their increased confidence."
"The job is very rewarding. We all have good fun within the group of volunteers and with the clients we drop off and talk to. In the car we will speak to the clients and we really build up a relationship over time."
"Me and my wife are both retired, and I remember saying to her I know what I want to do. I want to volunteer and now we both love it."