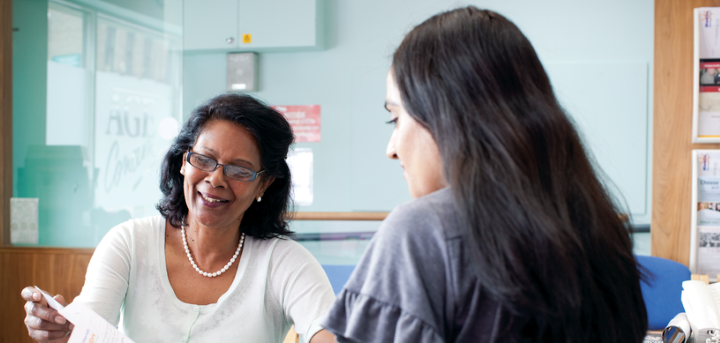 The Information and Advice service supports people aged 50 and over, and their carers who are resident in the Wakefield District.
We provide a range of information and advice services to older people, their carers and professionals on a wide range of issues including housing, social care, residential care and maintaining independence.
Your can accesss the service in a number of ways:
By telephone helpline: 01977 552476
By email: information@ageukwd.org.uk
By contacting us you can:
Explain your problem to the information advisor
Request a private interview or appointment
Request the Information Advisor to make telephone calls or write letters on your behalf
Information is provided:
Through Age UK factsheets
Information sheets and leaflets from various agencies, both local, national and on the internet
By the National Association of Citizens Advice Bureau computer system. Referrals to specialist services can also be made
Specialist Advisors
As a supplement to our general advice service, we can also arrange specialist advisors at our Bank Street office and for home visits.
All specialist advice is available by appointment only.
The Local Pension Service (DWP)
For people of pensionable age we can arrange home visits from the DWP local visit team who can advise on:
State Retirement Pension
Pension Credit
Attendance Allowance
Disability Living Allowance
Carers Allowance
Housing and Council Tax Benefit
Solicitor
A free 30 minute consultation with a solicitor is available by appointment on the first Wednesday of each month, 9.30am - 12.00noon.
Advice can be provided about:
Wills
Lasting Power of Attorney
Trusts
Court of Protection
Please note that normal Solicitor's costs apply for any work undertaken.
Additional services...
Reminiscence Library
The reminiscence library offers free loans of themed boxes to support activities in groups, Care Homes or for individuals. The library may be accessed through the Helpdesk.
Unfortunately, we cannot deliver the boxes, they must be collected by arrangement. Any box may be borrowed for up to 2 weeks. The Reminiscence Library comprises 11 topic boxes ranging from entertainment, school days, holidays and work.
Equipment Loans
The Helpdesk can provide equipment loans of wheelchairs, commodes and walking frames on a free, short term basis of up to six weeks. Please note: a charge is made for commode pans.
Loan equipment is to be collected from the Bank Street office as we do not offer a delivery service.
Free booklets and online information
Age UK produces free information guides and factsheets on a wide range of topics, including home adaptations, dementia, and advice for carers. You can find a complete list of guides and factsheets on the Age UK national website.

If you prefer to read information online, the Age UK national website has information and advice on many topics, including how to find a care home, how to avoid scams, and Power of Attorney.
Advocacy Service
The advocacy service is free and independent and aims to support older people to make informed decisions about their life, often at critical times.
Other information you may find helpful
Related pages on our website