Maintenance Cognitive Stimulation (MCST) Sessions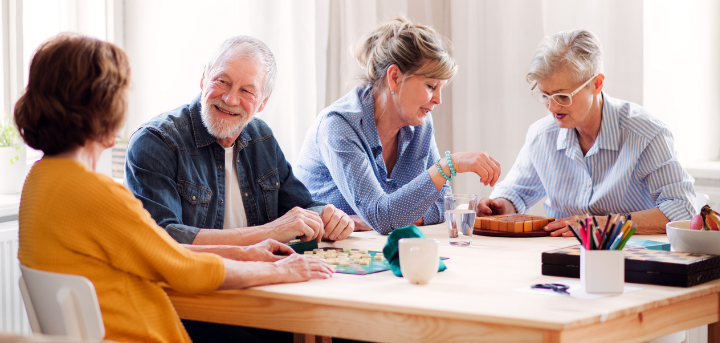 A new, free service designed for people with mild to moderate dementia
This therapy programme encourages engagement in stimulating activities, using established Cognitive Stimulation Therapy (CST) methods. CST is the only non-drug treatment recommended to improve cognition, independence and wellbeing for people living with mild to moderate dementia by the National Institute for Health and Clinical Excellence (NICE).
There are 24 weekly session lasting two hours, each with a different theme but using group discussion and challenges alongside opportunities for personal exploration and self-expression.
Activities include:


The group provides a fun, supportive environment to build relationships and mutual respect. We consider individual needs and preferences to encourage each person's unique potential.
An informal group for carers will be available at the same time and place, offering the opportunity to relax, share experiences and learn more about CST techniques. With regular input from the team at Carers Wakefield & District offering practical advice and support
For more detailed information please visit
https://www.ageuk.org.uk/our-impact/programmes/maintenance-cognitive-stimulation-therapy-mcst/
Programme essentials
The programmes will be run from two locations with comfortable surroundings and parking nearby, one based in Ossett and the other in Castleford.
The first programmes are scheduled to start in June and July 2022.
The MCST Programme runs for a 24-week period and a commitment to attend all the sessions is requested, at the start. We understand though, that life can get in the way of plans and will send notes for any sessions missed.
The programmes are evaluated externally for funder reports and consent forms will be required to share anonymised data.
Who can join an MCST group?
This is a group activity involving discussion and physical movement, using all the senses. It works because people work as a team and individually, all with mutual respect. It is extremely important that participants are able to engage fully with the programme without disturbing the group situation. Reasonable adjustments will be made to support eyesight and hearing impairment, but personal care is not available.
The programme is designed for people with mild to moderate dementia.
Following a thorough explanation of what's involved, each participant will be assessed by a Dementia Support Coordinator, taking into account motivation and the overall situation. We must also use required questionnaires and tests to make sure this is the right programme for each person. This will be done some weeks ahead of the programme start at a session venue or at a person's home.
We would encourage and welcome all partners and carers of the MCST group members to join the informal Carer Group throughout the programme.
To register your interest call 01977552114 or email
Volunteer Panel
For more information visit our website www.ageukwd.org.uk
To register your interest call 01977 552114 or email MCST@ageukwd.org.uk
MCST is funded Age UK and the Wakefield District Health Care Partnership and delivered by Age UK Wakefield District.